Governments Work Behind Scenes To Pave Way for AUKUS Success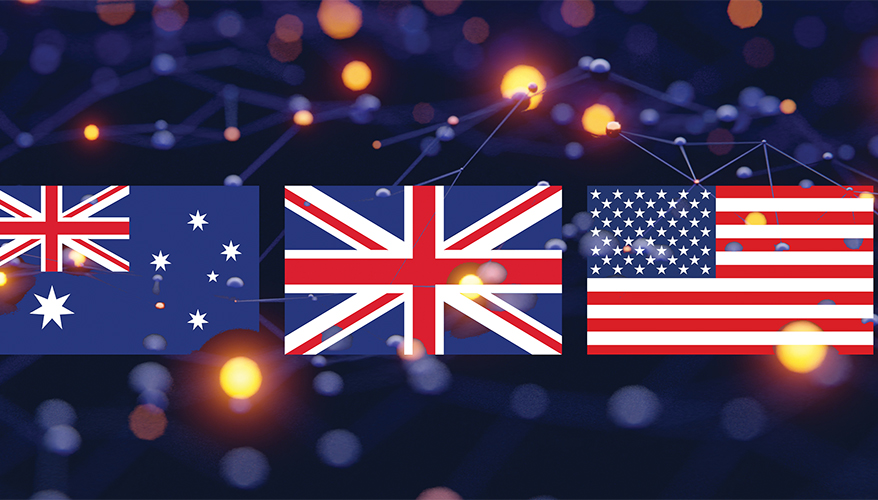 iStock illustration
LONDON — As industry — some say impatiently — awaits contracts to emerge out of the triliteral AUKUS agreement between Australia, the United Kingdom and the United States to develop nuclear-powered submarines and a host of other advanced technologies, bureaucrats from the three nations are continuing to lay the groundwork to move forward.
"Success in AUKUS is not predetermined. It's going to require a tremendous amount of work on all our parts in government and also on the part of industry," Mira Resnick, deputy assistant secretary of state for regional security at the U.S. State Department's Bureau of Political-Military Affairs, said during a panel discussion at the DSEI trade show in London in September.
The AUKUS agreement comes in two pillars, the first is the development of a fleet of nuclear-powered submarines supplied to Australia with the assistance of the United Kingdom and the United States.
The second pillar calls for the three nations to cooperate on advanced military technologies such as hypersonics, quantum computing, cybersecurity, electronic warfare and undersea technologies.
It took 18 months of studies for the three nations to produce the agreement's framework, which they released in March. Six months later, the partners were still working out details.
Resnick quoted an Australian think tank scholar who described AUKUS as a potential "sandbox" in which all of the three partners' industries, scientists and researchers can come together and create "an ecosystem of cooperation."
Stephen Moore, first assistant secretary of AUKUS Advanced Capabilities at Australia's Department of Defence, said: "It's not as if Australia, the U.S. and the U.K. woke up one day and thought, 'We should get together and collaborate.' We have been working closely together for decades."
Nevertheless, barriers to sharing advanced technologies — even with close allies — remain. The Biden administration is attempting to push through Congress a series of new laws that will take down some of the barriers to international cooperation that could stymie the deal, Resnick said.
Bilateral cooperation on military technologies among the three allies is common. Trilateral cooperation is not, the panelists noted.
Vice Adm. Paul Marshall, director-general of ships, defense equipment and support in the U.K. Ministry of Defence, said cooperation is "really hard to do between three nations. But if you do the planning right, if you set yourselves up for success, then we know that we can go quickly on a shared endeavor," he said.
A huge benefit of the agreement is "opening up the aperture" on different technologies, Marshall said. It is "opening our eyes to actually what we are doing either nationally or bilaterally or collaboratively and actually how those systems might come together to be greater than the sum of the parts."
Resnick said along with working with the Senate to change the rules that govern the trade of sensitive military technology and know-how, the administration is looking at what actions it can take administratively to use existing regulations to provide license-free trade under AUKUS.
Justin McFarlin, deputy assistant secretary of defense for industrial base development and international engagement at the U.S. Defense Department, said: "It is going to require a lot of work. It is going to be very tedious, very detail-oriented and require a paradigm shift in changes across all of our nations. But I think we're all up to the task and we're all very excited to be collaborating and working together."
There are a lot of discussions happening among the three governments out of the public's view, McFarlin said.
"Our policy teams are talking to the policy teams. Our acquisition teams are starting to talk to the acquisitions and procurement offices. Our science and technology and research and engineering folks are talking to each other," he said. In addition, the Defense Innovation Unit is reaching out to its counterparts in the United Kingdom and Australia, he added.
One item being sorted out is visibility into what the three nations are doing in their bilateral agreements, he said. Are there places where they overlap that can be brought together?
"It's a little bit behind the scenes. It's not the cool and sexy work or the contracts that industry is looking for," McFarlin said.
Resnick noted that there may be opportunities in pillar two that fall outside of the strict International Traffic in Arms Regulations, better known as ITAR. The Commerce Department is prepared to help nontraditional defense contractors in the commercial world work on AUKUS problems, she added.
About three weeks after the trade show, the U.K. Ministry of Defence awarded one of the first major contracts under the agreement to BAE Systems, Rolls-Royce and Babcock International for the detailed design and long leads phase for the submarine, currently called the SSN-AUKUS.
Dak Hardwick, vice president of international affairs at the U.S.-based Aerospace Industries Association, said: "I like to tell people that we as the industry, we are the regulated implementer. So, everything that's happening under AUKUS at some point will have an industry touch to it, whether it's a partner component or a major system, or even a service. All of that industry will be providing."
Marshall said contractors awaiting other opportunities must wait awhile.
He urged "a little bit of strategic patience. We need time to align our requirements. We need time to align our human processes. And I know from a few decades of engaging the industry that one thing that you do hate is for us to then unleash our requirements on an unsuspecting market and then slow down. So, when we're ready, we'll be ready. We would like you to be ready."
Resnick went a little further and said industry should start investing in capacity now.
"What we need from industry is some real investment in production capacity. And when we're talking about bringing something from an idea to scale, we need faster timelines. That's what we hear from every one of our partners," she said.
The communication between government and industry is a two-way street, she said.
"Please make sure that you are vocal about what you need from us in order to make those investments, … when you need us to take more risk and accept more risk — this is what we want. We want communication from industry on that. When you are seeing risk, we need to understand vulnerabilities," she said.
Resnick did not specify which of the categories needed further investment. However, there have been enduring questions as to how the United States and the United Kingdom can help Australia build new submarines when their shipyards are "right-sized" for their own programs.
McFarlin said he was glad Res­nick was on the same page.
"I'm going to have to buy you a drink later," he said to her. "Because I never thought I would hear the State Department talking to industry around investing in capacity. It's music to my ears because usually I'm doing my best to beat that drum," he said.
Tanya Monro, Australia's chief defense scientist, said working groups have formed around the technologies, but they should perhaps be more focused on warfighter needs.
"One of the challenges pillar two has is it is somewhat more diffuse and amorphous than pillar one, which is easy to get your head around." It's a bright and shiny new submarine, she said. "Harder to deliver — but easier to get your head around," she said during a Center for a New American Security event about a week after the London panel discussion.
Eight working groups are currently active: undersea capabilities; quantum technologies; artificial intelligence and autonomy; advanced cyber; hypersonic and counter-hypersonic capabilities; electronic warfare; innovation; and information sharing.
"It has been extraordinary watching our three nations bring together their experts, not just their scientists, but the user community as well, to come together to really understand where we have relative strengths and where we can really lean in to enhance mutual reliance. This has given us clarity on what we can do together. What we're best bringing to the party and where we need to focus," she said.
Some of the proposed congressional changes in the United States will not only make it possible for the nations' industries to augment each other, but warfighters and scientists as well, she added.
"The fact that we all work in different ways, in different systems, at different scales, with different financial years, is not necessarily a bad thing," Monro said. "And really what I've observed has been critical to get some of the momentum into AUKUS pillar two has been not seeing it as a bolt-on; not seeing it as some new, separate activity, but actually seeing it as a way of getting after things that are priorities for each of our nations. And that, for me, is part of the shift that's helping us now get some momentum."
McFarlin noted, "We don't have the ITAR restrictions lifted yet." But it is time for the three nations' defense industries to start thinking about that future ecosystem of cooperation, and how they can collaborate with different companies to provide capabilities, he added. ND
—Additional reporting by Josh Luckenbaugh