BATTLEFIELD COMMUNICATIONS
Scottish Company Using Light for Undetectable Comms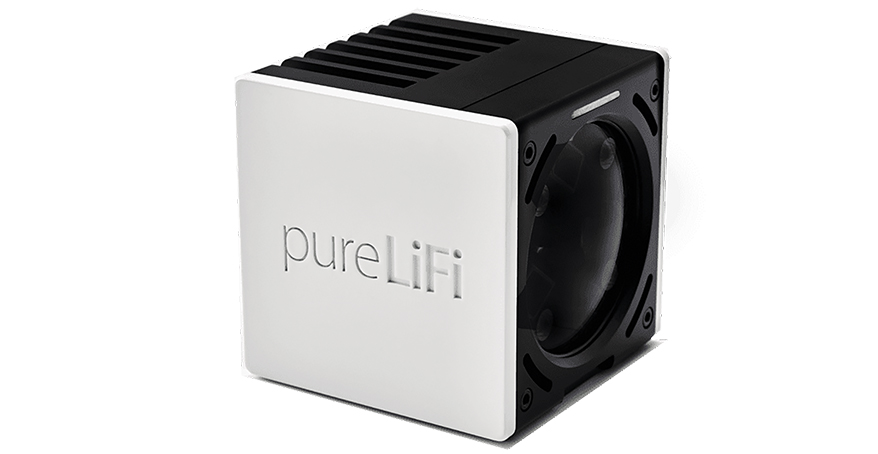 pureLiFi photo
LONDON — A Scotland-based startup that sends jam-proof, undetectable communications through light waves is making inroads with the U.S. military.
Edinburgh-based pureLiFi modulates light waves for wireless communications with a "near-zero" electromagnetic signature, Sarah Scace, chief marketing and communications officer, said on the sidelines of the DSEI conference in London. She compared the signals to "sending Morse code" through light waves.
It is intended for communications inside small areas of about 14 square meters, but can connect to other communications systems, she said. The U.S. Army in Africa Command and European Command are among the company's first customers and are using its Kitefin LiFi System for "command post type situations," she said. She could not comment further other than to say it is being used by the Army "at scale."
Kitefin requires a small bank of lights to make the system work, she said. However, the company at the trade show debuted a cube that emits infrared light so operators can communicate in the dark, she said.
"The radio frequency in command posts lights up [sensors] like a candle in the room," she said. "This system is completely invisible and not detectable," she added. It also saves time and money doing away with all the wiring and cables that have to be set up, she added.
The company is a spinoff of the University of Edinburgh and founded by Harald Haas and Mostafa Afgani. Other company leaders come from the semiconductor and telecommunications industries, she said.
Beyond the military market, the company sees promise in its Light Bridge product. 5G signals have problems penetrating some buildings, so holes have to be drilled to make sure they get through. The Light Bridge "just snaps on a window and suddenly you get gigabit connectivity," she said.
Making all this possible was the company promoting and gaining acceptance of its IEEE 802.11bb standard that allows its system to connect with Wi-Fi. "We drove this effort to make sure that our systems — and future light systems from other companies — will interoperate with Wi-Fi," Scace said. ND
Topics: Army News, Electronics