Tech Company Charging into Soldier Power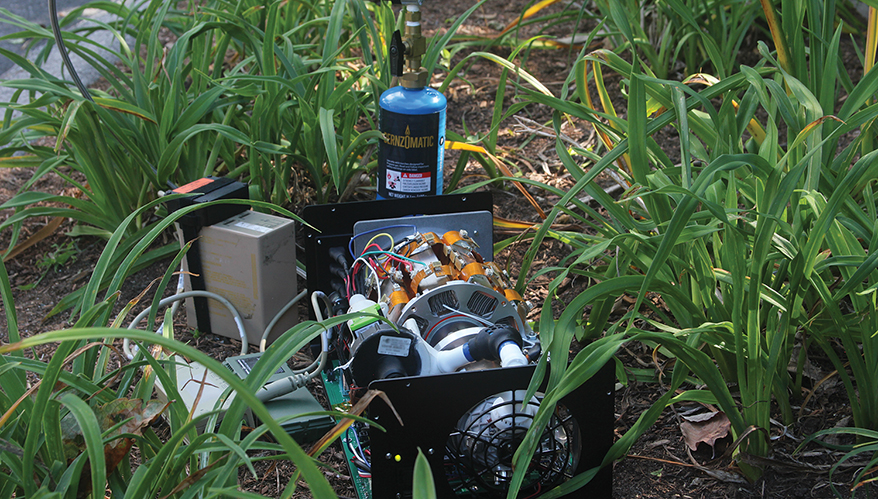 Mesodyne photo
AUSTIN, Texas — Battery power is one of the constraints on expeditionary operations, and a Massachusetts-based company is working to extend mission duration with a thermal photovoltaic power generator.
Mesodyne's LightCell generator — about the size of a loaf of bread and roughly eight pounds — puts out five-to-10 times the wattage per pound of current tactical batteries, Veronika Stelmakh, CEO and co-founder of Mesodyne, said during an interview at the Fed Supernova conference.
"It's different from any other thermal photovoltaic power generator that's been built in the past because it has a nano-engineered, photonic crystal material," she said.
The generator, originally developed at MIT's Institute for Soldier Nanotechnologies, has "a small micro combustor that can burn, in principle, any kind of fuel" and heats the crystal material to incandescence, emitting infrared radiation that is converted by low bandgap photovoltaic cells, she said.
The result is high-efficiency direct current power from a quiet device with no moving parts that could change the equation of an operator carrying 100 pounds of batteries for a three-day mission, she said.
"Because this leverages the high energy density of fuel, which is 60 times more energy dense than batteries, in principle, you can either have a weight reduction, or, more likely, you bring the same amount of weight, and now you can extend your mission four times," she said.
Another possible use case is for Group 2 drones — for example, a craft with about a three-meter wingspan, she said. Replacing the drone's batteries with a combination of fuel, the generator and batteries dedicated to takeoff and landing could extend flight time from six hours to up to 24 hours, she said.
Mesodyne is exploring possible commercial partners for UAS testing with a goal to demonstrate the technology in summer 2024.
"And then in parallel with all that, we're also working on just scaling this up" and ruggedizing and reducing the prototype's form factor, she said.
The company has received a mix of venture capital and Small Business Innovation Research funding from AFWERX and the Defense Advanced Research Projects Agency and is working on Series A funding to cross the so-called valley of death, Stelmakh said.
"There is actually a requirement for soldier or squad and platoon power, and this technology can meet that requirement," she said. "So, we are definitely working our way into that. But it's a long journey." ND
Topics: Defense Innovation