U.K. Company Unveils Multi-Seat Liferaft for Subs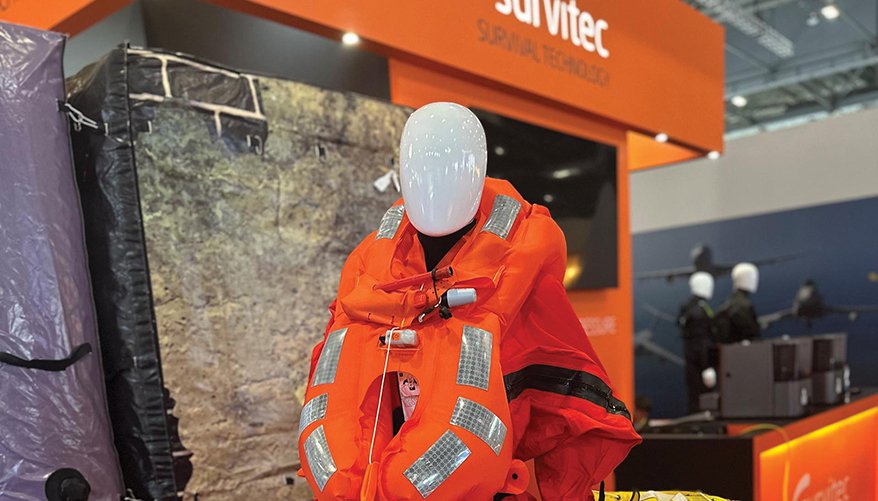 Survitec photo, Defense Dept. photo
LONDON — Survival technology manufacturer Survitec introduced a new multi-seat escape craft for submarines for times when sailors must abandon ship on the ocean's surface.
Most submarines rely on single-seat liferafts, Steve Thorpe, Survitec's submarine escape category manager and a former submariner in the U.K. Royal Navy, said in an interview at the DSEI trade show, where the company debuted its multi-seat liferaft Sublite.
There are a number of scenarios that could require surface abandonment, Thorpe said. The USS San Francisco in 2005 and the HMS Superb in 2008, in which the submarines "hit an underwater mountain, were subjected to quite a lot of damage but managed to get back to the surface," he noted.
"They didn't have to surface abandon, but they were close to having to make that call," he continued. "So, it might be that you've lost propulsion … a fire, [there are] varying scenarios that you may have to surface abandon."
On display at the show was a 30-person version of Sublite, which has an overload capacity of 48 people, Thorpe said. Survitec intends to offer 10-person and 20-person versions of the liferaft as well, he added.
"It's lightweight — it's between 35 and 40 kilograms — easy to stow, easy to manhandle throughout the lower decks and to bring up through the hatches and to deploy," he said. "It's a really financially viable option [rather than] having a retrofitted, fixed liferaft onboard submarines. … This is a cheaper … alternative in comparison to that."
While the U.K.'s next-generation Dreadnought-class submarines have fixed multi-seat liferafts incorporated in the design and build process, the Royal Navy's current fleet of Trafalgar-class and Astute-class subs "haven't got that capability, and I don't think the future" submarines that are headlining the Australia-United Kingdom-United States security partnership known as AUKUS will have "the space under the casing to have that either," Thorpe said.
For those subs, Sublite represents a "realistic option … more compact, easy to stow onboard — and that's just a U.K. example," he said. "The [United States] are the same, they don't have multi-seat liferafts onboard. So, I think there's a definite market for it." ND
Topics: