AUSA News: Allied Equipment, Training Making Difference in Ukraine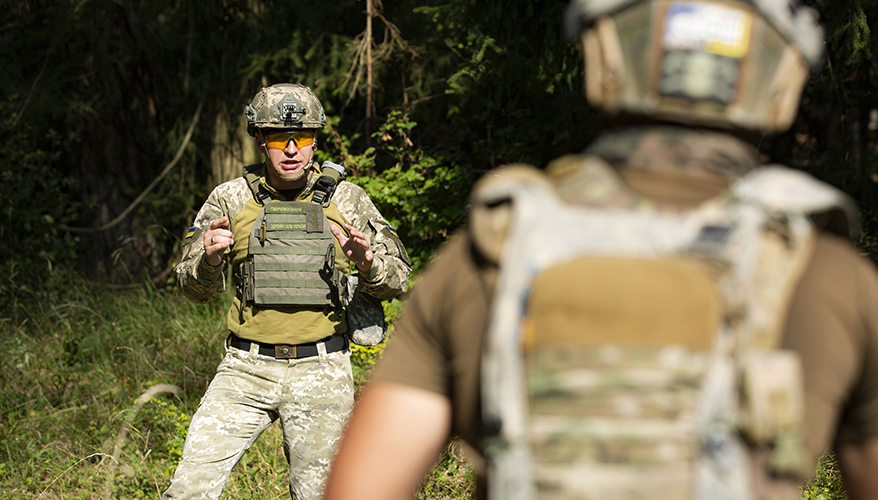 Ukrainian soldiers discuss strategy following an exercise with U.S. soldiers.
Army photo
WASHINGTON, D.C. — The coalition effort to supply Ukraine with weapon systems, as well as to train Ukrainian soldiers on how to use that equipment, is making an impact on the fight against Russia, officials said Oct. 10.

Established by the United States in November 2022 in response to Russia's invasion of Ukraine, the Security Assistance Group - Ukraine, or SAG-U, coordinates sustainment and training and advises the Ukrainians "as they fight for their freedom and territorial integrity," said Canadian Army Brig. Gen. Mason Stalker, deputy commanding general of training for the assistance group.

Over 50 nations have participated in SAG-U in one form or another, with 25 countries currently aiding in training Ukrainian soldiers, Stalker said during a panel discussion at the Association of the United States Army's annual conference in Washington, D.C. To date, over 89,000 Ukrainians have participated in training, he added.

"There are 7,254 Ukrainians participating in training right now," he said. "To help quantify this enormous effort … over the course of the last 593 days, over 88 training sites have been used to deliver training to our Ukrainian partners — across not just Europe, but North America. The coalition has trained 17 Ukrainian brigades, and we're now focused on the reconstitution of a number of brigades as we head into the winter."

Along with training, SAG-U coordinates donations of equipment and weapons for Ukraine through its U.K.-led International Donor Coordination Center, Stalker said. The center takes a "holistic approach to donations," he said.

"It is the importance of the capability approach that adds value," the capability approach being "the detailed work to consider the totality of a donation rather than just look at a platform by itself," he said. The center "works tirelessly to understand what is required to support and field a particular donation, and also where other resources, if not donated, could be drawn from.

"In some cases, one nation will donate a platform, but there are other resources required such as fuel, ammunition, etc.," he said. For example, a nation may donate a towed howitzer that "still requires a vehicle to move it, fuel, ammunition and other spare parts. The goal of SAG-U and the IDCC is to transform a donated piece of equipment … into a military capability."

SAG-U is "evolving to continue to meet the needs of our Ukrainian partners, and taking quality equipment donated by the countries … and coupling it with quality training provided by the women and men of the coalition's armed forces is indeed the end state," Stalker said. "What I can tell you — without getting into operations — is the bulk of Western equipment, and Western-trained folks, have been featured by our Ukrainian partners in key combat areas."

One such system the United States began providing in Ukraine this year was the Bradley Fighting Vehicle. In January, Army soldiers trained 9,000 Ukrainians on how to operate Bradleys and perform combined arms maneuver, said Col. Bryan Harris, the commander of 2nd Armored Brigade Combat Team, 1st Infantry Division.

"Some of them had never seen a Bradley before in their life," Harris said. "We started off teaching them basic, operator-level tasks: how to operate the Bradley, how to drive the Bradley, how to shoot the Bradley, how to maintain the Bradley. And then we slowly progressed … [to the] combined arms live fire program instruction."

Once trained, the Ukrainians "absolutely were lethal," he said. "They could hit what they were shooting at, they were highly motivated and they were hungry to learn. … When we executed that first Bradley company-level [combined arms live fire exercise], there were Ukrainian crew members on Paladins supporting Bradley maneuver manned by Ukrainian crew members, and it was a sight to see. My team was truly honored to be a part of that [and] it's a highlight of my 25-year career."

The Ukrainians have also received and been trained on the MIM-104 Patriot air and missile defense system. Seventy-four Ukrainian soldiers were trained on Patriot battery operations at Fort Sill, Oklahoma, earlier this year, said Lt. Col. Seth Barrett, the commander of 3rd Battalion, 6th Air Defense Artillery Regiment.

While they had been primarily using the Soviet-era S-300 system, the Ukrainians "were not like the traditional … soldiers we train at Fort Sill," Barrett said. "They were highly experienced — we had several operators that had dozens of engagements on the S-300 system. … Their fundamentals in air defense were way higher than we normally get in the air defense schoolhouses."

Thus, training was conducted differently than normal, he said. "When I train … soldiers, I normally teach them what to do, and how to do it our way. Our end state for the Ukrainians was not just training but education — training them how things work, why we do things, so when they got the system, they could go out and make their own decisions and assume their own risk level."

Going forward, training could be informed by what is happening on the battlefield itself, Harris said. While the fundamentals of combined arms operations won't change, "we'll have to talk to our Ukrainian teammates as they share information from their recent experiences. … I don't know any of the intel coming from the battlefield these days, but we absolutely could feed into our training scenario anything that the Ukrainian teammates wanted to leverage during their training opportunity."

Stalker added that Security Assistance Group - Ukraine is "in step, shoulder to shoulder, with our Ukrainian partners. In any training that we design or develop, they're in the room." There is an upcoming training planned that Ukrainians helped formulate "so it would be fit for purpose based on their needs," he added, but declined to provide further details.

As the U.S. Congress continues to debate if and how much more support to provide Ukraine, Stalker acknowledged that "policy decisions may affect future operations," but said SAG-U remains committed to its mission.

"SAG-U is not one nation, and so we're not going to comment on bilateral or individual nations' policy decisions and how they will potentially affect the future, but what I can say is that SAG-U has got over 25 nations in it right now, and we are continuing to coordinate the delivery of equipment that's been donated" and the training of Ukrainian soldiers.

"We won't speculate on [policy decisions], but right now the SAG-U's center of gravity is unity, and what I can say is I don't think I've ever been part of something where this unity of effort from a coalition of this size has … been so tremendous," he said.
Topics: Army News