Air Force Labs Pursue More Powerful, Efficient Engines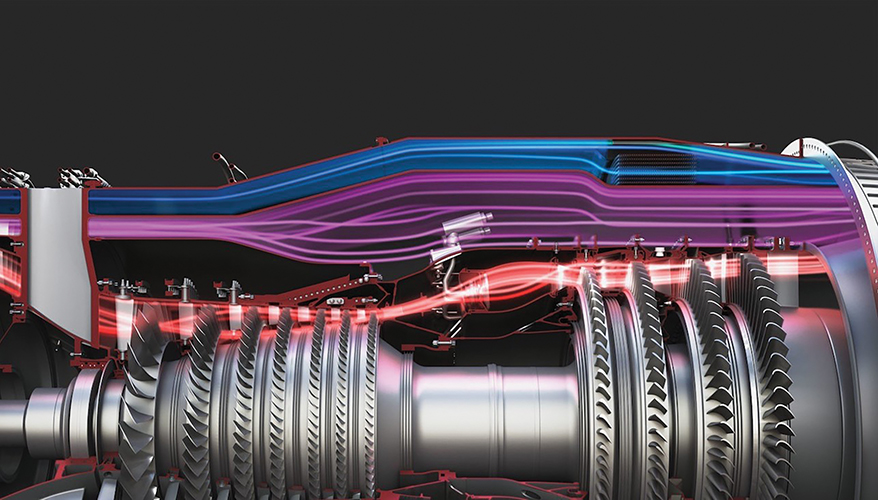 GE illustration
From engines cheap enough to be considered "expendable" on munitions, to rockets that can carry payloads to the Moon, the Air Force is constantly looking to improve its means of propulsion.

"Propulsion is a critical component of our quest to attain faster speeds, greater range, higher altitudes and improved power and thermal management capabilities," Maj. Gen. Heather Pringle, commander of the Air Force Research Laboratory, said recently.

The service has several programs underway nestled under different organizations to improve the engines that power every size of aircraft from its smallest unmanned aerial vehicles to its heavy airlifters, as well as rockets and spacecraft, Pringle said at the Air and Space Force Association annual conference in National Harbor, Maryland.

"This is really a very exciting time to be in the propulsion world, and that's no hyperbole," said John Sneden, director of the Air Force's propulsion directorate, which supports 10 major commands and 50 international partners.

"In order to be able to move further, we have to be able to transition our next-generation technology, we have to be able to update the performance capability of our legacy systems, and ensure that the warfighter has the readiness, has the capability to be able to go fly, fight and win," Sneden said.

"When you hear that the lab in particular is drawing down some investments in the larger engines, that's true, but it's still a very exciting portfolio, and we are innovating truly at the edge," he added.

The United States has long held the propulsion advantage over China, "and I'll offer that our intent is to maintain that propulsion dominance," Sneden added. Yet China is catching up, he said. If the Air Force were to do no research and development on propulsion, China would reach parity with the United States in a decade, he said.

"I will tell you that anytime you have an advantage, it's important to check your six. How fast is your adversary coming up behind you? What's going on? We can't keep living off the advantage. We have to always be innovating, always be moving forward," he said.

"We also have to look at not only what China's doing, but what's happening within our own environment. What are we doing that's contributing to the degradation of some of that lead? And I would offer to you that if you look in our labs, we don't have any large engine [science-and-technology] efforts," he said. The last fighter engine fielded was the F135 about 20 years ago, he said.

One line of research that the Air Force and other organizations, including the Navy and NASA, are looking into is rotating detonation engines, which create thrust by harnessing a series of explosions that are contained in a ring-shaped enclosure. The detonation waves — which are a result of the explosions — travel around in a circle within the engine rather than being expelled out of the back, as with a traditional motor.

This creates efficiencies that can result in more power and longer ranges for both aircraft and rockets, said Mike Gregg, the Air Force Research Laboratory's aerospace systems director in Dayton, Ohio. "This is a significant leap ahead, especially where we want to go with things like long-range strike," he said.

Rotating detonation engines could be anywhere from 5 to 25 percent more efficient, and with no moving parts in the combustion part of the engine, they could have smaller form factors, Gregg explained. "Or if you want to keep the same form factor, you can double your range," he said.

The concept has been around since the 1950s, but digital engineering techniques are helping to quicken the technology's development. Although, there is still a long way to go, he said.

One of the key problems is how to inject the fuel and air into the rotating cylinder. Historically, that solution may have gone through 12 different designs, each of them taking a long time and requiring a lot of expensive material, he said.

"Now, we can use digital modeling to help us focus that cone of uncertainty. … We can shrink the time. We can shrink the cost, and we can dive in on exactly what we need to do that much faster. This is a perfect example of how, once again, we're using digital to really focus in on something that's really exciting."

A more well-known program is the adaptive engine transition program, or ATEP, which seeks to improve the performance of the F-35 joint strike fighter's power plant. Contractor GE Aviation announced in September that it had wrapped up the ATEP's development phase and was awaiting a decision from aircraft's joint program office on whether it would proceed with the new engine, or go with Pratt & Whitney, which is offering upgrades to its existing engine — the F135 Enhanced Engine Package.

Meanwhile, in September the Air Force made some moves toward developing larger engines when it awarded contracts worth some $4.9 billion to five companies to develop prototypes of an adaptive engine for its next-generation fighter jets. General Electric, Pratt & Whitney, Boeing, Lockheed Martin and Northrop Grumman all received an indefinite delivery, indefinite quantity contract worth up to $975 million each to carry out the prototype phase of the Next Generation Adaptive Propulsion program.

The Air Force is keen on investing in fuel efficiency, which expands an aircraft's range, Sneden noted.

It "means that there is more time on station. It means that you can start your operations from farther out. It means that you have less tanker dependency. It means survivability, because we have better acceleration capability to get in and out of the fight, and it means that you have better power and thermal management capacity to be able to feed those advanced mission systems that all the next generation weapon systems seem to have."

Such research-and-development investment "allows us to stay ahead of China. And China has a very specific focus of catching up to the United States, getting to propulsion parity, and exceeding our capacity," Sneden added.

The problem is a typical new engine program takes 10 to 15 years to develop, and that timeline is no longer acceptable, he said.

The answer is, again, digital engineering, he said.

The new adaptive engine program will fully use such methods where the ATEP program could not completely take advantage of the techniques, which were still emerging when that program began.

As far as rocket engines, the commercial sector continues to be a dominant force. However, the Air Force Research Laboratory is still deeply involved in its technology development, said Shawn Phillips, chief of the lab's rocket propulsion division.

So-called "new space" companies such as SpaceX, Blue Origins and Rocket Lab USA have been driving innovation in the field for the past 20 years.

Phillips said the challenge at first was to make these commercially oriented companies turn their attention toward the Defense Department to help it with its challenges.

It had two things to offer them: launch pad infrastructure and the Air Force labs staffed with experts who had decades of experience.

Public-private partnerships have paved the way for companies to co-locate in AFRL's space labs where they work on such items as nontoxic, or "green" propellants.

The Aerospike Rocket Integration and Suborbital Experiment, under the Affordable Responsive Modular Rocket portfolio, is the lab's R&D programs that seeks greater efficiencies for space-bound rockets.

Unlike today's engine nozzles, the aerospike nozzle expands as the rocket ascends and the atmospheric pressure drops, creating more efficiencies, and therefore more thrust.

The Affordable Responsive Modular Rocket program looks to do away with the many different components that comprise liquid-engine rocket boosters and upper-stages and simplify them into one system, with the aerospike nozzle serving as a key technology.

The goal is to reduce new engine development timelines and make the rockets more efficient, Phillips said.

"Propulsion, of course, is also important to our space domain operations as it takes extreme speed to escape the Earth's gravity and to get to those far-reaching orbits … but it also helps us efficiently manage space operations once we're on orbit," Pringle said.

Once in space, satellites use propulsion to move from one orbital plane to another. However, they can only carry so much fuel and doing such tasks in space uses up finite resources.

Tackling this problem has become known as "maneuver without regret," Sneden said.

"'Maneuver without regret' gives you the tools — that propulsion capability — that allows you to go where you need to go without saying, 'I just lost three years of my satellite life,'" he added.

Sneden said it's important that the United States continues to invest in advanced propulsion programs such as these so it can maintain its industrial base.

"That investment in propulsion means that you're helping maintain a viable propulsion industrial base. … Our engine [original equipment manufacturers] are not going anywhere. They're all well maintained by the commercial market," he said.

"But what we're keenly focused on is that advanced propulsion space and how we maintain it," Sneden said.

Meanwhile, "I'll offer to you that there are more countries that can produce a nuclear weapon than can produce an advanced propulsion system," Sneden added.
Topics: Air Force News, Air Power, Research and Development