ROBOTICS AND AUTONOMOUS SYSTEMS
JUST IN: Navy's First 'Extra' Large Unmanned Sub to Go Underwater 'Very Soon'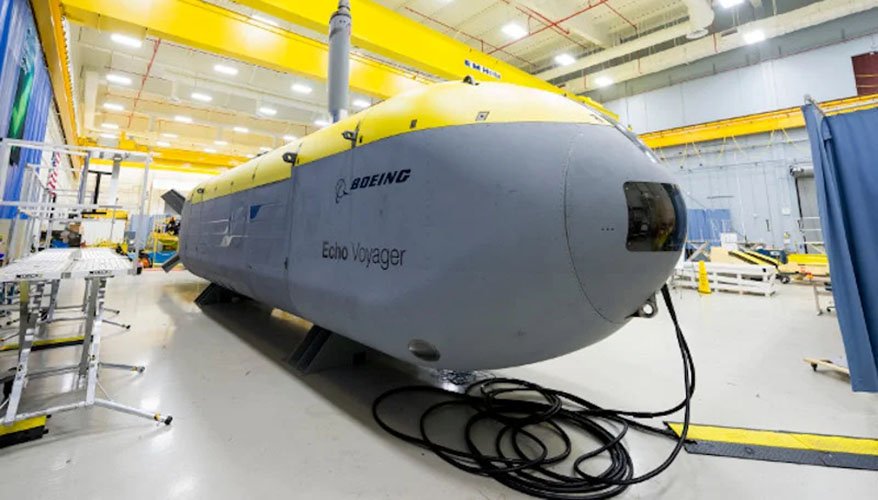 Boeing
ARLINGTON, Virginia — The Navy is preparing to transition its largest unmanned submarine to date from land-based testing to underwater trials "very soon," a service official said Jan. 30.
Researchers are currently conducting land-based subsystem testing, and will be "in the water for full systems testing very soon," Rob Iera, principal assistant program manager for PMS 406 Unmanned Maritime Systems, said at an American Society of Naval Engineers' Technology, Systems and Ships Symposium.
The Orca XLUUV, or extra large unmanned underwater vehicle, is a long-range modular vehicle and the first unmanned diesel electric submarine. The vehicle's objective is to deploy undersea mines although it could carry a variety of payloads.
In fiscal year 2017, the Navy identified the submarine as a solution to address a Joint Operational Need issued in 2015, according to a September Government Accountability Office report, "Extra Large Unmanned Undersea Vehicle: Navy Needs to Employ Better Management Practices to Ensure Swift Delivery to the Fleet."
In March 2019, the Navy awarded an $11.6 million contract for the boat to Boeing's Defense Space and Security division for up to five prototypes.
The first Orca was originally slated for delivery in December 2020, with all five expected by the end of calendar year 2022, GAO said. The Navy is now expecting the five vehicles between February and June of 2024.
The Orca is just one of several unmanned underwater vehicle projects underway with the Navy.
The service's Snakehead undersea vehicle, its largest submarine-launched unmanned underwater vehicle, has requirements for both surface and submarine deployments, Iera said. The development team completed successful protype testing last year and is making "good progress" on the vehicle, he reported.
The Razorback, a medium submarine-launched UUV, is part of a contract collaboration between PMS 406 and 408, Iera said. It is intended for torpedo launch and recovery missions. The Razorback currently requires a dry deck shelter and divers for recovery.
The Viperfish medium underwater vehicle will leverage similar technologies and capabilities as well as the Razorback, Iera said.
Because the robots are sent on missions underwater for long durations there are limitations, he said. The program is focused on maturing technologies that enable endurance, communications, precision navigation and advanced autonomy, he added.
"We're focused on enabling those missions that are unique to undersea, and that's where we focus on tech development," he said.
The demand for unmanned systems in modern warfare makes them crucial to maritime dominance, Iera said.
Iera also reported progress on the Navy's four major unmanned surface vehicles, or USV, programs. The program office is expanding participation in fleet exercises, providing warfighters the opportunities to "test, experiment and learn first-hand about USV capabilities."
A chart displayed at the panel identified six pillars of USV engineering, to include a reliable hull, mechanical and electrical systems, advanced networks and radios, integrated combat systems, vessel control software, sensory and perception autonomy and platform and payload prototyping.
A goal of the large unmanned ship program is executing a comprehensive land-based and sea-based prototyping strategy. The program seeks to develop and deliver incremental capabilities, demonstrate key autonomy enablers and improve reliability, Iera said.
A balance between rigorous focus on systems engineering and speed of execution is the key to reliable and effective unmanned systems, he said.
In addition to work they are doing to support the vehicles themselves, the program office has also set up dedicated groups such as Unmanned Surface Division-1, which was established last spring to focus on experimentation and fleet advocacy for the unmanned surface force. These initiatives seek to develop the infrastructure tools and processes to develop, test, certify and deploy updated autonomous capabilities to those vehicles.
Their efforts also expand to focus on autonomy such as Unmanned Maritime Autonomy Architecture and the Rapid Autonomy Integration Lab, Iera said. Unmanned Maritime Autonomy Architecture promotes the development of software for unmanned maritime vehicles, which includes both unmanned underwater and surface vehicles.
Task Force 59, which is operated by the Navy's Fifth Fleet in the Middle East, has also been experimenting with unmanned surface vessels. When asked if the unit would incorporate the unmanned submarines, Iera declined to answer on behalf of the task force.
Rear Adm. Casey Moton, program executive officer for unmanned and small combatants, said the development of naval surface and subsurface unmanned technology requires "everyone's best," whether it's industry, Navy labs or academia.
Experiments are being undertaken alongside Naval operations and major training events such as last year's Rim of the Pacific exercise, where all four unmanned surface vessel programs took part including the largest of the robotic vessels, the Sea Hunter, a 132-foot boat.
"The work is helping in the development of concepts by the fleet and is building trust by the fleet in unmanned systems and is providing feedback to our engineers and program office teams," he said.
Explosive ordnance disposal and special warfare units "are leading the charge" in the Navy to use the systems, he added.
Iera said the office plans to hold an industry day in about a month that will cover the "breadth of the Navy's unmanned technologies."
Topics: Undersea Warfare, Robotics and Autonomous Systems, Unmanned Surface Vehicles, Unmanned Underwater Vehicles