EMERGING TECHNOLOGY HORIZONS EMERGING TECHNOLOGIES
CHIPS Act to Reshape Microelectronics for Decades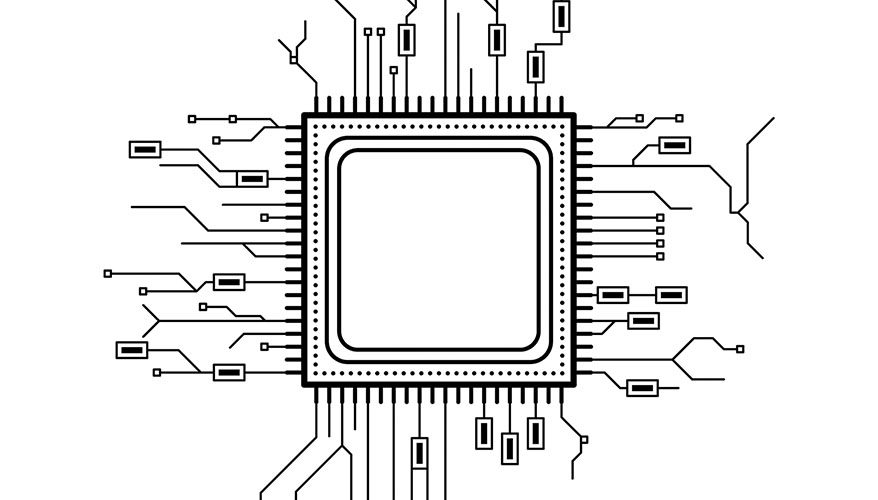 iStock illustration
The CHIPS and Science Act, which appropriated more than $52 billion for semiconductor research and development and manufacturing, is one of the most significant industrial policy efforts in recent history. The funds, which will be largely administered by the Department of Commerce, follow the 2021 CHIPS Act, which authorized more than $280 billion in funding for U.S.-based semiconductor research and manufacturing.

While CHIPS is poised to reshape the commercial U.S. semiconductor industry, the Defense Department and the defense industrial base have a distinct set of microelectronics needs. Today, the department uses an ever-changing combination of state-of-the-art, commercial state-of-the-practice, and in some cases, commercially obsolete microelectronics in its systems.

Though the department and its industrial base must overhaul their approach to microelectronics to match commercial timelines and fully leverage current commercial capabilities, defense platforms still rely on legacy technologies, resulting in a business model mismatch with a fast-changing commercial industry.

When the commercial market moves on before the military is prepared to upgrade its systems, the department frequently makes expensive bulk "end-of-life" purchases to anticipate future sustainment needs. Additionally, defense requires access to chips designed for special applications, including high temperature, high shock and high radiation environments.

These boutique applications require defense semiconductor suppliers to retain the workforce and infrastructure to produce key mature chip designs and rapidly transition relevant innovation into defense systems.

Such activities are not always a priority for commercial industry, especially given that the Defense Department represents less than 2 percent of the overall chip market. The department and its contractors, until now, often relied on a select group of suppliers to meet unique requirements, leading to market inefficiencies and high costs.

The CHIPS and Science Act provides $2 billion for the Pentagon's "Microelectronics Commons" program, designed to build partnerships between researchers, commercial semiconductor industry and the Pentagon. Recognizing an economy-wide need, Commerce also plans to invest nearly $10 billion into mature chip manufacturing capacity.

Additionally, its National Semiconductor Technology Center, National Advanced Packaging Manufacturing Program and the new Manufacturing USA institutes have the potential to help defense businesses of all sizes benefit from commercial research and manufacturing capacity for both state-of-the-art and mature microelectronics.

To build on these steps, leaders across the Commerce and Defense Departments will need to focus on transitioning commercial microelectronics innovations into defense systems while retaining access to mature chips and focusing on state-of-the-art low-volume niche designs.

A key focus area for the Commerce Department should be ensuring that the new foundries funded by the $10 billion allocated for mature chip manufacturing grants are capable of meeting defense needs, with an eye toward applying the latest commercial innovations in defense applications while also meeting stringent security and reliability requirements.

For their part, Commerce's new microelectronics organizations should work with the Pentagon's Microelectronics Commons acquisition programs, as well as its industrial partners, to conduct joint research activities on defense-specific applications of digital engineering, including modeling and simulation tools. This can support defense and other industries' needs to ensure that systems being developed and manufactured are capable of being more frequently upgraded with more modern chip designs, to design new microelectronics with backwards compatibility for use in older defense systems and to save time and money when designing new subsystems.

Additionally, many of the same major commercial semiconductor companies and research universities will participate in multiple CHIPS-inspired efforts, so the two departments will need to coordinate and deconflict work across the activities that are launched. The Defense Department also must update its practices to be able to adopt modern, commercially viable chips.

Commerce should also enable these new organizations to support an "access infrastructure" for smaller businesses to innovate and contribute to a "made-in-America" microelectronics ecosystem. This can include encouraging investment in organizations that provide multi-project wafer services at affordable prices, helping both state-of-the-art and mature foundries meet the unique needs of the defense industrial base.

Investing in open-source hardware and software for design and digital manufacturing tools that create a common and broadly accessible innovation environment can also help overcome silos between the commercial and defense sectors.

Finally, the Commerce Department should invest in new ways to rapidly test and produce cost-effective custom designs. These investments will benefit the entire U.S. commercial sector as the technical limitations of Moore's Law will inevitably drive more custom designs to boost chip performance. This can include using the Microelectronics Commons to push early-stage breakthroughs toward manufacturing, and to push incentive funding to foundries that are increasing their capacity for small-scale fabrication runs.

In early 2023, the Emerging Technologies Institute will be releasing a report with defense-specific microelectronics recommendations with a focus on harmonizing with the commercial sector.

All told, intra-governmental and inter-industry collaboration can push the nation toward a more open-source architecture, a healthy mix of state-of-the-art and legacy chips and a vibrant industrial workforce that crosses over between the commercial and defense sectors, serving the needs of future consumers and warfighters.

Dr. Michael Fritze is a technology consultant and senior fellow at the Potomac Institute for Policy Studies. Jacob Winn is an associate research fellow at NDIA's Emerging Technologies Institute.
Topics: Emerging Technologies, Electronics, Defense Department