Virginia Rocket Launch 'Turning Point' For Space Operations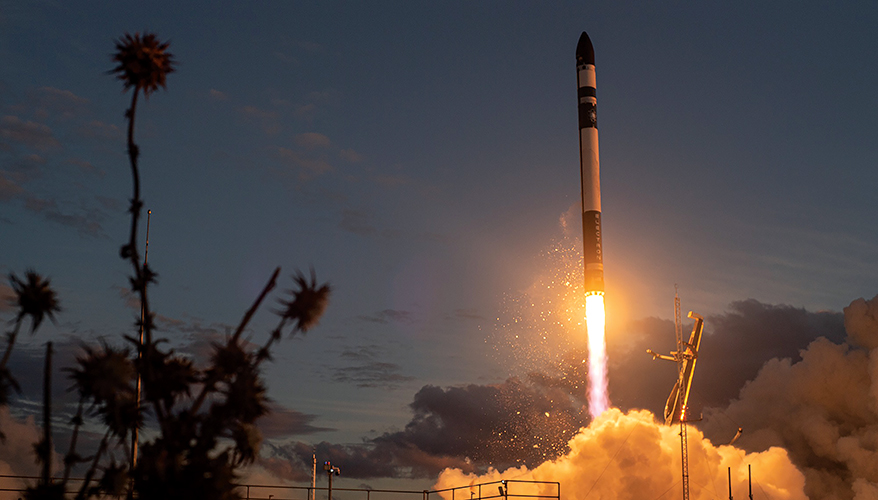 Electron rocket
Rocket Lab photo
WASHINGTON, D.C. — From a distance, the upcoming launch in Virginia will look like any other craft blasting into space, but the technology on board the vehicle and the location will be firsts for the United States.

The mission, titled "Virginia is for Launch Lovers," will consist of the first U.S. launch of New Zealand-based Rocket Lab's Electron rocket from its new Launch Complex 2 at NASA's Wallops Island, Virginia, facility.

"This flight just doesn't symbolize another launchpad for Rocket Lab," said CEO Peter Beck during a conference call with reporters prior to the launch. "It's a standing up of a new capability for the nation. … And it's a new rocket to Virginia and to the Wallops Flight Facility."

Rocket Lab has conducted 32 launches of the 59-foot, reusable Electron at its Complex 1 in New Zealand, and the U.S. facility will allow for increased launch tempo and different trajectories, Beck said.

The inaugural launch was scheduled for December, but it missed several windows due to weather. As of press time, the launch was scheduled for Jan. 23.

At the heart of the launch is a new technology designed to improve safety and reduce cost: NASA's Autonomous Flight Termination Unit, or NAFTU. The technology is critical for several reasons, not the least of which is that the Defense Department is requiring all space launches from U.S. facilities use autonomous termination systems by 2025, said David Pierce, director of NASA's Wallops Flight Facility.

"We've been working on autonomous flight safety systems since around 2002, with the vision from the DoD that this would provide for increased access to space, responsive space, while also lowering the cost of launch operations," he said.

The technology has been in development and tested on sounding rockets and expendable launch vehicles in a test capacity, he said. In conjunction with Kennedy Space Center, the Space Force and the Federal Aviation Administration, NASA developed NAFTU to pull in GPS data to determine if a vehicle is off course and then automatically terminate the flight if needed.

"It has been nothing short of a Herculean effort to get us to this point, which I view as a turning point in launch range operations — not just at Wallops, but across the United States," he said.

"The NAFTU system is going to enable launch companies, the venture class, smaller launch companies, to come [to] Wallops and be able to launch at an increased cadence, but also enable lower cost launch operations," he said. "We estimate that this could reduce launch range costs by as much as 30 percent at our range."

NAFTU — which received FAA certification for the launch — is a generic software package that companies can customize for their systems, Pierce said. In Rocket Lab's case, they modified the platform into what they coined "Pegasus" on the Electron rocket.

Rocket Lab has used automated termination technology on 20 of its New Zealand launches. It has resulted in a "significant reduction" in range costs and efforts, Beck said, describing it as "a huge, huge game changer."

Eighteen different companies have expressed interest in acquiring NAFTU through NASA's technology transfer process, Pierce said.

In addition to being the first Electron launch in Virginia, the rocket will carry Virginia-based HawkEye 360's sixth cluster of three radio frequency surveillance satellites. "This is the first time HawkEye's flying with us, which is great to be able to fly them out of LC 2 here," Beck said.

The scheduled launch is the first of three Electron launches carrying HawkEye satellites. Rocket Lab will deliver 15 HawkEye satellites into low-Earth orbit within two years, according to a company press release.

"It's going to definitely expand our constellation capacity over the mid-latitudes in particular," said Adam Bennett, senior director of product marketing at HawkEye 360.

"It's a significant enhancement for our customers, both domestically and globally, as we collect unique forms of radio frequency geospatial data and supply that to help solve a lot of critical mission needs around the globe," he added.
Topics: Space, Space Operations, Robotics and Autonomous Systems