JUST IN: Mixed Reality Headset Needs Improvement, Says Army Chief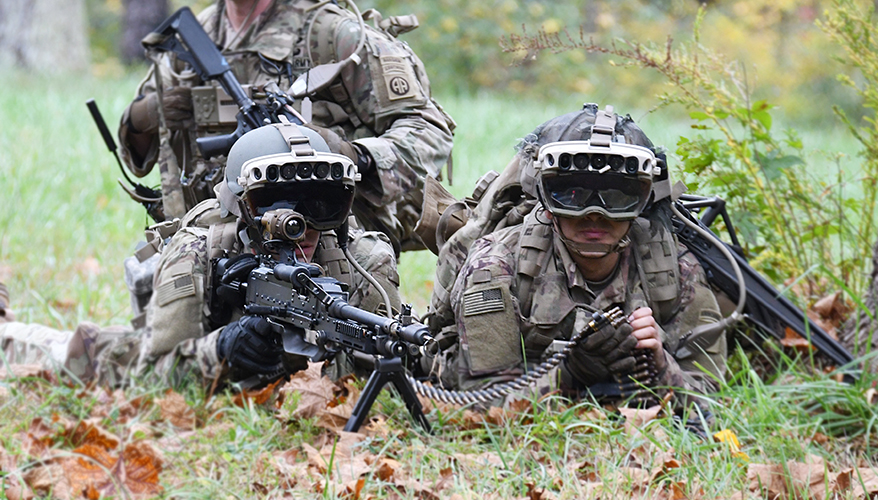 Army photo
ARLINGTON, Virginia — The Army's effort to develop a mixed reality headset that can provide soldiers situational awareness and training is not where the service needs it to be, the Army's chief of staff said.

The Integrated Visual Augmentation System, or IVAS, is a mixed reality headset that will integrate "next generation 24/7 situational awareness tools and high resolution digital sensors to deliver a single platform that improves soldier sensing, decision making, target acquisition, and target engagement," according to the Army's Program Executive Office Soldier website. The system is one of 24 programs Army Chief of Staff Gen. James McConville has said he wants in soldiers' hands as fielded systems or prototypes by fiscal year 2023.

While not all of these programs will be "perfect" or at the same level of development, getting these systems in the hands of soldiers is "pretty incredible," McConville said during an Association of the United States Army event Jan. 18.

"It is transformational, and a lot of things that we're doing people need to stay with," he added, bringing up the example of IVAS.

The Army announced in December it had awarded Microsoft a "task order" to develop the 1.2 variant of IVAS. That came after the parties renegotiated the contract based on soldier feedback about the form factor of the device, according to comments Assistant Secretary of the Army for Acquisition, Logistics and Technology Douglas Bush made to Janes Defense in November.
Initially set to be fielded in 2021, incremental fielding of IVAS will begin in September 2023, the Army said in a release.

IVAS 1.2 will include a new form factor to address "physiological impacts identified during testing, a lower profile heads-up display with distributed counterweight to improve user interface and comfort," and software upgrades to increase reliability and reduce power usage, the release said.

"IVAS … I think that is one of the most transformational things that we're doing," McConville said. "It's not quite where we need it yet."

Instead of giving up on programs like IVAS that have fallen behind, the Army must continue to put the work in to reach its modernization goals, he added.

"Some of the systems are not completely ready for primetime," McConville said. "But we should not give up on them because … it's going to be transformational when we get that system.

"Eventually, if we stay consistent and persistent with IVAS" and continue to innovate and evolve the system, "that will come to a point where we wonder how we ever did business before," he said.

It may take time, but the Army must be on the "leading edge of technology," McConville added.

"We have to be lethal, we have to give our soldiers the absolute best gear so when we go into a conflict, they have an advantage," he said.

These programs won't stop when the systems get into the hands of soldiers, McConville said. Like Apache helicopters and Abrams tanks, the Army will "incrementally improve" these technologies to stay ahead of the game.

"We're trying to transform these systems so they go a lot faster, a lot further, and then we take advantage of convergence," he said. "That is the secret sauce: get these systems into the right place at the right time, at the speed of relevance."

As the Army works toward these modernization goals and readies its soldiers for multi-domain operations, the war in Ukraine is giving the service insight into what a future fight could look like, McConville said.

"You have to [do] combined arms, and no system alone is going to be effective," he said. "You don't want to present an adversary just one dilemma … you want to throw a bunch of balls at their heads.

"All these lessons are being learned in Ukraine, and the Ukrainians are doing a great job," he added.

One particular lesson from Ukraine is the importance of precision fires, McConville said, pointing to the country's use of the High Mobility Artillery Rocket System, or HIMARS, which he called a "game-changer."

"I would argue those are going to be very effective in a future conflict," he said. "The Ukrainians have been very innovative on how do you locate targets, and how do you bring precision fires at range in a timely manner?"
Topics: Army News