JUST IN: Army Piloting Aircraft Control System at Project Convergence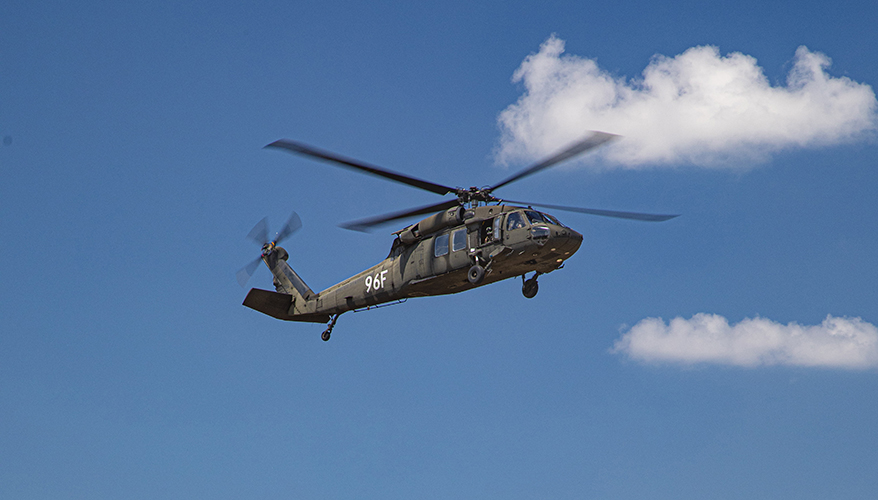 Army photo
HUNTSVILLE, Alabama — The Army will test a prototype technology that integrates communication, navigation and surveillance capabilities for its aircraft at its upcoming annual experimentation event.

The system called Flexlink will fly as a part of the Army's future vertical lift effort at the event, said Chadwick Ford, business development director for the Army and Special Operations JADC2 requirements and demonstrations at Collins Aerospace.

Project Convergence is the Army's contribution to joint all-domain command and control, or JADC2, the Pentagon-wide campaign to connect sensors more efficiently and effectively to shooters. Last year, warfighters tested out more than 100 technologies at Yuma Proving Ground, Arizona.

Ford said Flexlink — which originated from one of Collins' Air Force programs — allows secure communication across services and coalition forces. It's developed so that different capabilities can be added or updated based on the service's needs using a modular open systems approach.

"What we tried to do from an open-systems perspective and the mission enablers is that you need to be able to go into a theater of operation, communicate in all domains, but do it securely — do it in a cross domain so you can talk to coalition forces," he said during a media event at Collins Aerospace's Customer Experience Center in Huntsville, Alabama.

The hardware will be set up to meet airworthiness standards for Army tests, which means it is being palletized in a military case to put in the back of a Black Hawk. That won't be the final form factor, he noted. The company is working with the Army Aviation Flight Test Directorate to integrate the technology into the Black Hawk.

"We have a prototype, and we're looking at continuing to advance this as we move forward for Flexlink," he said.

Flexlink is expected to be able to function on one of the Army's top priorities, the Future Vertical Lift programs, Ford said. By the following Project Convergence in the 2023-2024 timeframe, Collins hopes to demonstrate its ability to connect air-launched effects with an Army aircraft, he said.

He added that Collins is showcasing additional technologies at this Project Convergence but declined to say which ones.

The other services are working on their own versions of JADC2. The Air Force calls it the Advanced Battle Management System and the Navy, Project Overmatch.

Meanwhile, Collins will participate in "an expansion of demonstrations" of the Black Hawk's autonomous capabilities, said John Esposito, vice president for strategic pursuits.

In partnership with Defense Advanced Research Projects Agency, or DARPA, Sikorsky demonstrated autonomous flight with its S-70 Optionally Piloted Vehicle Black Hawk at the experimentation event last fall.

"That was a step of many steps they have planned for demonstration," he said.

Collins Aerospace's flight control computer Perigon flew on the platform during the demonstration. Esposito noted the technology could help keep aircraft current for the Army.

"As obsolescence is a threat for Black Hawk and for other platforms, this is a viable solution for upgrade," he said.