ROBOTICS AND AUTONOMOUS SYSTEMS
JUST IN: Australia Eager for Its First MQ-4C Drone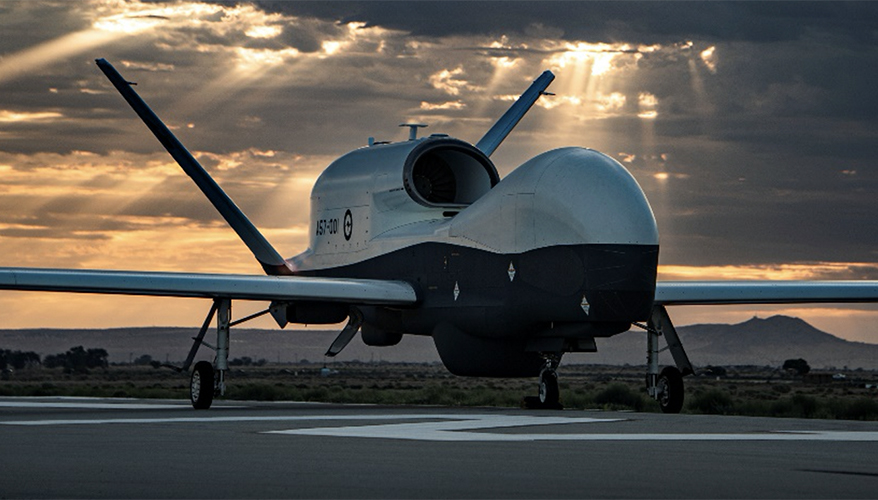 Australia's first MQ-4C Triton on the runway in Palmdale, California.
Northrop Grumman photo
One of the United States' closest allies in the Pacific is preparing to receive its first Triton surveillance drone, Northrop Grumman officials announced Sept. 14.

The MQ-4C drone — which is based on Northrop Grumman's GlobalHawk unmanned platform — will be delivered to Australian Royal Air Force Base Tindal in 2024, Air Vice-Marshal Rob Denney, head of aircraft capability, said during a debut event for the drone. Eventually, Australia could receive as many as seven aircraft depending on the government's Defence Strategic Review, he said.

"This represents a watershed moment in the advancement of airpower for Australia. The significance and importance of Triton to Australia's intelligence, surveillance and reconnaissance capability cannot be overstated," he said.

The unmanned aerial vehicle is significant because it can fly for more than 24 hours at altitudes greater than 50,000 feet, said Jane Bishop, vice president and general manager of Northrop Grumman's global surveillance division. From Australia, that could mean flying as far north as Japan or as far east as American Samoa in a single flight, she said.

"All of these missions can be accomplished with loiter time to spare while simultaneously feeding near real time information to the commander's common operating picture," she said.

U.S. Navy officials have said in the past that a 24/7 persistent ISR capability over a target would require four of the platforms. Denney noted that Australia's plans will depend on the ultimate number of platforms acquired.

"With three aircraft you can maintain a permanent orbit, but we could potentially expand that if the decision is made to acquire more," he said.

The drone was designed and built through collaboration between Australia and the United States, said Rear Adm. Stephen Tedford. The partnership represents a new milestone in the Navy's Indo-Pacific strategy, he said.

Tedford noted the drone will work alongside the sub killer and reconnaissance aircraft the P-8 Poseidon, which is built by Boeing.

"MQ-4C Triton will significantly improve Australian and U.S. capabilities in the region, enhancing our joint ability to respond to regional challenges, including humanitarian assistance and disaster relief team with the P-8," he said.

Beyond surveillance capabilities, the platform will allow the two countries to work closer together, Denney said.

"The fully integrating our combat architecture will revolutionize the way the Australian Defence Force conducts operations with our partners and allies," he said.

The Triton announcement comes close to the first anniversary of the announcement of the nuclear-powered submarine technology agreement between the United States, the United Kingdom and Australia, noted Australian Consul-General Los Angeles Jane Duke.

"AUKUS marks a new phase in the ever deepening cooperation and has highlighted our special place of strategic trust," she said.

Tedford added the Navy began talks with the Royal Australian Air Force about maintenance and sustainment options for the Triton earlier this year. The two parties have not yet parsed out how much of the eventual repairs needed for the platform will need to happen in the United States.

"It makes perfect sense that we would have that conversation and talk about what is a shared approach to depot-level maintenance for this amazing platform," he said. "The truth is we don't have the answers quite yet."

Christine Zeitz, Northrop Grumman's general manager and vice president for Asia Pacific, noted the surveillance capabilities had a role to play in the Indo-Pacific, including Antarctica. She said she was optimistic that the capabilities Triton could bring to Australia would be considered by its leaders.

"In particular, sovereign maritime ISR capabilities that can provide responsive surveillance across Australia's area of intelligence interest are crucial to defense's shape, deter and respond-to strategy, and I have no doubt will be an important consideration in the current Defence Strategic Review," she said.
Topics: Robotics and Autonomous Systems