JUST IN: Army Sees Role for Next-Gen Aircraft in Indo-Pacific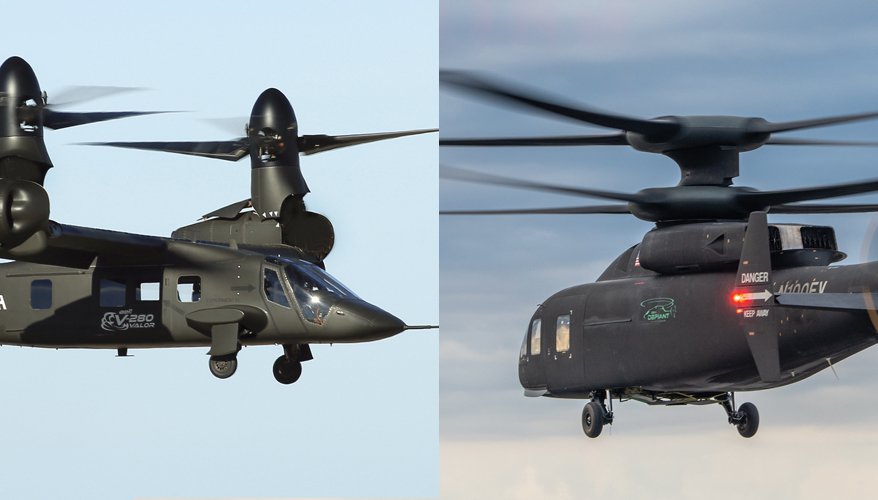 Bell Textron, Boeing-Sikorsky photos
The Army is certain its family of new rotorcraft — which includes a scout helicopter and a replacement for the aging Black Hawk — will have a place in future in the Indo-Pacific operations, a service leader said Aug. 24.

The aircraft will bring advanced capabilities to Army aviation that far exceed current systems, bolstering the service's presence and what it can accomplish in the expansive waters of the region, said Maj. Gen. Walter Rugen, director of the future vertical lift cross-functional team spearheading the efforts.

"These advanced rotorcraft configurations can get there — it truly is an expedition capability — whereas the current fleet can not," Rugen said during a discussion hosted by the Center for Strategic and International Studies.

Future Vertical Lift is one of the Army's top modernization priorities as the services pivot away from conflict in the Middle East and toward future competition with China and Russia. The program includes the future attack reconnaissance aircraft — or FARA — as a replacement for the OH-58 Kiowa scout helicopter, as well as the future long-range assault aircraft — or FLRAA — to replace the UH-60 Black Hawk utility helicopter.

FARA and FLRAA are still under development, with plans to field the aircraft by 2028 and 2030 respectively. But their expected flying speed, range and endurance make them viable for overwater operations across large distances, Rugen said.

In addition, "they can operate outside of a … medium-range ballistic missile, then close that distance and either strike or help someone out in a pinch," he said. "They can do so again in a very efficient and fast manner."

The improvement to the Army fleet will give combatant commands more options for operations in the Indo-Pacific working alongside aircraft from the other services, he added.

The Army's FVL programs can bring additional flexibility to operations in the region with the service's emphasis on a modular open systems approach, Rugen said. The strategy gives the Army the ability to rapidly integrate different mission systems onto its aircraft — including communications, navigation, lethality and electronic warfare packages, he said.

Because of that, commanders and the joint forces will be able tailor capabilities on the aircraft specific to mission needs, he added.

"As we fight as a joint force, I don't think you want to go in just high, or just low, or just maritime, or just air. You want multiple domains … and you want to present multiple dilemmas to any enemy," he said.

Army aviation's position in the Indo-Pacific must start with building trust with nations in the region, Rugen said. Initially, that could look like conducting humanitarian missions and disaster relief.

"These advanced rotorcraft configurations can get there with capabilities that make a difference," he said.
Topics: Aviation, Army News, International