France Plots Long-Term Army Modernization Plans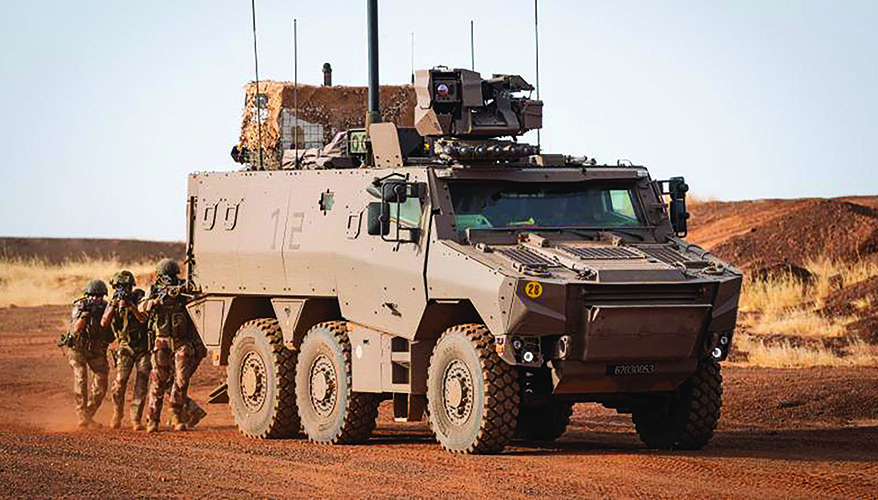 Griffon multi-role armored vehicle
French army photo
PARIS — While still in the throes of its biggest modernization push since World War II, the French army is already looking at what comes afterward.
The NATO member's army is in the middle of a 20-year modernization program called "Scorpion" that takes it through 2040.
Col. Arnaud Goujon, chief of plans at the French army headquarters, said the service is already jumpstarting plans for a second step of upgrades it calls "Titan."
Scorpion is seeking to upgrade the army's light and medium tanks and improve their connectivity. Similar to U.S. forces' push to connect sensors and shooters known as joint all domain command and control, France calls its effort "combined collaborative combat," he said.

The roots of Scorpion took hold 20 years ago. Equipment from that program is now being delivered to the force and is already being used in operations in Sub-Saharan Africa, he said.

The army received its first batch of Jaguar armored reconnaissance and combat vehicles in February and since then has ordered more. They are manufactured by a consortium comprising French contractors Nexter, Arquus and Thales.

They will replace three existing vehicle platforms: the AMX-10RC tank destroyer, the ERC-90 Sagaie armored reconnaissance vehicle and the VAB HOT Mephisto armored personnel carrier.

The same consortium is building the Griffon multi-role armored vehicle as part of the Scorpion program. They will replace 4x4 armored personnel carriers, which have been in the inventory since the 1970s.

"In light of this success with the realization of Scorpion — and without waiting for it to come to fruition — the army must already think about the next phase," he said during a talk at the Eurosatory defense trade show in Paris.

Titan will start in 2030 — a few years before Scorpion wraps up — and will run through 2045 with a concentration on modernizing heavy tanks, artillery and combat helicopters, Goujon said.

Titan will start off as a series of studies that "will identify the best technological solutions," he said.

The reason for the two-phased approach is that French military thinkers see the battlefields of 2030 and 2040 as being different, he said.

The trends that the army will see two decades from now are beginning to emerge today, and will only grow more prominent by 2040, he said.

Warzones will be more heavily contested with anti-access, area denial capabilities in all domains — land, air, sea, cyber and electro-magnetic, he said.

"We must also develop forces that are resilient, a characteristic more essential than ever because while we will not only hit opponents, we will also take some hits," Goujon said.

Resilience was a key theme of a recent RAND Corp. study that took an in-depth look at the French armed forces.

"A Strong Ally Stretched Thin: An Overview of France's Defense Capabilities from a Burden-Sharing Perspective," by Stephanie Pezard, Michael Shurkin and David A. Ochmanek, concluded that France fielded a highly capable military, but could not sustain a long-term conflict.

Like many Western European armies after the end of the Cold War, the French army drastically reduced its numbers. Today, it has a standing force of about 119,000 and is considered one of the most formidable land forces in the region, the authors said.

"The army has been making major investments in technology, especially networked warfare technology (as seen in the multibillion-euro Scorpion modernization program), but it faces a challenge with respect to readiness," the report said. This was due to past budget cuts and austerity measures, a small number of weapon systems, and sustaining Operation Barkhane in the Sahel and the homeland security operation known as Operation Sentinelle, it said.

"The result is a struggle to conduct training relevant to conventional warfare and to maintain personnel and materiel readiness for any additional contingencies, especially high-intensity conflicts, which would require ample resources and might feature high rates of attrition," the report stated.

"Overall, the French armed forces lack depth, meaning that demanding operations would quickly exhaust both France's human and material resources," it added.

One conundrum is that the army wants to be light enough to fight in Sub-Saharan Africa but also heavy enough to contribute to any conflict with Russia in Europe, the authors noted.

As for the future, Goujon's thoughts on warfare reflected those of U.S. military leaders who are also making a transition from permissive environments found in Iraq and Afghanistan to potentially contested environments.

"Our forces will have to be more frugal because access to logistics on the battlefields will be more difficult than today," he said.

Warzones will also be more "transparent," he said, meaning it will be harder to hide from enemies and launch surprise attacks.

Future battlefields will be more dynamic, faster and digitally connected, he said.

Like U.S. forces and their JADC2 concept, France's solution to these challenges will be its own robust, interconnected network of sensors and shooters being developed called the Scorpion Combat Information System.

"We will develop our own network of sensors to facilitate the exploitation and the diffusion of our information," he said.

The standards and interfaces for interconnectivity being developed today for the modernization program will lay the groundwork for Titan, although that will be at a much larger scale as it seeks to integrate more tanks, long-range artillery and helicopters, he said.

The French army also foresees warfare conducted increasingly by autonomous uncrewed systems and swarm tactics used to overwhelm forces, he said.

Those capabilities are rapidly developing and will be nearer-term threats, he said. French ground forces will have to strike a balance between protection, concealment, and mobility, he added.

The army will not only have to develop its own masses of robots, but find ways to protect itself from others, he added.

It will also emphasize manned-unmanned teaming, he added.

"We are already seeing these tendencies with our own eyes in present-day conflicts," he said, referring to the use of loitering munition tactics in the Ukraine war with Russia.

The French army is behind others in fielding the so-called "kamikaze drones," but that will be remedied soon as it plans to acquire U.S.-made AeroVironment Switchblade drones later in 2022, he said.

Connectivity will be the main pillar under which it all operates, he said. It will start with platoons, work its way up the echelons, the battalion, brigade and division, and eventually connect to the French air force and navy.

Ultimately, the goal is to have complete interoperability with allies, although he noted that work on inter-connectivity is already being carried out with partner nations such as other NATO members.

"Titan's future is a series of systems of systems that will co-exist," he said.

One goal is to have up to 7,000 nodes on a division scale interconnected, he said.

"It is a great challenge," he noted.

Another challenge is resilience. The network must be defended against adversarial attacks. The network must be "dynamic," he said. In other words, it must be able to heal itself.

Ultimately, Titan will prompt the French army to revisit traditional roles on the battlefield and break down barriers between infantry, cavalry and artillery, he added.

As for the immediate future, the Scorpion program is preparing to integrate two new platforms in addition to the Jaguar and Griffon.

It has so far ordered 108 Serval light armored vehicles built by manufacturers Nexter and Texelis.

The 15-ton Serval is expected to complement the 24-ton Griffon. It can move eight personnel, including the driver and gunner and is expected to be the main light vehicle in the inventory with some 16 variants, including patrol vehicle, a communications node and scout, according to French army fact sheets.

Delivery of Griffons has also begun. The 6x6 vehicle will serve a variety of missions including a mobile mortar, mobile command post and ambulances.

They can carry remotely operated 7.62mm or 12.7mm machine guns or 40mm grenade launchers.

The French army decided not to include new high-firepower vehicles in its modernization plans, but rather to upgrade 200 of its Leclerc main battle tanks. That includes new computers, stronger armor, new sensors and the Scorpion Combat Information System, a fact sheet said.

Goujon said none of these vehicles so far are autonomous or optionally manned. However, robotic systems are envisioned as fighting alongside ground forces under a program called Vulcan, which will run in parallel to Scorpion and Titan.

Robots will be integrated in two phases, with experimental vehicles planned to join crewed counterparts around 2025, he said.

The first stage will be a pilot program concentrating on linking the robotic vehicles into their Scorpion counterparts, he said.

"We aren't just interested in adding robots to the battlefield but making sure they are fully integrated into the command system," Goujon said.

The second phase — with experiments beginning around 2030 — will include more autonomous robots that will collaborate with the second wave of new platforms developed under Titan.

"The rapid evolution of technology means that we have to conceive of all of this very methodically, in a very steady manner, in order to make reliable choices," Goujon said.
Topics: Land Forces, International, Global Defense Market