SPECIAL REPORT: Allies Flex Muscles During RIMPAC Exercise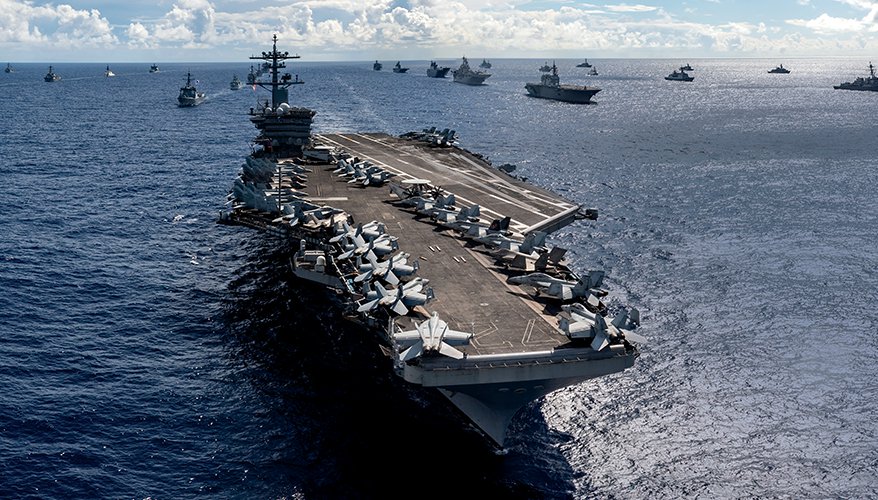 Navy photo
This is part 1 of a 3-part special report on the Rim of the Pacific Exercise.
BELLOWS FIELD BEACH, Hawaii — A hulking Marine Corps CH-53 Super Stallion rumbles up from behind the trees. It roars over the beach and the teal-colored sea off the eastern coast of Oahu. Several hundred yards offshore, it descends to a few feet above the choppy surf, kicking up a wash that envelops the helicopter. Australian troops drop into the temperate water and begin inflating a boat to carry them to shore.
A mile down the beach, just inland from the crashing waves, Australian, Malaysian, Sri Lankan, Tongan and U.S. troops maneuver through a training range of tan-colored buildings designed to look like a village in Iraq or Afghanistan — a legacy of the post-9/11 wars. Blank rounds crack off as the troops conduct reconnaissance and clearing operations to simulate potential urban combat somewhere in the Indo-Pacific region.
These amphibious and urban missions were some of the dozens of operations carried out at the biennial Rim of the Pacific international exercise led by the U.S. Navy.
As it has been since the 2012 exercise, RIMPAC 2022's theme was "Capable, Adaptive, Partners." This year, 26 nations, 38 ships, four submarines, 25,000 personnel and more than 170 aircraft participated in five weeks of exercises ranging from submarine hunting to amphibious assaults to blasting ships out of the water.
Vice Adm. Michael Boyle, the commander of RIMPAC, said the exercise's purpose is for like-minded nations to come together, advance their individual and joint capabilities and send a message to the world that there is a large, united force working for peace and stability in the Indo-Pacific region.
"We're not aiming at any particular country," Boyle told National Defense. "But we're aiming at the globe to say, 'Hey it's real that we have like-minded folks working together.'"
During a visit to RIMPAC, Secretary of the Navy Carlos Del Toro made clear who the message was for.
"There are nations in the world that would have one believe that their sovereign territories extend well beyond the established rules and norms," he said during a conversation with reporters at Pearl Harbor.
The 26 nations coming together to train and deepen their interoperability is something "that our adversaries cannot replicate themselves, neither Russia, neither China nor anyone else out there," he continued.
Beyond the geopolitics, each nation comes to RIMPAC with its own capabilities and objectives, Boyle said. Nations with smaller militaries might be interested in practicing disaster response or basic blue-water capabilities like refueling at sea. Others are looking to work on high-end warfighting functions like air-to-air integration and complex amphibious assaults.
It's a constantly evolving exercise designed to deepen interoperability and increase complexity with each iteration so nations "can go home with confidence and begin to see themselves as a player in creating peace and stability in a free and open Indo-Pacific," he said.
"In the past it has kind of been a schedule of events, and the schedule of events kind of drove the exercise," he said. This time, the "red forces" have been given greater freedom to challenge the task force commanders, "allowing them to kind of think through the problem, and then maneuver the forces dynamically."
RIMPAC 2022 followed a "crawl, walk, run" model. It began with a harbor phase where all the participants mapped out the details of the exercises and worked out bugs in communications systems. Then, they set out to sea and gradually ramped up the tempo and complexity of the exercises.
For the amphibious assault ship USS Essex, complexity was evident in its mission set and command structure. The Wasp-class ship was leading Combined Task Force 176, a group of 13 ships from eight nations under the command of Rear Adm. Sang Min An of the Korean Navy. The task force was preparing for a massive amphibious assault operation.
They were also working out nuances of Force Design 2030, the Marine Corps modernization plan.
Under the plan, the Marine Corps is divesting legacy platforms, like tanks and cannon artillery, and transitioning to a more mobile, expeditionary force with a maritime focus. Key to that, as the plan states, is working closely with the Navy to determine the optimal combination and distribution of capabilities.
"Amphibious operations are some of the most complicated, difficult to accomplish operations that we can do," said Maj. Christopher Bartos, executive officer of Marine Air-Ground Task Force 7.
Amphibious operations combine air, land and sea assets and forces and require coordination and risk management, he said. "So, that's been a large part of the training that we've been doing — it has been understanding a little bit better how the Navy does their things and how we do our things for that, so that way we can be successful whenever we are called upon," he added.
The opportunity to develop and test concepts of joint operations between the Navy and Marines at RIMPAC "is groundbreaking for us," said Rear Adm. Michael Baze, commander of the Navy's Expeditionary Strike Group 3. "We're going to share ideas with each other and perhaps learn from one another."
"As we do these things," Bartos continued, "we test out new things, new concepts, new employment procedures whatever it might be. We're learning every day how to better be prepared for a peer adversary or near-peer fight."
Force Design 2030 is grounded in the 2018 National Defense Strategy that called for the Marines to transition from counterterrorism operations in the Middle East to peer-level competition, with a focus on maritime operations in the Indo-Pacific.
"So, every time we do an exercise, we're looking at that," Bartos added. "This one in particular because we have the Navy partnership going on. It's a particularly good exercise to kind of look at [Force Design 2030] again and try to understand where we are."
Wasp-class ships like the Essex ferry aircraft and marine landing craft to within 10 miles of shore. From there, helicopters, hovercraft and other platforms deploy to bring land forces to shore.
Partnership was evident throughout the ship. Marine Corps Ospreys sat next to Navy Seahawks on the flight deck. In the well deck were two Navy hovercraft, one with a Marine Humvee strapped to its deck.
"I think we're seeing more Marine interaction than maybe even when I was on these ships 20 years ago," said Capt. Wayne Liebold, executive officer of the Essex. "I definitely think there's a large focus of the Marine Corps getting back to the roots of shipboard Navy-Marine Corps integration."
Marines were integrated in and sailing on several of the ships participating in RIMPAC.
About 100 miles off Oahu, the USS Abraham Lincoln was busy launching and recovering aircraft as the only U.S. carrier participating in RIMPAC. The ship was sailing with a mix of aircraft that represented advances in capabilities and interoperability.
The Lincoln is the second U.S. carrier to have its two C-2A Greyhound cargo and passenger aircraft replaced by three CMV-22B Ospreys. The Navy variant of the aircraft the Marines have been using for years will eventually replace all the Navy's Greyhounds.
"The CMV-22 and its tilt rotor capability — to be able to land ashore at a helicopter landing zone — is an important new addition to the air wing of the future," and an important part of the Lincoln's deployment, said Capt. Lew Calloway, commander of Carrier Air Wing 9.
In addition to learning how to incorporate the Osprey into their daily routine, the crew of the Lincoln is continuing the shake-out of the F-35C aircraft, which is also newly assigned to the ship. Like the CMV-22B, the carrier-based variant of the joint strike fighter first deployed on the USS Carl Vinson last year and joined Carrier Air Wing 9 on the Lincoln when it deployed on its current tour in January.
"F-35Cs are a stand-in asset, an asset that can go into opposed airspace if needed, if ordered to," said Calloway, adding that the platform can "deter malign influence anywhere in the world."
Furthermore, the F-35C provides critical sensing capabilities, he added. "The airplane soaks in information, shares it seamlessly with fourth-gen assets — and in some cases with allied and partner assets — and that capability is new to Carrier Air Wing 9 and new to carrier aviation in the past few years."
What's unique about the F-35s on the Lincoln is that they aren't Navy aircraft. They are from the Marine Fighter Attack Squadron 314.
"The F-35Cs from the Marine Corps are essentially interchangeable with the F-35Cs that the Navy fields to other aircraft carriers," said Calloway. "So, it's very important … that the Marine Corps allows a Navy officer, me, to operationally control [them] while we are deployed."
The Lincoln's current deployment and its participation in RIMPAC is giving the Navy an opportunity to learn their way around the complex aircraft that is slowly being fielded across the force and to put their computer networks to the test, he said.
"Many times, if I've got to fix a maintenance discrepancy in an F-35, I'll use the networks to reach back to stateside in order to send data back and forth to analyze the engine data … or flight control data," he said. Responses come back immediately, allowing for rapid repairs.
"That exists in some ways with fourth-gen aircraft, but the speed at which that happens makes our networks very important and makes the F-35C maintenance organization unique," he said. "We've learned a lot of lessons on that front."
And the Navy and Marines were learning many lessons about joint-force integration and how the services — and their allies — might work together in a conflict in the Pacific.
"I think the biggest thing is the Marine Corps needs to be that stand-in force, right? That contributes to the Navy and the joint commander in that maritime environment," said Marine Corps Lt. Col. Brendan Walsh, commander of VMFA-314. "This is very important for us that we're able to do this and learn lessons here working with our joint partners, and I think that does contribute then to the commandant's overall intent [behind Force Design 2030]."
The Marine Corps presence on the Lincoln shows the interdependence needed to implement the transition, he continued. "It's important for the Marine Corps to be here with the Navy and the tactical-air integration relationship. And then when we go back to the Marine Corps at the end of the deployment, we're able to disperse those lessons learned to better work with the Navy."
VMFA-314's Maj. Robert Ahern said that beyond relationship building, RIMPAC is an opportunity for the Marine Corps to demonstrate the ability to disperse aircraft to different locations to contest threats in the Pacific.
"And the carrier is just one node in the larger picture," he said. "So, what we've been able to do with our airplane … is show that even though it is a newer, complicated, challenging airplane to maintain, we can take it anywhere, and all we need is just a small contingent."
That contingent can be the U.S. Navy, or partner nation ships or land bases, he added. "That's where the partner-nation side of what RIMPAC represents is so important, because we can't do it all on our own … we need friends with places to land and fuel."
That interoperability element is at the heart of RIMPAC, according to participants. Nations landed aircraft on each other's ships. They conducted refueling and resupply operations. They hunted submarines and sank ships, which were decommissioned and cleaned to minimize environmental impacts.
In the months after RIMPAC, the U.S. services and their international counterparts will conduct their after-action reviews to learn lessons and build on the experience.
"We're always looking for ways to make it better," said Boyle. "I think a way to make it better is we do RIMPAC-like activities in the interim between RIMPACs."
That requires some form of standing command-and-control structure, although probably not to the level of formal command-and-control forces, he said. "But at least to come together for planning to understand what our national objectives are and where those objectives overlap."
And that's why he hopes to see not just interoperability — the capability of platforms and units to talk and work together — evolve from RIMPAC, but interchangeability.
"'Interchangeability,' I describe as starting with where our national objectives overlap," he continued. If nations have overlapping objectives in the Indo-Pacific, that can help break down barriers to interoperability, "whether that's classified information disclosure, whether that's the ability for our link architecture to talk to each other," he added.
Beyond that, if nations like the United States, Japan, Australia or India have greater overlap of their interests, "then we can start to talk about what types of activities might we do together, you know, to posture the force in the Pacific to be a deterrent against anyone who might want to change the current rules-based order."
Keeping Eyes on Friends, Enemies at RIMPAC
The USS Abraham Lincoln was the only U.S. aircraft carrier participating in RIMPAC, and it was abuzz with jets roaring around and crewmembers climbing the decks. At the center of the chaos was the ship's captain, who was keeping it all in check.
And as complex as driving ships and coordinating the launch and recovery of dozens of aircraft might be, one of the most challenging aspects of keeping RIMPAC on target was communication, said Capt. Amy Bauernschmidt, the only woman commander of a U.S. carrier.
There were two main components to the communications challenge, she said: language barriers and differences in technology.
"On paper it always looks very simple, and it's not always as simple in execution," she said. "So, while it's actually gone exceptionally well so far this exercise, it is truly that piece — it is ensuring that when we need to do certain operations … do we all understand what we're doing?"
That is part of the reason why RIMPAC follows the "crawl, walk, run" model. During the "crawl" or harbor phase at the beginning, the partners sorted out their language and systems differences the best they could.
"Each time you work with this many nations, you're on kind of a different enclave of systems, and [partners] don't always get why you try to run them up before the exercise starts," she said. That's why everyone needs to show up on time.
"If you don't have all the players in [port], you don't always get a full end-to-end check of everything, so sometimes that first end-to-end check is when you're all out underway," she said.
While there were some hiccups, communications worked well throughout RIMPAC, she and other officers said.
In addition to communicating and coordinating with partners to keep the ships sailing and planes flying, Bauernschmidt was watching allies to see what she could learn.
The Navy doesn't always have the right answers, she said. "I think everyone has something to contribute, so I am absolutely open to the best practices from any nation."
And how some of the other nations fuel aircraft, position ships or conduct day-to-day activities like fire drills "gave me a couple of thoughts and ideas about how to manage this gigantic organization," she said.
"If we learned anything from World War II, or if we've learned anything from watching recent events, logistics is a very important piece," she said. "It is not something to be taken lightly or to be shrugged off or to make too many assumptions about, so we are absolutely watching it," she added.
Joint and international partners wasn't the only things in her gaze.
"You are absolutely watching your adversaries as much as you're watching your allies and partners," she said.
"Russians come out almost every summer," she said. "So it is not at all uncommon to have Russia in the neighborhood of Hawaii," she said.
"The entire time we were in 7th Fleet, we were often accompanied by Chinese ships," she added.
Part 2: Unmanned Systems Make a Splash During RIMPAC
Part 3: Coast Guard Packs a Punch at RIMPAC
Topics: Navy News, Maritime Security