Army's One World Terrain on Track for 2023 Deadline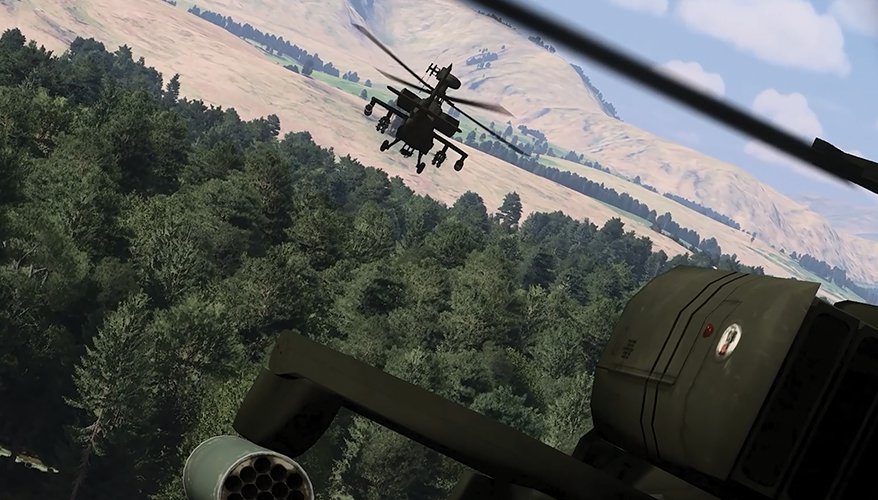 Bohemia Interactive Simulation screenshot
FARNBOROUGH, United Kingdom — Key training and simulation software the Army has vowed to field by 2023 is on track for delivery, one of the contractors developing the project said in July.

Bohemia Interactive Simulations' work on the One World Terrain, which supports the Army's Synthetic Training Environment, is on schedule, William Day, senior project technical lead, said on the sidelines of the Farnborough Airshow in the United Kingdom.

The Synthetic Training Environment is a top modernization priority for the Army. In 2021, Army Chief of Staff Gen. James McConville vowed to deliver 24 new technologies by 2023 that are part of its top modernization priorities. One World Terrain was one of the programs on the list.

One Word Terrain seeks to render the entire world in 3D so soldiers can train virtually for missions located anywhere on Earth prior to a mission. It also plans to leverage 5G technology and the network so soldiers can train wherever they are stationed.

Meanwhile, the Army ordered its program executive office for simulation, training and instrumentation to move up the Synthetic Training Environment's deadline from 2028 to 2024, the head of PEO STRI said earlier this year.

Bohemia will create a digital twin of the terrain needed for the training environment for the program, including reconfigurable vehicle trainers, weapons handling trainers and desktop simulations, Day said.

Flexibility is important for the Synthetic Training Environment's software so it can be deployed to wherever soldiers need it.

"If they want to be able to do training hours in forward operating bases, there are kits that can then enable that. Likewise, you can have classroom-based training at the bases," he said.

Bohemia is offering other products that tap into geospatial data to give warfighters high-fidelity renderings of the areas of operations where they may be fighting. Using data from open sources or provided by government organizations, the VBS4 from Bohemia can build terrain for warfighters to explore, said Rusmat Ahmed, senior vice president for Europe, Middle East and Africa sales at the company.

The company — which was acquired by London-based BAE Systems earlier this year — demonstrated the accuracy of the technology's virtual worlds during the airshow.

During the demonstration, company engineers pulled in data from the search engine Bing to show how quickly the software can construct training environments in different locations around the world. Operators used a PlayStation controller to move throughout the virtual terrain, but the program can be used across systems, according to the company.

The simulation is highly detailed, even down to the vegetation that is native to the area, Ahmed explained. The latest software release includes more accurate representations of thermal imaging and how snow covers various elements of the landscape like roads and tree lines, according to the company.

That kind of "high-fidelity" simulation can be a launching point for training with up to thousands of soldiers, platforms and adversaries in large-scale exercises, Ahmed said.

"You can do combined arms training because it's really on a massive scale," he said.

From there, instructors can design scenarios that challenge soldiers by having additional obstacles on top of achieving their operational objectives. For example, a simulation might be set up to break down the vehicle a warfighter is operating or surprise the soldiers with more enemy forces than they were expecting.

While live training is important, it is necessary to prepare warfighters for locations they can't access, such as territory controlled by adversaries, he explained. Trainees who can navigate on a map using the actual terrain data will be better prepared for an unexpected operation where warfighters may not have time to get the lay of the land.

"It's about honing basic skills, some of which you can only learn by simulation," Ahmed said.

The simulations can also prepare warfighters for more expensive live training with capabilities such as exploring and doing drills on a ship, he said.

The VBS4 software can even create artificial intelligence to simulate diplomatic efforts warfighters may have to undertake during military operations. These include the ability for warfighters to gauge the sentiment of civilians in a war zone, Ahmed said.

"I don't think there's anything else that does the whole scale for real multi-domain operations," he said.

While Bohemia's main customer base is NATO countries, the company is expanding into the Middle East and Asia, as the markets are less familiar with virtual training, Day said.
Topics: Army News, Training and Simulation