EDITOR'S NOTES DEFENSE DEPARTMENT
Tips for Placing Commentaries in the Magazine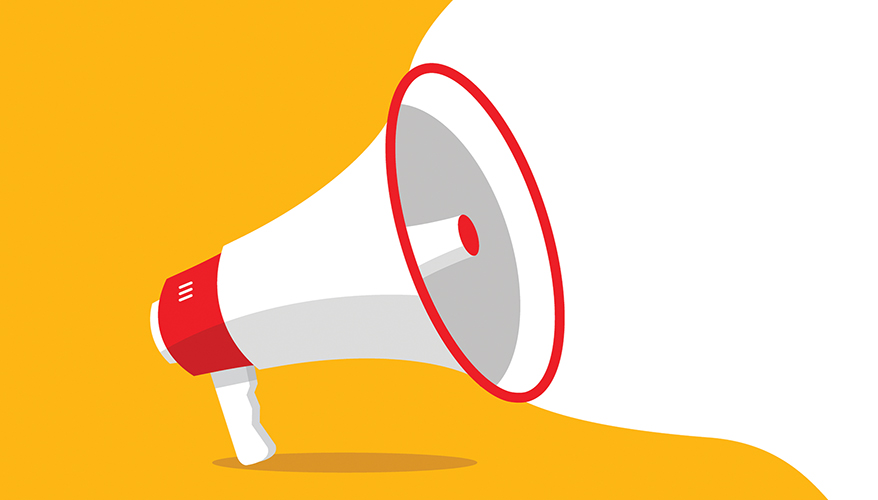 iStock illustration
One of the big parts of my job is coordinating the opinion pieces that appear every month in National Defense.
These usually fall under three titles: "Viewpoint," "Commentary" and sometimes "Industry Perspective."
The umbrella term is "contributed pieces," because the writers are not paid for the articles.
This month's column is a bit self-serving, as I spend a great deal of time fielding phone calls and emails from potential contributors, or their public relations representatives, who are seeking to place commentaries in the magazine.
And I do my best to walk them through what I need and don't need. I point them to the "Contribute an Article" section at nationaldefensemagazine.org under "Contact Us" that has a fairly good rundown of what we need, but these tips are often ignored.
Recently I had a potential contributor with an interesting topic. I gave them a standard word count — 1,500 to 1,800 — and added "please read the writer's guidelines." The article was sent to me 10 minutes later at 1,200 words with about 10 different rules broken. That word count leaves me in no-man's land. Too long for one page and too short for two pages.
It's very competitive to place a commentary in National Defense. So what are we looking for in terms of topics and contributors?
First, we are looking for topics that are of interest to a wide swath of our readers. Not every commentary is of interest to everyone, but we often receive items that are too far down in the weeds. A recent example was a submission about a program in the geospatial intelligence field.
Interesting to some, but not to a large enough number of our readers, I estimated.
Bread-and-butter topics that are of interest to larger numbers of readers would include: acquisition reform, Cybersecurity Maturity Model Certification, tips for small businesses, emerging markets and contracting insights.
As for contributors, we are looking for "noted experts," which has a broad definition, but normally doesn't include term papers from university students.
These experts are active duty or retired military officers, academics, think tankers, association leaders, attorneys, consultants and industry executives.
Industry executives get the most rejections because many of them are just looking for free ads.
Sometimes the pitch — usually coming from a public relations firm — is overt.
"Military innovation leader ACME Corp. would like to send you an article written by our president and CEO, retired Army Gen. Robert Revolvingdoor about the innovative ways the military can use the company's innovative new low-cost Illudium Q-36 Explosive Space Modulator."
No thanks. Buy an ad. Send it as a press release and maybe one of our reporters will write it up as a news brief. But that's not a commentary.
We understand that presidents, CEOs and other executives want to put their name out there as "thought leaders," and often their viewpoints are pitched as "vendor neutral." That's fine as long as the topic is interesting and compelling to a large number of readers.
Yet these writers often can't resist slipping in a paragraph or two of ad copy about how the company "is leading the way to blah, blah, blah." I just edit it out because I can.
As the writer's guidelines state: "It is magazine policy that once a manuscript is in the editing process, no outside perusal is permitted."
In other words, the article will be transformed into our style.
Those who read National Defense regularly may notice our philosophy of "uncluttered copy."
We don't like bold lettering or italics. We abhor parenthesis and prefer an em-dash. We eschew "over capitalizing." We're not an academic journal, so no footnotes. And we despise acronyms, although we do use them — sparingly — never more than one per paragraph.
And please: no hyperlinks in place of citations. If something must be cited, do it in the text. Print magazines don't have hyperlinks. Duh. The article will appear online as well, but we're not posting a second version with hyperlinks.
And listen up attorneys — we don't do bullet points and numbered lists. Sometimes we receive articles that are little more than a series of bullet points and look more like an outline than a commentary. The legal community loves this writing style. But that's not writing. That's listing.
Now, don't get me wrong. We receive a lot of great, insightful commentaries from attorneys. They are a wealth of insider knowledge, especially in the realms of acquisition, contracting and new regulations. But the legalese they use for writing is the worst.
For example, someone explain this construct: "The Department of Defense ("DoD") recently updated the Cybersecurity Maturity Model Certification ("CMMC") standards…"
Why on Earth do lawyers need quotation marks and parenthesis?
However, these style issues are not dealbreakers. As copyeditors, we will transform bullet points to paragraphs, ruthlessly eliminate acronyms and turn legalese into understandable English.
Next, make sure the article has all the necessary approvals if it's coming from the military, government or a bureaucratic organization prior to sending. Don't email a draft with a caveat "it just has to be approved by my commanding officer."
Finally, there are no deadlines. The sooner I receive a commentary, the sooner I can look for a slot for it in the magazine. But once accepted, understand that it may not see the light of day for several months.
All that being said, pitches for provocative, well-reasoned and interesting commentaries are always welcome.
Topics: Defense Department