ROBOTICS AND AUTONOMOUS SYSTEMS
Sensor System Offers Maritime Surveillance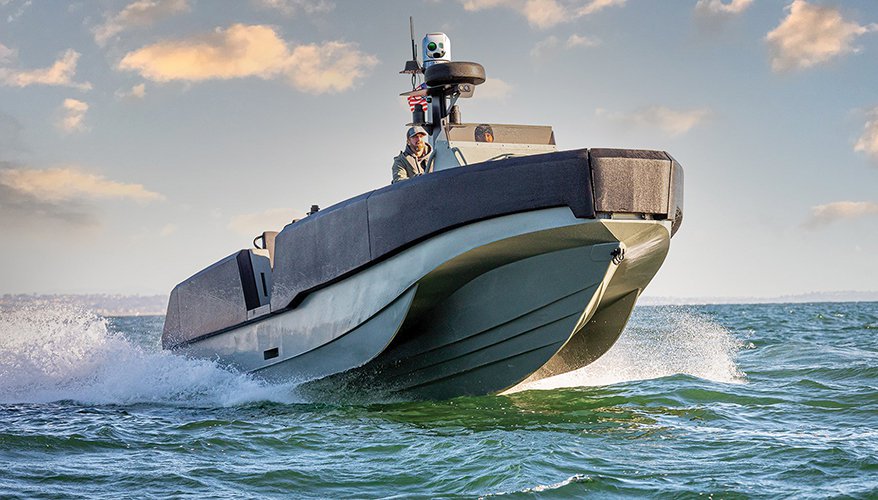 Flir Teledyne photo
TAMPA, Florida — A new surveillance system seeks to improve the military's situational awareness during operations at sea, according to company officials.
Teledyne FLIR's defense arm in May debuted the SeaFLIR 240, the company's new addition to its line of maritime surveillance systems. The latest iteration provides operators with high-definition and multi-spectral image data in a compact and lightweight device, said Mark Garland, product director for land and maritime gimbal systems at Teledyne FLIR Defense.
The system uses electro-optical/infra-red imaging — including high-definition daylight, low-light and thermal camera options — which can be used interchangeably depending on the operation, he said.
"The SeaFLIR 240 is the eyes of the boat, especially during a passive situation where you don't want others to be seeing our radar signature," Garland said during a demonstration of the system at the Special Operations Forces Industry Conference in Tampa, which was organized by the National Defense Industrial Association.
Teledyne FLIR demonstrated the new maritime surveillance system atop a multi-mission reconnaissance craft, which is built by Australia-based startup, The Whiskey Project.
"The size, weight and performance of [the SeaFLIR 240] is really designed for this kind of combatant craft," Garland said. Although its weight varies depending on payload, the system package weighs no more than 44 pounds.
Despite its smaller size, the SeaFLIR 240 is considered a medium-range surveillance system, Garland noted. It can detect humans from up to 2.8 miles away and other vessels from nearly 10 miles away, while optional laser pointers and laser rangefinders can mark and measure the distance of objects, he added.
All the imaging data is collected and displayed using a new onscreen user interface. The display is customizable based on mission and reduces clutter and other distractions on screen when in use, Garland said.
"I can be in a single image or a split image, and I can combine the color and the [infrared] screens," he said during the demonstration.
To showcase the new user interface, Teledyne FLIR partnered with Aries Defense. The company's system collected data from the SeaFLIR 240's sensors and displayed it on two tablets aboard the boat, which is controlled either from a single-hand controller by an operator on the vessel or remotely.
"[Operators] can take our serial communications interface, and they can integrate that into their [command and control] or battle management system and then control this thing from anywhere," Garland said. "They may make commands for certain keystrokes to switch from infrared to electro-optical, to zoom, to focus, to laser range and so on."
Topics: Maritime Security