Army Tests New AR Helmet Display for Helicopter Pilots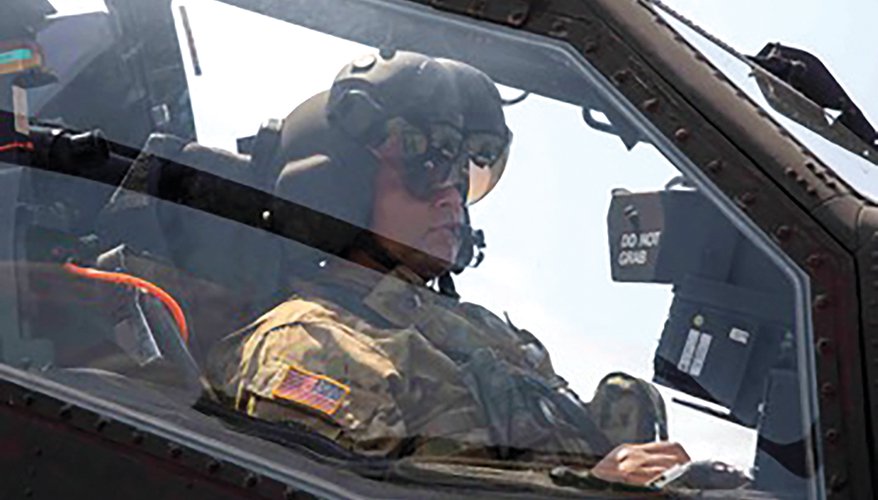 An Army pilots tests the X-Sight helmet mounted display in summer 2021.
Elbit Systems photo
CALIFORNIA, Maryland — Two eyes are better than one when it comes to helicopter safety — at least that's what Elbit Systems of America is trying to convince the Army.
The company is in discussions with Boeing and the Army to replace monocle display helmets used by Apache AH-64 pilots with binocular X-Sight helmet-mounted displays, said Mark Stiner, senior director of strategic business development, the leader of the Elbit Systems of America's Army team.
The Army tested Elbit's X-Sight — which uses data from multiple sources to build a common operational picture on the helmet's visor — at Fort Campbell, Kentucky, in summer 2021. The service put the system on an Apache, while leadership from the Army Aviation Center of Excellence at Fort Rucker, Alabama, watched, Stiner said.
"The Army is trying to find some natural upgrade point where it makes the most sense to bring this new display to the Apache, but really, the Army is in a planning phase at the moment," Stiner told the media during a recent demonstration of the technology.
Meanwhile, the company has been "talking very extensively with the Army" about integrating the system aboard its Future Air Reconnaissance Aircraft, a program that is a major component of the Army's Future Vertical Lift modernization project.
The helmet-mounted display has been in development for 10 years to achieve a nearly seamless picture, a 61-by-30-degree field of view — compared to the 40-by-30-degree on the Apache — including a full-color display, said Matthew Boyer, senior staff engineer at Elbit.
A pilot can stay "heads up, eyes out," Boyer explained. The system uses radar and other sensors mounted on the outside of the rotorcraft in addition to data from public sources to overlay an augmented reality of the terrain onto the helmet's visor.
The expanded field of view "gives you ... more situational awareness than a lot of the displays," and results in less eye strain on pilots overall, he said.
Safety in degraded visual environments is a critical advantage for the system, he noted.
For example, in bad weather, pilots don't have visual cues to know that they are still moving. But because the system uses a 3D picture instead of a real-time image produced by a camera, pilots can see the visual representation of key points to know where they are, Boyer explained.
"If you're starting to drift in a landing zone where you're very constrained, that's how accidents happen," he said.
A previous version of this story shortened Elbit Systems of America to Elbit Systems, which is the sister company of Elbit Systems of America.
Topics: Army News