U.S., Royal Navies Cut Ribbon at London Innovation Hub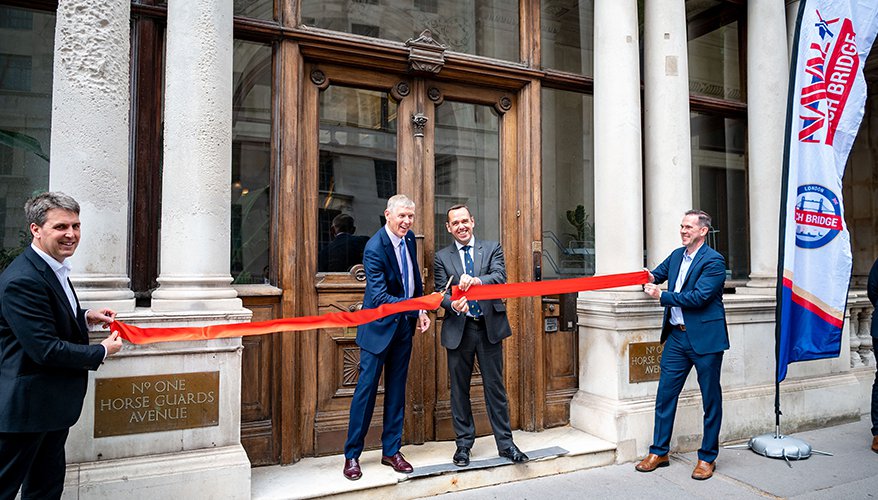 Chief of Naval Research Rear Adm. Lorin Selby and Rear Adm. James Parkin CBE, of the Royal Navy, cut a ribbon to celebrate the grand opening of the London Tech Bridge
Navy photo
LONDON — After operating virtually for more than a year, the U.S. Navy's tech bridge network recently opened its London-based office.

The London Tech Bridge is a conduit for innovation between the U.S. Navy and British Royal Navy. The partnership aims to accelerate technology development and cooperation between the military, industry and academia from both countries.

With its new facilities, the program plans to host more in-person events and foster more dialogue between the two navies and potential partners, U.S. Navy Rear Adm. Lorin Selby, chief of naval research, said in June during the office's ribbon-cutting ceremony in Central London.

"There is nothing like looking at my partners in industry eye to eye as we sit down to talk about the future and the systems we need," he said. "That has to be done in person, and having a place like this where we can all come together to talk about our problems and talk about solutions — that's what this is all about."

The London office is part of the network of "tech bridges" powered by the U.S. Naval Agility Office, or NavalX. The program is designed to help nontraditional acquisition partners — like startups, small businesses, academia or nonprofits — find a path to work with the Navy.

Of the service's 18 tech bridges, the London Tech Bridge is one of two international outposts. The other is located in Yokosuka, Japan.

Since it was initially established in December 2020, the London Tech Bridge has operated virtually due to the COVID-19 pandemic. During that time, the office built its network and found areas of collaboration between the two navies, said Laurence Mallinson, the U.K. co-director of the London Tech Bridge.

"We're looking for opportunities that the Royal Navy and the U.S. Navy could exploit," he said. "Where do we have problems that we want to solve with technology, and where might technology exist that we need to bring into the hands of the warfighters quicker?"

Rear Adm. James Parkin CBE, Royal Navy director develop, noted the importance of the tech bridge's location for attracting future collaborators.

"It's in a global city at the heart of [time zones geography] and the center of a tech revolution right now," he said.

During a tour of the office, London Tech Bridge U.S. Co-Director Jeff Brewer said the office's setup is conducive to its overall goal in removing bureaucratic barriers industry might experience when working with the military.

The office is a small space located in the same building with other London-based startups and small companies. In addition, the room has couches and moveable tables that can be rearranged like a conference room or in a less formal set up.

"When you work with a small company and bring them into a military base, it's a very different field — they're getting frisked and going through metal detectors, and they have to have a badge," Brewer said. "This is a lot different, and it's a lot more what they're used to."

The London Tech Bridge also plans to host events at their new facility. For example, in June they conducted the first monthly "Tea and Tech" session where industry from specified technology areas can pitch their ideas to the U.S. and U.K. navies.

The London office will explore all areas of technology, but it will take special interest in ideas from six focus areas: artificial intelligence, autonomous systems, directed energy, green energy, advanced manufacturing and maintenance and sustainment.

"It's about tech, because for the first time in many years, people are recognizing that the level of technological advancements ... are at a tipping point," Parkin said.
Topics: Navy News, Internation Cooperation, Emerging Technologies