ROBOTICS AND AUTONOMOUS SYSTEMS
FARNBOROUGH NEWS: Boeing Focuses on Autonomy for Defense Business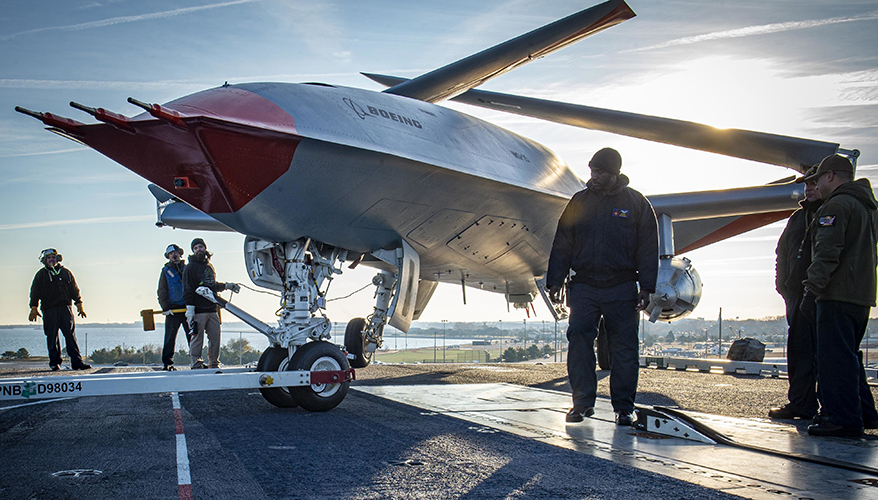 Navy photo
LONDON — Systems that use autonomous technology will be the cornerstone of Boeing's technology development in the future, said the new head of company's defense business July 18.

"We're leaning really hard into the future with autonomy," said Ted Colbert, executive vice president and CEO of defense, space and security at Boeing.

The T-7A Red Hawk jet trainer, an airpower teaming system (ATS) and the unmanned MQ-25 Stingray aircraft as systems Boeing Defense are among the programs Colbert noted.

"They offer the opportunity to leverage all the lessons on the traditional what I call moving physical platforms forward, but also integrate great technology from a connectivity, analytics, artificial intelligence perspective," he told reporters leading up to the Farnborough International Airshow.

The priority for the company is delivering autonomous capabilities for which Boeing already has commitments. However, he said the company is not taking acquisitions "off the table" for autonomous technology.

"I come from the technology world, and the way you win in the technology world is through partnerships," he said. "You find other folks that can complement the current capabilities."

As military operations have increased in Europe because of the Russian invasion of Ukraine, Colbert said this week's airshow and confabs like it are an opportunity to discuss the needs of different militaries. NATO countries have said they are committed to working toward spending 2 percent of their GDP on defense, he noted.

"We go after making sure that as they publish their needs, and as they talk about their needs, we are there to support the requirements," he said.

Additionally, Finland and Sweden have submitted applications to join NATO, making increased defense spending in those two nations more likely, he said.

Colbert declined to comment if there were any Boeing platforms specifically deployed or platforms being developed for Ukraine. He also wouldn't say how Boeing planned to compete in the region but pointed to an early gain in Germany.

The nation announced in June that it chose Boeing's CH-47F helicopters over Lockheed Martin's CH-53K model for its heavy lift fleet.
While Colbert wouldn't comment on specific programs the company is marketing for the region, he mentioned the E-7 early warning system, F-15 EX Super Hornet and the P-8 sub killer as platforms that are "important around the world."

Autonomy and unmanned teaming could also be useful in Europe, he said.

"That is a future capability that supports the future fight around the world, and we are working with all of our customers to figure out how to sell into the markets, those technologies and support their needs," he said.

Meanwhile, Colbert didn't shed any light on how Boeing plans to recover from its recent defense program fumbles. He said the company will learn from past mistakes and "take a different approach" to contracts in some instances.

"As for the contractual mechanisms going forward, that will be program by program, customer by customers, obviously, mostly through our federal government customer," he said.

For example, the KC-46 tanker program and VC-25B presidential aircraft program have fallen behind schedule in recent years. Both programs have also racked up billions of dollars in cost overruns.

"These are these challenging programs, and you learn as you go along and you adapt as you have to," he said. "Anyone that tells you anything less than that is fooling themselves."

Colbert added one of his priorities is to communicate better with the Air Force. In the past, the process of getting "clarity of question and clarity of answer" with service officials for topics like price reasonableness has posed a challenge, he said.

"That process sometimes can be complicated," he said. "I'll just say that it is of personal interest to me."
Topics: Robotics and Autonomous Systems, Autonomous, Defense Contracting