Lessons from Ukraine: Exploring Technology for SOCOM's Urban Missions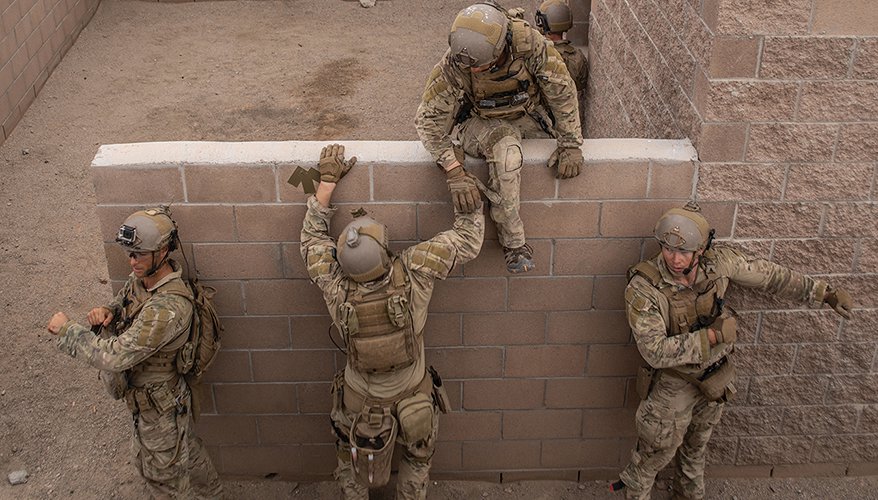 Marine Corps photo
TAMPA, Florida — U.S. Special Operations Forces know from experience in places like Iraq and Afghanistan that urban combat presents a host of tactical and logistical challenges. Russia's struggles in Ukraine not only reinforce that fact but provide important data that industry can use to develop technology to support future U.S. missions.

Modern cities are challenging environments for special operators, said Bartlett Russell, program manager at the Defense Advanced Research Projects Agency. Buildings, underground spaces, civilians and other objects clutter the area, only adding to the list of elements a commando needs to worry about.

"You have a lot of density, a lot of obstruction, a lot of things — not just buildings, but things — in city environments," she said. "It's also an unstable environment, so there might be a lot of debris and things left behind like burnt out cars."

The complexity also creates large amounts of data to sort through, another distraction for a warfighter who is trying to locate targets, she added.

Scott Boston, a senior defense analyst at the RAND Corp. who studies land warfare and Russian military capabilities, said establishing and maintaining situational awareness in a city is crucial.

"[The Russians] don't have great situational awareness now. They have some — which is better than they had in the beginning," he said.

Because urban warfare often favors the defenders with knowledge of the area, providing geospatial data directly to special operators during raids can help them navigate the city, locate threats and adjust routes to avoid barricades and enemies. To address these challenges and keep them focused during urban missions, industry has built a range of, situational awareness tools, advanced communications, and intelligence, surveillance, and reconnaissance capabilities — all augmented by artificial intelligence.

U.S. adversaries have improved their ability to perform GPS-denial and GPS-deception attacks with jammers and spoofers, said Kevin Betts, director of position, navigation, and timing, or PNT, for defense contractor Leidos' Innovation Center.

Leidos is addressing the threat by building visual PNT for places where an adversary can disrupt radio frequencies used to determine position coordinates.

"Let's just assume there are some environments — especially in urban warfare — where the adversary is just going to be able to overwhelm the radio frequency signal no matter what you do," Betts said. "And so, how can you use other [non-radio frequency] sensors that you might have on your platform to try to maintain a GPS-level of accuracy?"

Leidos recently showcased its assured data engine for positioning and timing, also called ADEPT, during the Special Operations Forces Industry Conference, organized by the National Defense Industrial Association, in Tampa. The navigation tool provides PNT capabilities for platforms in all domains, as well as for individual operators on foot, using data from satellite imagery and multiple types of non-RF sensors, Betts said.

"We just basically have the camera on board, and it's taking that live image — it's usually infrared so it works day and night — and we also carry that satellite imagery database. Then, we're matching features across those two and that allows us to locate ourselves even without GPS — all on a low size, weight and power processor," he said.

By coupling sensor data and satellite imagery, ADEPT can decrease situational uncertainty in unstable environments so a special operator can focus on the mission at hand, he said.

Ron Keesing, Leidos' senior vice president for technology integration, explained how AI can bolster situational awareness by using data from open source information.

"All of these pieces of information occur at a speed and scale that's very hard for humans to actually deal with and often also would put humans in harm's way to collect or understand," he said.

He pointed to lessons learned in Ukraine as examples of AI's contribution to situational awareness. For example, Ukranians used unmanned drones to locate Russians so they can be better targeted by conventional systems.

Being able to accommodate for rapidly changing conditions in unfamiliar cities is also crucial, said Lynn Bollengier, the president of integrated vision and communication systems at L3Harris Technologies. Special operators are constantly moving between spaces in urban environments, and they need to orient themselves quickly and find their next position, she noted.

"Maybe you expected to come out of the southwest corner of a building, but you ended up in the northwest. You need to be able to get your own place and direction," she said.

To give this flexibility to special operators, L3Harris developed its fused panoramic night vision goggle. Combining field-of-view and multispectral night vision technologies, the goggles allow users to see in all light levels across 97 degrees, she said.

The system uses image intensifier tubes that provide high-resolution imagery while adding an infrared thermal camera, Bollengier said. This gives special operators a daylight experience in low- to no-light conditions that is able to detect moving and shrouded targets in cluttered environments, she added.

The system is a "networked goggle," Bollengier said. The goggles are able to connect with a tactical assault kit, and display data such as waypoints, troop movements and other points of interest in the field-of-view of the special operator using augmented reality technology, she said.

The image intensifier tubes in the goggles also greatly reduce the "halo effect" around lights that can occur when moving from a very low-light environment to a bright one, Bollengier said.

"That can be distracting in an urban environment where troops may be moving in and out of dark to light environments," she said. The minimized halo effect can improve an image's clarity and reduce distortion around streetlights or other luminaries in cities at night, she added.

U.S. Special Operations Command awarded L3Harris a low-rate initial production contract worth $7.9 million earlier this year for the goggles. The company announced in May that it has begun production of the systems.

RAND's Boston said because of how essential optic capabilities are for urban environments, a special operator should be confident their optic systems can take a hit from an adversary's fire.

"You need to have degraded modes so that if someone fires a heavy sniper rifle and takes out your thermal sensor, you've got some way of being able to at least still operate and be able to fight degraded," he explained.

Bollengier said the L3Harris system does include a replaceable window on the outside of the primary optical surface, adding an extra layer of protection.

While all of this technology is important for special operators, U.S. forces won't be able to use them properly in urban areas without reliable communications. The added layers of buildings and other three-dimensional elements present unique challenges to a warfighter's traditional communications systems, which in turn could prevent them from receiving or sending crucial decision-making data, said Jack Moore, vice president of business development at communications company Persistent Systems.

The company has developed technology that streamlines communications regardless of the mission environment with its MPU5 mobile ad hoc system. The device uses three different transmission and receiving antennas to multiply its capacity — a technology called multiple-input and multiple-output.

Persistent Systems also uses its own network dubbed "Wave Relay" to route communications data around various obstacles based on the specific system and its surroundings, Moore explained. As a result, the added reflections from obstructions in a city become part of the data transfer.

"We can bounce off walls, bounce off of windows, bounce off of buildings, tunnels … to ensure that three separate packets of information go out, whether it's voice, position, location or video," he said.

The MPU5 is integratable with a special operator's tactical assault kit, allowing operators to input data from sensors, videos and other sources onto their dismounted situational awareness capabilities, he added.

But before special operations forces can even enter a city, they need to have reconnaissance on the area and determine who is a friend or foe.

It's one challenge Russell's program with DARPA is trying to solve. The Urban Reconnaissance through Supervised Autonomy program aims to improve how smaller autonomous systems are deployed for ISR missions in urban environments rather than sending in dismounted warfighters, she said.

"With the ubiquity and maturity level of various unmanned ground vehicles and unmanned aerial vehicles with relatively smallish form factors, they can fit in and around urban spaces … giving you better access to these environments," she said.

The DARPA program seeks to address the added element of civilians in urban environments. By combining commercial-off-the-shelf robotic ground and air vehicles with algorithms that use knowledge of human behaviors and responses, the systems can more accurately discern between enemies masking as civilians and innocent bystanders, Russell said.

"Now that you have those vehicles in and around the urban space, you can get the vehicles to interact with the population in ways that drive down the ambiguity," she explained. "We can't assume that somebody's a threat because they're running, for instance. They could be just running to a bus stop."

The project is partnering with a group of small businesses that specialize in unmanned technologies and AI to help the vehicles determine those specific nuances. This could benefit special operators when conducting missions because it gives them detailed information about a setting before stepping foot in the environment, she said.

In addition, using unmanned aerial systems for ISR keeps special operators out of harm's way in austere environments, said C. Mark Brinkley, a spokesperson for General Atomics Aeronautical Systems.

"Air-crewed assets face the same environmental challenges that UAS face," he said in an email. "The advantage a UAS has in those environments is completely negating the risk to human life, which gives UAS the edge to lower platform costs, increase platform performance and invest more in advancing the technology effects that are needed in modern warfare."

Specifically in urban terrains, long-endurance unmanned systems offer both persistence and highly accurate real-time intelligence needed to make decisions quickly, Brinkley added.
Topics: Special Operations, Urban Warfare, Combat Survivability