JUST IN: Coast Guard Aims to Learn from Navy at RIMPAC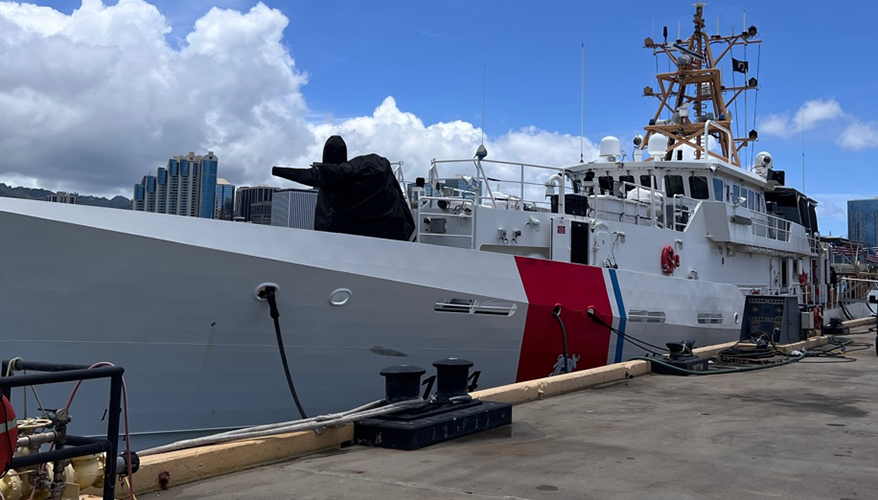 Sean Carberry photo
Honolulu — Although the Rim of the Pacific 2022 exercise is led by the U.S. Navy, the Coast Guard is playing a larger role this year.
Coast Guard Cutter Midgett is commanding Combined Task Force 175, which includes ships from France, Peru and the U.S. Navy, and is conducting air and missile defense, gunnery, mass rescue and anti-submarine warfare exercises.
"It is a unique opportunity to be in charge of a particular task force, and that certainly fits right into our ability to interoperate with the U.S. Navy and partner-nation navies as well," said Capt. Wille Carmichael, the Midgett's commander.
The Coast Guard spent several weeks preparing for the operation and is taking every opportunity to learn from the Navy, said Carmichael.
The Coast Guard operates with a "firehouse" mentality and is not as accomplished at long-range planning for complex operations, "so we're learning some of those lessons from our Navy counterparts," he said. "I was very thankful that we had Navy personnel integrated into our crew to bring those capabilities … and in turn we learn through those individuals, we bring that expertise back to the Coast Guard to kind of close that gap for the interoperability piece."
Another area where the Coast Guard is taking notes is on communications systems. The Coast Guard doesn't typically sail with the Centrix system that the Navy uses. "So, bringing that on board, plugging into our capabilities here and being able to use it and become proficient at it is one of the learning and growth areas that we have experienced here," he added.
"A lot of our partners use that Centrix system, so the better we are at using that particular system, the better we can communicate, the better we can plan, it ultimately gives us higher level execution in complex maritime environments."
The 418-foot Midgett, a national security cutter and the largest class in the Coast Guard fleet, will also sail with a Navy MH-60R helicopter on board.
"Part of that is, how do you sustain that particular airframe? How do you support it for a long-range, two-month or three-month deployment?" he said. The Coast Guard is hoping to convert some of its airframes to ones used by the Navy going forward.
"I definitely think that ability to have an MH-60 that has a blade-fold and tail-fold capability, where we can actually put it in a hanger, is a capability that the Coast Guard is looking at strongly," he added. "We're going to take RIMPAC as an opportunity to highlight those gaps and make sure that we can bring capabilities to the Coast Guard to enhance our law-enforcement and other mission sets."
Coast Guard divers and the Maritime Safety and Security Team based in Honolulu are also participating in the exercises, as is the fast response cutter William Hart.
Cmdr. Cynthia Travers leads an all-female officer team on the Hart. She said the 24-person coed crew typically conducts operations close to shore, but the cutter recently traveled to American Samoa, which took 10-days each way. The mission was to show presence and to deter illegal fishing activities.
"So, we're sort of filling a gap that exists right now," she said. "There are some larger cutters that are under construction that we're hoping will be able to take on this mission in the years to come, but for right now, the fast response cutter is the tool that we have here that can respond to that need."
As part of RIMPAC, the Hart will deploy two groups of mannequins at sea for the Midgett and a Japanese cutter to find and recover in a mass-rescue operation.
"Search and rescue is something we do quite a bit in the Hawaiian Islands, so it's great for us to be able to help train others to execute that mission that we do quite frequently," she said.
Topics: Maritime Security