Boat With Tracks Makes Inroads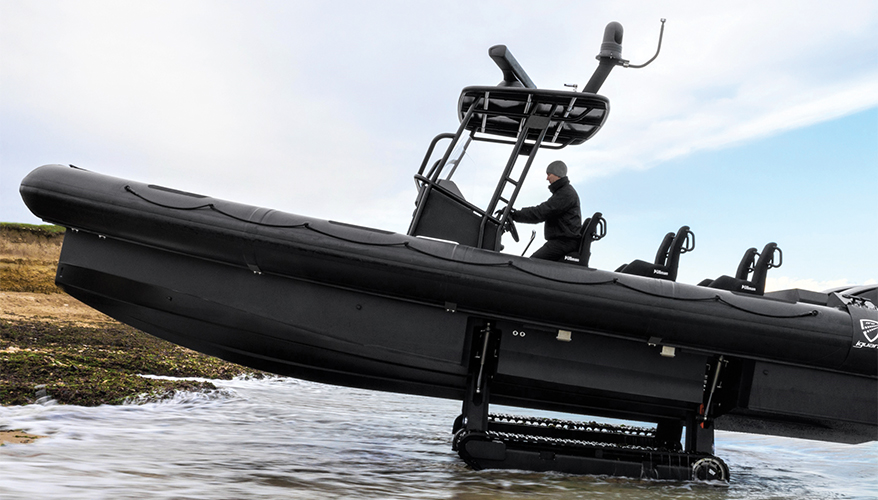 Extreme High Purpose Interdiction Craft
Iguana USA photo
A U.S. company marketing a French-designed boat that deploys a set of tracks to operate on land has reported its first sale to a foreign navy.

The Extreme High Purpose Interdiction Craft, also called "the Iguana," has been making the rounds at trade shows the past few years and was on display at Modern Day Marine in Washington, D.C., and the Special Operations Forces Industry Conference in Tampa, Florida, recently.

Mario R. Leone, CEO of Iguana USA, which is based in Bay Shore, New York, said the company sold two of the amphibious watercraft through a foreign military sale through Navy Sea Systems Command, although he could not disclose the customer.

"They are in international waters right now," he said.

The 31-foot boat can move at 57 knots then — at the push of a button — deploy a set of two tracks that allows it to come ashore.

"It has the same footprint of a human being. So, if a human being can walk thought it, the Iguana can also walk through it," he said. That includes sand or soil. "With a little water, we can also add 600 pounds of thrust to it to get us out of a tough environment or material," he added.

It specializes in traversing sand bars that other watercraft would have to go around, he added.

When moving from land to water, it can hit speeds of 50 knots within two minutes, a company fact sheet said.

It also can tow other watercraft, land vehicles or trailers, Leone added.

The tracks, which are operated by a hydraulic system, can deploy in about three feet of water in less than seven seconds, he said.

The company is marketing the amphib for surveillance, security, interception, rescue and infiltration-exfiltration missions. The company recently traveled to the Rio Grande Valley in Texas where it demonstrated the Iguana to Texas law enforcement officials for possible use on the border, Leone said.

It has also been invited to Trident Spectre 2022, a technology showcase organized by the Naval Special Warfare Group at Fort Story, Virginia, in July, he said.
Topics: Maritime Security, Shipbuilding, Surface Ships