JUST IN: Interoperability Key for Aircraft Participating in RIMPAC 2022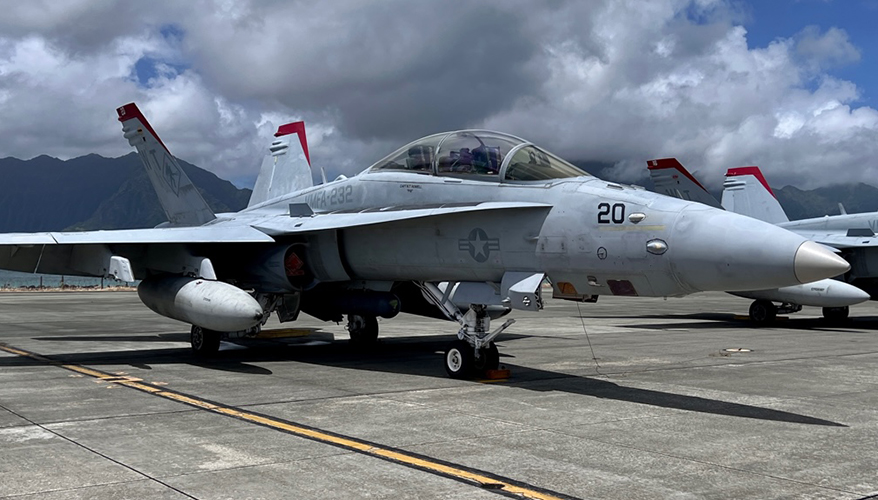 Sean Carberry photo
Kane'ohe Bay, Hawaii — The Navy's 28th Rim of the Pacific exercise is underway, with 26 nations participating in joint activities ranging from anti-submarine and mine clearance operations to missile and air defense exercises.
In addition to the 38 surface ships and four submarines, some 170 aircraft are participating in the exercises under the theme of "Capable Adaptive Partners." Some of the aircraft were on display for the media at USMC Base Hawaii July 10.
One of the older aircraft participating in RIMPAC is the Royal Canadian Air Force CP-140 Aurora. From the outside, the propeller planes look ancient, but inside they have much the same surveillance and anti-submarine technology as the U.S. Navy's P-8 Poseidon aircraft.
"The CP-140 is a capable platform," said Maj. Andy Holden, commander of the Canadian Air Force's 407 Long Rang Patrol Squadron based in British Columbia. "We regularly practice handing over and taking over from a P-8 to an Aurora CP-140."
The platform is frequently updated to ensure that sonar buoys and processing and communications systems are interoperable, he said. And that is the point of an exercise like RIMPAC, to bring allied platforms together and see how they perform together.
"There will be some limitations that we'll bring up as a lesson," he said. To the extent they can, they adapt and find work-arounds, "and obviously bring that up further if we need new systems, new sensors, to correct those gaps. We're always looking at that."
Lt. Cmdr. Kyle Blizzard with the U.S. Navy's Patrol Squadron 4 said RIMPAC is business as usual for his P-8 crew, who will be participating in submarine hunting exercises.
"It's just a continuation of work with what's existing, and us just being able to work together with various platforms and some of these other nations," he said.
However, RIMPAC is giving MQ-9A Reaper crews an opportunity to learn some new tricks.
"The intelligence, surveillance and reconnaissance in a maritime environment is huge," said Lt. Col. Justin Muller, detachment commander for MQ-9 forces. "Predominantly these assets have been used over land, so [Central Command] has had the predominance of all the missions being flown. A lot of our air crew just haven't had that exposure to talk to naval assets or fly over the ocean and see what the difference is."
It will be a unique training opportunity in that regard, he said. "And then the integration with the joint partners and the international partners is something again that they might not have done in the past, so that I think will be a very good learning objective for our air crews."
There are 70 MQ-9 personnel attending RIMPAC. They will be participating in personnel recovery, close-air support and strike reconnaissance missions in coordination with partner forces, he said.
Asked what some of the differences are of flying drones over water without the visual cues of land, "it's just more blue," he said with a laugh.
"We have some other kinds of sensors on the aircraft that kind of show different man-made objects. Boats amazingly leave a nice wake in the water, so when you're looking in an infrared camera you can see kind of some differences in temperature from that water being shuffled up, and so you can watch a trail to a ship."
Another of the older airframes participating in RIMPAC is the Marine Corps F/A-18 Hornet. The ones on display from the Marine Fighter Attack Squadron 232 looked long in the tooth with chipped and faded paint and worn sealant around the canopies.
Capt. Richard Weidner with the Red Devils noted that the Marines are phasing out the aircraft.
"It's older than most platforms that we have in the U.S. military now, but it's the weapons systems and the sensors inside of it that keep it current with other threat capabilities," he said.
Topics: Navy News