Immersive Training System Accommodates 50,000 Players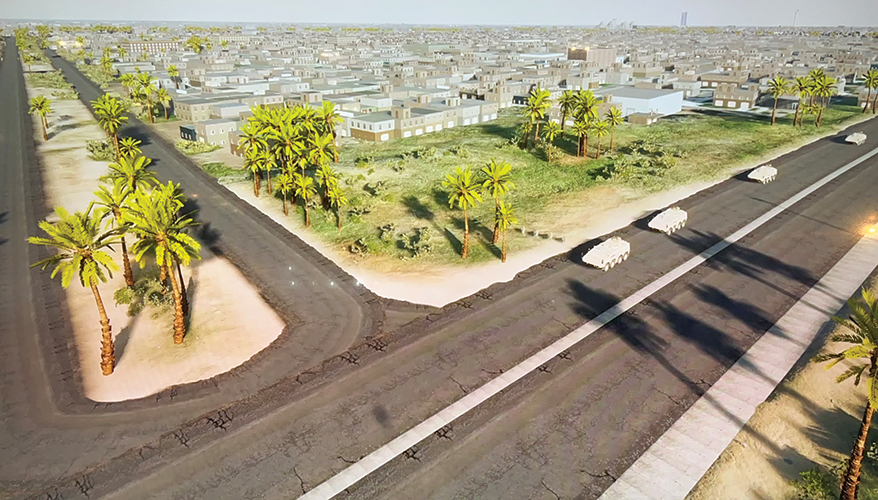 CAE image
LONDON — A simulator being developed for the British Army has the capability to accommodate up to 50,000 players simultaneously.
CAE, the Canada-based modeling and simulation company, is offering its Dynamic Synthetic Environment that will allow multitudes of participants to train for army tasks such as infantry maneuvers, driving fighting vehicles, piloting aircraft or observing operations from an unmanned aerial vehicle, said Richard Woollam, capture manager of defense and strategy at CAE's defense and security division.
This is "collective training to bring together players from different disciplines, using different platforms and equipment," he said.
CAE is developing the system to compete for the British Army's Future Collective Training System, which is part of the service's long-term campaign to modernize its currently out-of-date training with live, virtual and constructive systems called the Collective Training Transformation Program.
"People with different roles will be able to play together. They share across distributed environments, so players in different countries can work through the cloud in a single synthetic environment," Woollam said.
In a demonstration at CAE's booth at the recent IT2EC conference in London, participants in different parts of the world played out a scenario where soldiers searched a building in an urban area for a high-value target.
One player in CAE's U.K. home office about 50 miles away played the role of a vehicle driver. She drove a troop carrier to the objective, while another player in the booth operated an Apache helicopter on a high-fidelity simulator.
Another participant at CAE's Canadian headquarters flew a UAV while a participant in London played one of the commandos.
The computer constructs other soldiers and enemy forces in the system. The simulator also constructively created a squad of four Black Hawk helicopters that flew over the city with fast-rope teams that landed on a roof.
British Army officials have not set the maximum number of players it would like to participate in its future training system, but CAE has demonstrated the capability for up to 50,000 constructed or live players, Woolham said.
Security is paramount when it comes to computer training as it can reveal a lot to spies wanting to know about tactics, techniques and procedures, said Alex Gwilliam, systems architect at the division. The system can run off CAE's cloud in Montreal, but eventually the U.K. army will run the program off its own secure system, he said.
British Army officials at the conference revealed that it will award a single-source contract worth more than 600 million pounds for the Collective Training Transformation Program, which will run for 10 to 15 years, with a call next January for requests for information. The contract award is expected in late 2025.
Topics: Training and Simulation