Special Ops Tech Pulled in Different Directions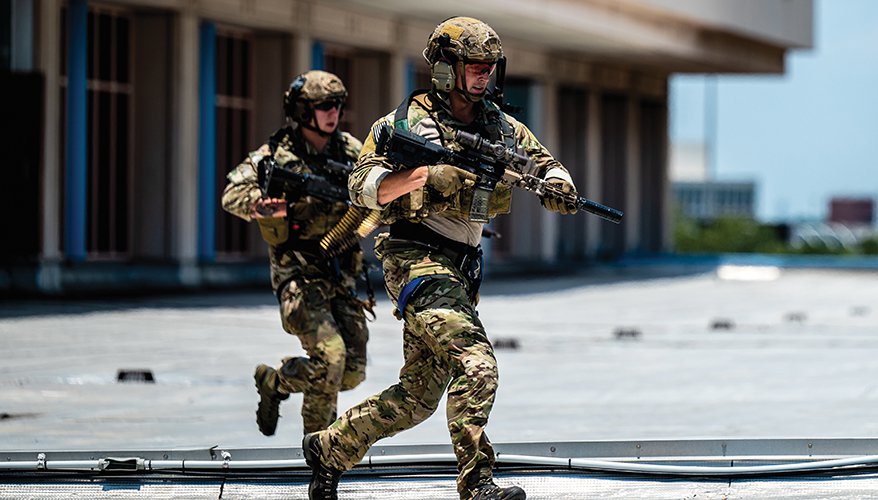 Defense Dept. photo
TAMPA, Florida — With a pivot to the Indo-Pacific, its fingers still on the pulse of the Middle East, and the potential for expanding conflict in Eastern Europe, Special Operations Command has its hands full.
But that's not unusual, Army Gen. Richard Clarke, SOCOM commandant, said recently.
Some 6,000 special operators are currently serving with partners in 80 nations, he said in a keynote speech at the Special Operations Forces Industry Conference, which was organized by the National Defense Industrial Association.
Clarke embraced the Defense Department's strategic pivot to the Indo-Pacific as the U.S. military ends more than two decades of focusing on counterterrorism.
"China will become the most capable adversary, and they are rapidly modernizing. The Department of Defense has dubbed them our pacing threat," he said.
In the same speech, he described a recent trip to the Middle East to visit an information operations center. He also highlighted a mission in Syria, where U.S. special operators and their Syrian allies conducted a night raid to eliminate an ISIS leader.
"Our operators executed yet another surgical operation that was even more complex than the [Osama bin Laden] raid that had taken place a decade earlier, using exquisite capabilities, honed from over two decades of combat," Clarke said.
SOCOM is in the process of writing a Special Operations Forces 2040 document that will look at some of the challenges the command will face at the end of the next decade, Clarke said.
"We've got to look at the pacing threat [of] China — that they're going to continue to evolve," he said. If a technology "is not moving us in a position or capability to assist us with the Chinese fight, then we need to look at it," he said.
Clarke also emphasized the command's global reach, mentioning training in February that took place with Norway in the Arctic and in West Africa with partners and allies there.
Pentagon leaders, meanwhile, have said Russian aggression is an immediate problem, but China is the long-term threat.
Lisa Sanders, SOCOM science and technology director, said the command's technology development enterprise is making the shift to weapons and systems better suited to the Indo-Pacific and for contending with peer adversaries. The command already has a reputation for quickly fielding advanced technologies that give its operators an edge. Yet, counterterrorism raids and hostage rescues will remain bread-and-butter missions for special operations forces, she added.
"We still have a requirement to do counterterrorism and there will be one for the foreseeable future," she told reporters on the sidelines of the conference.
Plus, it's hard to predict future crises, Sanders said, noting Russia's invasion of Ukraine as an example.
SOCOM acquisition executives have observed how Russia has fared in Ukraine and come up with some insights that may inform them how they approach developing technologies to go against peer and near-peer adversaries.
James Smith, SOCOM acquisition executive, said there is open and frequent communication between the command's technology developers and leaders in the intelligence and operations fields, as well as air, land and sea components and European commanders, who are all keeping him abreast of what's happening in Ukraine along with new and emerging threats.
"Not for operational purposes, but to inform us how we man, train and equip Special Operations Forces," Smith said in a press briefing.
"I would say in large part, the National Defense Strategy that just came out, and even the one that preceded it in 2018, were very prescient on what we're seeing in Ukraine today," he said.
It confirms the technology road that SOCOM is traveling, he said, with platforms such as unmanned systems, autonomous unmanned systems and collaborative autonomous unmanned systems.
Navy Capt. Randy Slaff, program executive officer-maritime, said "the fact that we have this happening right in front of us as we're really clicking and starting moving out on this modernization effort, I think is going to be a benefit for how we shape the portfolios across all the PEOs," he said.
Russia's challenges maintaining supply lines in a contested environment is one major lesson learned, said Army Col. Joe Blanton, program executive officer-special operations forces support activity, which provides logistical support to a variety of special operations vehicles. The Russia-Ukraine war is worth watching despite a shift to challenging China, he said.
"What were those challenges and what can we anticipate in our future operating environment that we can learn from today to start to drive those material solutions?" Blanton asked.
"Not only SOCOM, but I think everybody is looking at it as a contested environment," he said. The lesson is that lacking logistical support can end or stymie an operation, he said.
His office will be creating a new program manager, who will look at how to provide logistical support to forces that are operating in contested or austere environments, he added.
Sanders said the war in Ukraine has reinforced current thinking in military circles that future battlefields will operate at a much faster pace. Technologies that will help take the cognitive load off commanders will be required as events unfold quickly, she said.
"Reducing that cognitive burden will allow those decisions to be better and more impactful … Because things are happening so fast, and new mistakes are known immediately," she said.
"I think that the point that the … future is going to rely upon the information and decision space is absolutely true," she said.
Geoff Downer, program executive officer-rotary wing, said Ukraine is giving SOCOM a vision of how it will be fighting in the future. "Look at where unmanned systems are and the value that they provide on the battlefield," he said.
Ukrainian forces have been using a variety of small unmanned aerial vehicles to assist in targeting Russian vehicles, along with loitering munitions that can fly over then dive bomb to destroy targets from above.
"These unmanned aerial systems — whether they're ground launched, whether they're air launched or what have you — they increase the reach on the battlefield and increases the lethality," he said.
Art Coon, deputy program executive officer-command, control, communications and computers, said the Ukraine war has reinforced the need for modernization. "It shows that we're on a good path," he said. It reinforces how vital networks are as Russian command and control broke down in the beginning stages of the war. "It has definitely provided an example of why that's important," he said.
Air Force Col. Ken Kuebler, program executive officer-fixed wing, compared the Ukraine invasion to a crisis point that helps "us galvanize around what we need to do. We've been saying, 'hey, we need to make sure we can go against peer-to-peer competition in conflict, with integrated deterrence,'" he said.
The PEOs must look at their portfolios and see what will or won't work if going against a larger, better equipped opponent, he added.
An interconnected world also means less "invisibility" for special operators who are accustomed to conducting clandestine missions, Sanders said.
With most everyone carrying smartphones with cameras that can geo-tag images and transmit them to the world, invisibility is growing harder.
Russian forces have discovered this the hard way with Ukrainians taking pictures of fighting vehicles, transmitting them via social media along with location data and giving fighting forces instant targeting data.
"Tweets against tanks" has become a new buzzword.
And the phenomenon is not new. A Pakistani man living near Osama bin Laden in Abbottabad famously tweeted out a complaint about loud helicopters overhead the night of May 12, 2011. That was the public's first indication that Navy SEALs were raiding the Bin Laden compound.
The "quiet professional" who operates at night may no longer be a valid assumption, she said.
While the Ukraine war has reinforced SOCOM leaders' thinking on what a conflict with a formidable military might look like in Europe, there are still unique challenges in the Indo-Pacific to address.
For one, there are vast distances of water to traverse.
Sanders said: "Of all the priorities we talk about, the maritime domain is really difficult."
Take alternative precision navigation and timing as an example, she said. In a contested GPS environment, alternatives to the space-based system are required. However, most GPS alternatives are based on reading geographical features. "The ocean looks the same. So that's a challenge in that domain," she said.
Along with difficulty of operating over vast distances in the Pacific and Indian Oceans, special operators will also have to perform missions on land, which will mostly likely mean large cities, Sanders said.
When it comes to employing next generation sensor and communications in large urban areas, all the "energy bouncing around" creates difficult conditions, she said. "It's not that easy to see things and communicate. There is lot of jamming, intentional and unintentional," she added.
Outside of cities, special operators may also have to contend with jungles with triple canopies, along with weather conditions such as high heat and humidity, she said.
"We have not really done a lot of things in the jungle environment in 25 years. Those are very, very harsh environments and very hard to operate in," she said.
Clarke vowed to give special operators the technology they need. "We will pursue new forms of mobility to get [special operators] to the edges of the battlefield, new tools to test their decision advantage and new technologies to ensure that they can communicate and lead for most important missions."
While technology is crucial, the commander stressed the importance of alliances and partnerships. There is no substitution for the human factor, he said.
"You cannot surge trust in a crisis. That's why our alliances and our partnerships are an unmatched advantage," he said.
Topics: Special Operations