Over-Classification, Lack of Standards Stymies Allied Space Forces (Updated)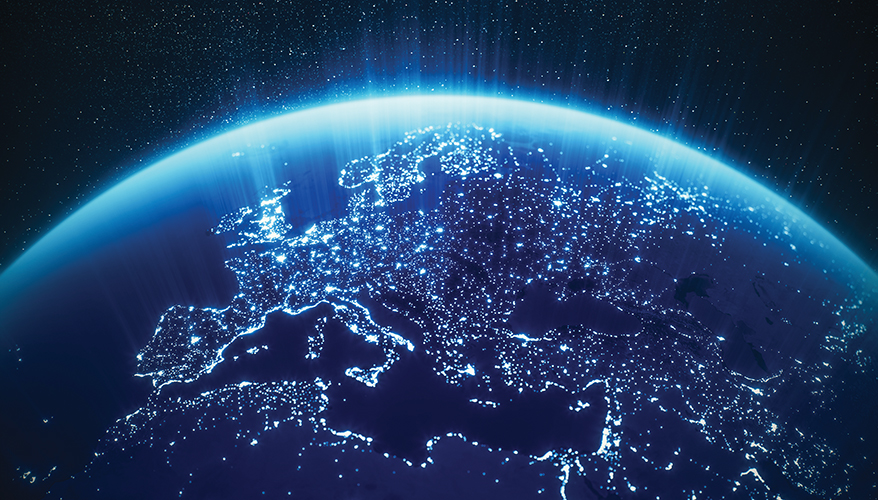 iStock illustration
The United States, Australia, Canada, France, Germany, New Zealand and the United Kingdom earlier this year released the "Combined Space Operations Vision 2031" with a mission to ensure freedom and resilience in space and prevent conflict.
Since then, the allies have taken steps to deepen coordination, cooperation and interoperability, but more is needed, and there are a host of obstacles to navigate, according to officials.
"The People's Republic of China and Russia present the most immediate and serious threats to U.S. and allied space operations," Gen. James Dickinson, commander of U.S. Space Command, said at the recent Defence Space 2022 conference in London, which brought together leaders in space forces and commands from allied nations.
The threats come from "their active development, testing and deployment of counterspace capabilities and associated military doctrine for use," Dickinson added.
Examples include hypersonics, dual-use satellites "that can grapple other satellites," and "destructive direct ascent anti-satellite missile tests that create hazardous debris and undermine every space operator's interests in space sustainability," said Dickinson.
"Our collective ability to deter a conflict from beginning or extending into space relies on our cooperation with allies and partners to develop best practices, standards and norms of behavior for responsible space operations," he added. "That's why we … work so hard to implement our joint, combined and partnered approach to our mission operations in space. That is why we must be 'allied by design.'"
And U.S. partners — including Australia, Canada and the United Kingdom — acknowledged that it is essential to collaborate with and complement the United States in space.
"The U.S. is definitely the lead in the allied collective, global coalition for space," said Air Vice-Marshal Paul Godfrey, commander of U.K. Space Command, which stood up April 2021 and reached initial operating capability this spring.
Godfrey said there is an onus on allies to ensure that the space capabilities or technologies they develop integrate into the "big U.S. machine" and make the U.S. space enterprise more efficient.
"[The] United States, in very many ways, sets the rules and we have a very strong binational relationship in the [North American Aerospace Defense Command] agreement with them," said Brig. Gen. Chris McKenna, director general of Air and Space Force development in Canada's Department of National Defence.
"I think it's very mature to understand that the mission partner environment is going to be set by [the United States] and making sure that the way that you structure your data, the way that you structure the capabilities you are going to invest in, is aligned specifically into that mission partner environment and that you can be synchronized by design," he added.
Canada hasn't always focused on international alignment in space programs, he noted. "Over the years we've invested heavily into our own sovereign space domain awareness but it's the collaborate piece, quite honestly, Canada has missed … as I consider all of the programs we have moving right now, the lack of discussion, mature discussion, on collaboration that exists around them I think is really important to sort of acknowledge now and maybe remedy."
At the same time, there are times when nations need to build sovereign capabilities and have caveats about what they can share.
"I'm inherently cognizant that national caveats exist," said Brig. Christopher Gardiner, director general of space operations coordination in Australia's Defence Space Command.
"But they exist for the right reasons," he said. "It's how you apply them that probably matters more than the fact that they're there. Applying them in a judicial manner is absolutely appropriate for all of our governments and our military services."
The key, he and others said, is to be transparent about caveats as that helps deepen trust and integration.
Being integrated with allies means more than processes and training, Gardiner added. It means recognizing the space community is small, and Australia has limited resources. "[That] enables us then to understand where those gaps are and where can we actually be putting our national treasure towards so that we're meaningfully contributing to where it's needed."
There are several related barriers to integrating space capabilities. Allies do not communicate enough about capabilities and gaps to ensure they are not duplicating efforts or leaving gaps that a nation might have the resources to fill — something that Gardiner said could amount to "fratricide." One of the major reasons that communication doesn't take place is over-classification, leaders said.
"I've never come up against as much classification as I have in the space domain," said Godfrey.
"Unfortunately, it doesn't make it easy to understand if I'm looking to develop a capability that I've just classified, how can I then have the conversation with my colleagues here to understand whether they're already developing that capability, and if I actually need to go and spend money somewhere else because they've got it," he added.
"I think one of the challenges that we're working each and every day … is how do we get to a more comprehensive sharing amongst allies and partners," said Dickinson. "How do we declassify, reclassify documents and materials so that we're able to share?"
Godfrey posed an alternate approach to the normal practice of classifying by default and then looking for reasons to declassify. "So, we start with unclass and then work out if there is a reason that we need to classify. So, the onus is on the individual to classify up to that particular level."
However, that refrain is nothing new — as allies fought together in Afghanistan and Iraq during the last two decades, they often pointed out that classification prevented deeper integration and collaboration. There is extensive reporting on the U.S. government's over-classification, and many current and former officials have stated that the problem is harmful to national security.
U.S. officials at the conference did not elaborate on what is being done to address classification barriers. The Defense Department did not respond to requests from National Defense for more details on efforts to reduce classification and increase information sharing.
Another barrier to integration is countries not coordinating on standards and interfaces, which prevents their technologies from connecting and communicating. Godfrey said that the multinational nature of industry can mitigate that problem.
"I think it does make it a lot easier with the multinationals that this can be sovereign in two places at once," he said. "It could be a British product, but it's also a Canadian product, and it's also an Australian product. And I think that in itself makes a huge difference in terms of being able to collaborate on that side."
Because the allied nations all have relatively new space commands, forces and divisions, and they largely share values and mission sets, this is the moment to get on the same page with standards and capabilities.
"We're at the beginning of the journey here, so if we don't do this, we have blown it," said Godfrey.
However, collaboration in space is not just a matter of allied governments working together, governments must collaborate with the commercial sector, which has invested heavily into space platforms and technologies. According to venture capital fund Space Capital, there has been $260 billion of private sector investment in space during the last decade.
There are more than 2,500 U.S. commercial satellites in orbit compared to 168 government and 230 military satellites, according to data published by the Union of Concerned Scientists in January 2022. The number of commercial satellites in orbit is expected to grow exponentially relative to government and military satellites, and they are essential for military operations.
"When you started applying commercial satcom to [intelligence, surveillance and reconnaissance] missions for in theater operations in Iraq in Afghanistan, you started to see a dramatic improvement in terms of the efficiency of those operations," said John Reeves, managing director of Viasat, which provides space-based communications systems.
As the war in Ukraine has shown, commercial satellite technology is essential for communications and intelligence. SpaceX's Starlink system is providing internet connectivity for Ukraine, and Maxar's satellite constellation provides unclassified visuals of the battlefield that has been used by Ukrainian forces and the media.
National security is now dependent on the commercial sector, Reeves said. "We're married up with commercial technology in ways we never thought we would be," he added.
And while the Defense Department emphasizes its need for and reliance on commercial technology, the department still has an instinct to want control of technology.
"When you have a culture of innovation, and rightfully that's been created, when you start to see innovations taking place outside of your control, I think it takes a while for people to establish the trust and realize how those technologies can be leveraged," said Reeves.
Trust is at the heart of the matter, according to Deanna Ryals, director of international affairs, Space Systems Command. She said the impediment is culture.
"It's a culture of trust and a culture of 'no,'" she said. "That's the culture that we live with today, whether we're talking about trusting our commercial providers to provide capability that isn't built by the U.S. military and the U.S. industrial base. It's a culture of not trusting our [science-and-technology] community.
"We've got to be ready to share everything we can," she added. "We've got to be able to engage our [science-and-technology and research-and-development] communities throughout the process and get those great ideas."
Robert Curbeam, senior vice president of space capture for Maxar, said that with respect to existing capabilities, the commercial sector has shown it can be trusted to provide the Defense Department what it needs in a time of crisis while still meeting the needs of non-defense customers.
"Now as we've gone through several crises and they see commercial space still being able to answer the bell, I think we are slowly but surely wearing away at that roadblock," he said. "So, we need the policies in place to allow them to use our capability when they need it," he added.
Getting it sorted out can't happen quickly enough as far as Ryals is concerned, who said the focus is on building capability to get ahead of the space threat, which the U.S. government sees as reaching a critical level in 2026.
"We have to deliver as much capability as we possibly can between now and 2026," she said. "And in order to do that we have to trust our partners, our allies, our industry, our R&D and S&T community. It's going to take all of us together to deliver that kind of capability in those time frames."
This story has been updated to correct Deanna Ryals' duty title.
Topics: Space