EUROSATORY NEWS: Turret for Manned, Unmanned Light Tanks Unveiled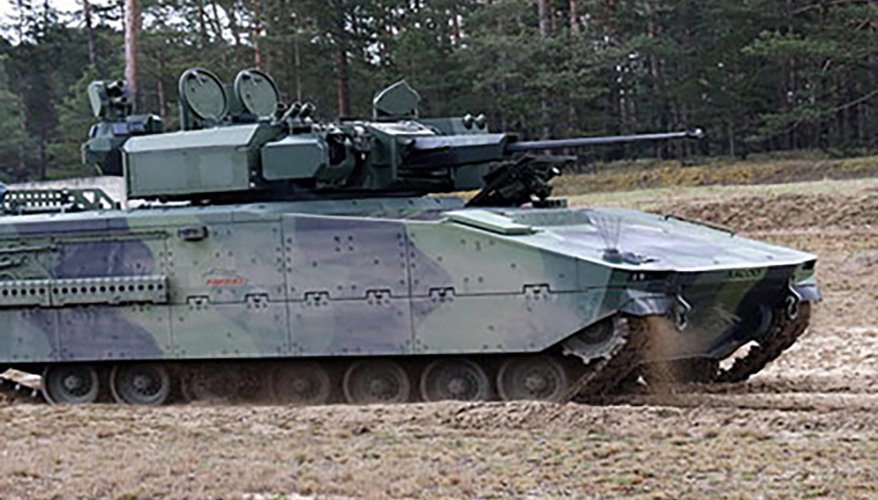 The Sabrah light-tank turret onboard the ASCOD armored fighting vehicle
Elbit Systems photo
PARIS — Elbit Systems of Israel has introduced its latest turret — a system for lightweight tanks that can be customized for both crewed and uncrewed vehicles.

The Sabrah light-tank turret was designed for Elbit's light tank and other armored vehicles that are small in size and weight without compromising lethality. The turret can be outfitted with either a 105mm or 120mm rifled gun, said Gal Raviv, vice president of land combat systems for Elbit Systems.

Light tank variants are designed for rapid movements in and out of combat to complement larger armored fighting vehicles. Because of the need for better mobility and ease of transport, they usually are smaller, have thinner armor and use less powerful weapons.

"The main idea is to be able to provide lethality, maneuverability and capability for the battle tank but not without the same level of protection," Raviv said June 15 on the sidelines of the Eurosatory 2022 international defense conference in Paris.

The turret made its public debut at the conference atop an ASCOD armored fighting vehicle made by General Dynamics European Land Systems, which the Elbit light tank is modeled after.

The light tank features an automatic loader with 12 rounds at the ready and an additional 24 in the hull. The tank also carries a 7.62mm coaxial machine gun, eight smoke grenades and two optional anti-tank guided missiles, according to the company.

The system can be fitted onto both two-person manned and unmanned fighting vehicles. Raviv said they designed the two variants in parallel so that end users could choose which capability best suits their current and future needs.

"Most of [the customers] will want, we believe, manned options today," he said. "If you look at the future, we are supporting the unmanned capability from day one."

Raviv also noted the Sabrah turret is a "full solution," as it can come with a variety of subsystems. Not only does the turret provide firepower, but panoramic situational awareness in low- and bright-light environments, target detection using the COAPS gunner sight and anti-tank protection with the Iron Fist Active Protection System.

In 2021, Elbit Systems was awarded a three-year contract worth $172 million to supply the Sabrah Light Tanks, including the new turret, to the Philippines. Raviv noted that there are other customers the company is selling the system to but could not disclose which ones.
Topics: Global Defense Market