ROBOTICS AND AUTONOMOUS SYSTEMS
EUROSATORY NEWS: Multiple Security Uses Devised for Swarm Tech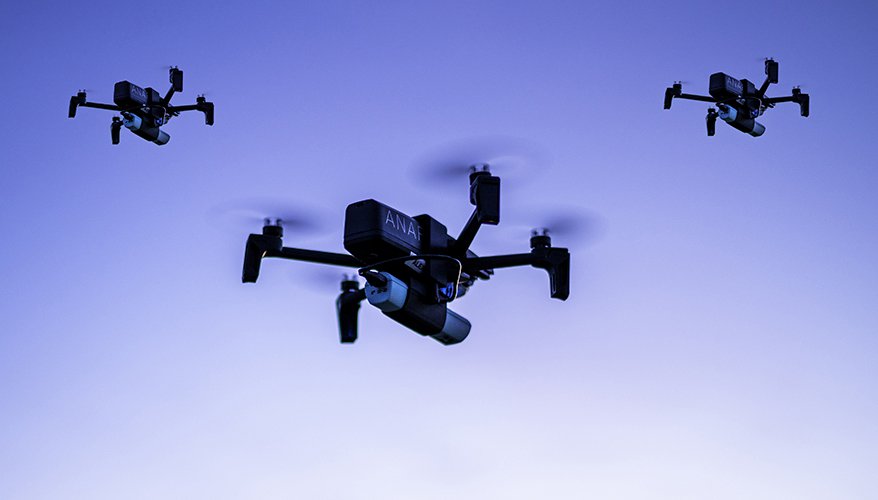 Dronisos image
PARIS — A company better known for using drones to create colorful aerial light displays at amusement parks is looking to apply its swarm technology to defense and security applications.

Icarus Swarms, a Bordeaux, France-based company, demonstrated its technology June 12 for the press prior to the opening of the Eurosatory conference in Paris. The scenario included two "bad guys" carrying automatic rifles on a training course. The small swarm of four class-one quadcopters —class one is the smallest drone size — formed a perimeter and began to search for suspicious individuals.

The electro-optical cameras automatically identified the two men and transmitted the location data back to a headquarters. The subjects were not aware the drones were there because they were high enough that they couldn't be heard.

The demonstration only employed four drones, but the company's software and control kits can launch and fly up to 1,000 quadcopters, Jean-Dominique Lauwereins, chief technology officer and co-founder of the company, said later in the conference.

Some of the aerial light displays the company organizes uses about 500 drones, but "we see the value in drones for other dedicated missions [outside of entertainment] such as finding somebody in a large area," he said.

That might include a bad guy who doesn't want to be found. Since the drones are quiet, subjects don't know they are being watched, although an operator could descend drones to make the subject look up and take a shot at them.

"That makes them reveal their position," Lauwereins said.

They could also search for people who want to be found. For example, a swarm could be dispatched from a naval ship if a sailor falls overboard, he noted.

French security services have tested the drones carrying radiological sensors to detect terrorists who might be carrying a "dirty bomb," — explosives packed with radiological material. That has been tested on crowds numbering 8,000. The bigger the drone swarm, the larger the area covered, he said.

It has been tested by special forces who have used a swarm to light up dark areas with infrared light projectors so they could see better using goggles, he said.

Another application is signal jamming. A large enough swarm flying overhead carrying jammers can create a bubble where no signals can get out, he said.

The swarm can also be used in self-evaluating counter-drone technology, he noted. "You have to be trained to react right if a swarm is coming at you, and that's a new trend with all the new drone technology out there," he said. That includes kamikaze drones, also known as loitering munitions.

The company uses quadcopters built by drone manufacturer Parrot, which has also designed systems for the U.S. Army.

There are many possible applications, but Lauwereins said one of them is not weapons. Killer drones are against the company's principles, he said. "That's our limitation," he added.
Topics: Global Defense Market