EUROSATORY NEWS: Mobile Mortar Can Shoot, Scoot in 46 Seconds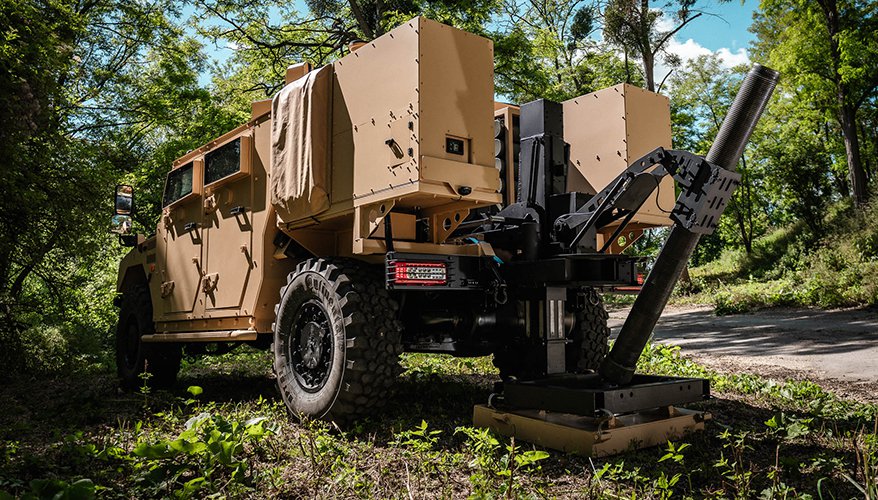 Arquus Defense photo
PARIS —
Answering the call for survivability in battlefields where time spent lingering can result in being an instant target for armed drones or other high-tech weapons, three European companies have partnered to create a mobile mortar system that can stop, fire and depart in under a minute.
French vehicle manufacturer Arquus has attached a deployable mortar created by Spain's NTGS to one of its Sherpa Light 4x4 armored vehicles. The system includes a 120mm mortar rifle barrel manufactured by France's Thales.
After coming to a halt, the Sherpa A2M can automatically deploy the mortar in 20 seconds, Arquus spokesman Marin Tollet said at the company's booth at the Eurosatory trade show in Paris on June 15. After acquiring a target, a soldier can grab a round, insert it in the tube and fire in about 6 seconds, he said.
The vehicle could stay parked longer depending on how many rounds are fired. The Sherpa can carry up to 40 rounds. One operator must get out of the vehicle to load the rounds, which weigh about 20 kilograms.
The driver and the loader would make up the two-person crew, although one can imagine the system being operated by a lone soldier if needed, he added.
Retracting the system takes another 20 seconds. In an emergency, the Sherpa could take off before the mortar is locked back in, but that wouldn't be ideal, Tollet said. The typical mortar used has a range of 8.2 kilometers with a five-meter accuracy. It can fire any type of Thales ordnance that fits in the barrel, he added. A self-propelled or laser-guided round could extend the range, he added.
But the system is really about the mobility, he said. "Even before the Ukraine war, you could have proven the validity of the concept."
Russian forces staying still for too long have been easily spotted by drones that relay targeting information back to Ukrainians employing indirect fires. Armed drones and loitering munitions are also part of modern battlefields.
"It's a vulnerability — the lack of the ability to shoot and scoot," he said.
The wheeled Sherpa Light with 215 horsepower engine provides the ability to drive in off-road conditions, plus it can reach 110 kilometers per hour on paved roads, he noted. It has been used as a special forces and scout vehicle since introduced in 2006, according to company information.
Both the mortar the tube and the vehicle are NATO qualified technologies. The NTGS fire control system in the back of the vehicle conveys information about targets and can automatically target the rounds. It can be switched to manual mode if needed, Tollet said.
And it "all comes at the fraction of the price of a self-propelled gun," according to an Arquus statement.
Topics: Global Defense Market