EUROSATORY NEWS: U.K. Firm Debuts Mine Clearance Plow for Wheeled Vehicles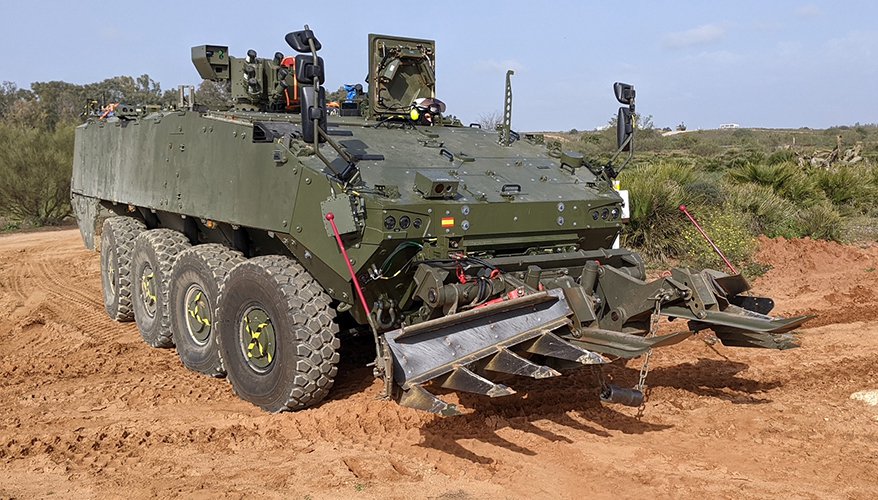 Pearson Engineering photo
PARIS —
Pearson Engineering — a U.K.-based specialist in mine clearance technology — has introduced an attachment for wheeled combat vehicles that can plow through a minefield and render it safe for travel.
The increasing prevalence of wheeled combat vehicles prompted the company to design the Vector plow. Pearson typically provided mine plows for tracked vehicles because they were the only ones armored enough for situations where there might be mines or other explosives, said Nicola Irving, head of strategic communications and marketing at the Newcastle upon Tyne-based firm.
"We're seeing more and more that wheeled vehicles are becoming much more armored," she said at the company's booth at the Eurosatory conference in Paris on June 14.
Vector features two plow blades, each covering at least the width of the vehicle's wheels, to create a safe route for the vehicle to advance. Each blade brings buried mines to the surface and moves them into spoil heaps on either side of the vehicle, a company statement said.
Typically, a battle force might send a specially purposed mine clearance vehicle ahead while the other vehicles would be forced to drive behind in its tracks, she said.
With the attached plow, a vehicle could move maneuver independently, as well as go through a mine field rather than around it, Irving added.
It attaches to a vehicle using one of the company's adapters — the "Quick Connect" — which "plugs and plays" into a NATO-standard electrical interface called a "slave socket." The attachment process takes about 30 minutes, she said.
"We can add this to a combat vehicle without welding, or drilling holes or anything like that," she said.
The Spanish army recently attached VECTOR plows its VCR 8x8 Dragón — the nation's new wheeled combat vehicle — for a series of trials, she added.
Topics: Global Defense Market