EUROSATORY NEWS: Inflation Pain Hits French Defense Giant Thales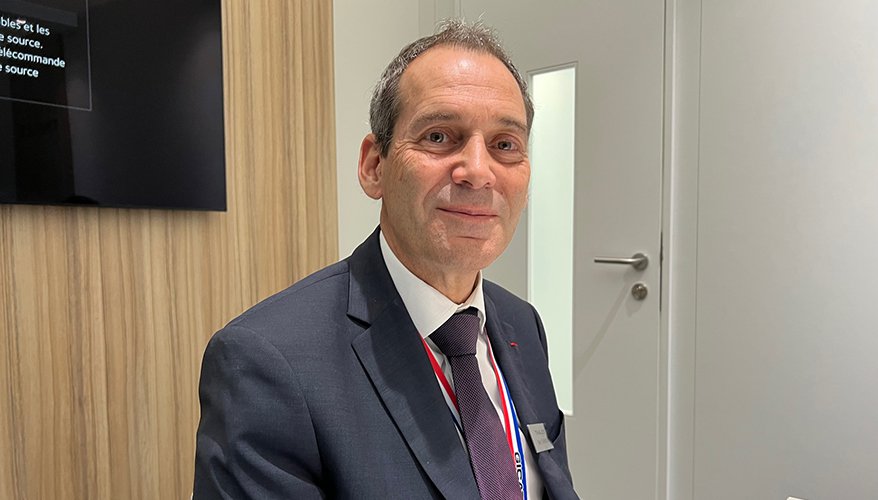 Thales' Marc Darmon
Stew Magnuson photo
PARIS —
France-based defense industry giant Thales, like its U.S. counterparts, is having to deal with the twin challenges of supply chain shortages and inflation, one of its top executives said June 14.
"Inflation and supply chain management are two critical issues," Marc Darmon, executive vice president and managing director of secure communications and information systems, said in an interview on the sidelines of the Eurosatory conference in Paris.
"Inflation is an issue. It's an issue to be able to commit to long-term programs, and it's an issue for our long-term commitments," he said.
France has experienced 4.8 percent inflation over the past year through April — the last month government statistics were available. "That isn't as embarrassing as some countries," he added.
The good news for one of France's largest government contractors is that the nation's defense budget is due to go up, with French President Emmanuel Macron arriving at the conference on its opening day to announce that the war in Ukraine has prompted the government to rethink its spending priorities. He advocated for other European nations to follow suit.
"Anybody doubting the urgency of these efforts only needs to look to Ukraine, where soldiers are asking for quality weaponry, and they are entitled to a response from us," he said, according to the France 24 website. France's defense spending was already expected to hit an all-time high of 50 billion euros in 2025. Macron suggested that number will grow.
Darmon said, "defense spending has clearly become now part of freedom and liberty and even a social need."
While other nations throughout Western Europe have also announced big increases to defense budgets, those surges have not yet meant big contracts, he said. Militaries are still figuring out their requirements, so it's too early to see all the promised funding flowing to European defense contractors.
Macron made it clear in his comments at the conference that Europe needs to build its capacity to supply defense systems. Darmon, who is part of the committee organizing the conference, said the widespread participation of Europe-based companies is one indication that this is happening, noting many more vendors displaying their wares from Eastern and Northern Europe than in years' past.
Darmon also confirmed that a pair of large Russian weapons makers came to Eurosatory when it was last held in 2018 but not this year.
"They weren't invited," he said.
As for France, its army is in the throes of modernizing its forces under its SCORPION program. It aims to update its ground and air vehicles and connect them to a combat cloud.
"We are entering the digital era," Darmon said. What he called "collaborative combat" is known as joint all-domain command and control, or JADC2, in the United States.
Like JADC2, collaborative combat will link sensors and shooters and automatically give warfighters information through a network to make decisions faster, he said.
As for the U.S. market, the Thales Group has been doing business there for more than 100 years, Darmon noted. It is a separate entity with cleared employees and a firewall between it and the parent company.
Having a U.S.-based Thales doesn't mean the French parent company doesn't have to worry about breaking into a U.S, defense market that may be resistant to buying foreign-made weapon systems. Even though they are working on similar "collaborative combat" requirements, the U.S. system is still protective, he said.
"It concerns me, of course," Darmon said. Meanwhile, the company will continue to invest in the Thales Group, which is known for its radio systems, sonars and cryptology, by building more factories, he added.
Topics: Global Defense Market