ROBOTICS AND AUTONOMOUS SYSTEMS
EUROSATORY NEWS: Robotic Wingman Test Fires 30mm Cannon (UPDATED)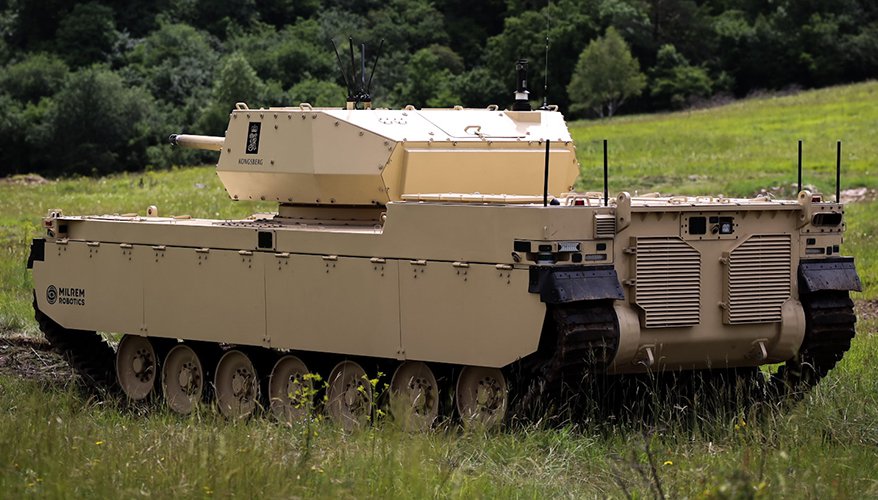 Milrem Robotics photo
PARIS — A pair of European defense companies recently conducted a live test firing of a robotic wingman combat vehicle, the companies announced at the Eurosatory defense trade show in Paris on June 13.

Estonia's Milrem Robotics and Norway's Kongsberg Defence & Aerospace conducted the first firing of the Type-X Robotic Combat Vehicle in Slovenia earlier in the week, Gert Hankewitz, director of market and export control at Milrem, said during an interview.

Milrem provided the robotic vehicle and Kongsberg the Protector RT40 turret, which includes a Bushmaster 30 mm cannon and a linkless ammunition handling system, a statement from the companies said. It is still in prototype phase, Hankewtiz added.

The live-fire was a step toward the companies' joint project of developing the Nordic Robotic Wingman — a robotic fighting vehicle that addresses Nordic and Western European countries' requirements, but also current U.S. Army desire to field a robotic wingman that can accompany manned fighting vehicles on the battlefield, the statement said.

"You want to send them to take the most dangerous positions because there [are] no men inside it," Hankewitz said. "If it gets blown up, everybody in the manned vehicles behind it will stay safe."

Unlike other robotic vehicles that are adapted from manned versions, Milrem designed the tank-like chassis from the ground up. That allowed the company to make the vehicle lighter and lower to make it harder to see and expendable. Customers are asking that the wingman be one-third the cost of a manned fighting vehicle, he added.

The vehicle is semi-autonomous. It cannot fire the cannon without a human pulling the trigger, he said. It has waypoint navigation so it can autonomously go to a predesignated position or return to base on its own, he added.

The purpose is to support main battle tanks like the Leopard 2 and infantry fighting vehicles like the CV90. The remote turret can accommodate different weapon systems depending on the customer, the statement said. The prototype featured a laser range finder and shot detection system, but the type of sensors that go on top of the turret are also customizable, he said.

Another option is a Pearson Engineering obstacle blade for route clearance, rollers or plows to prepare paths for the manned vehicles, he added. It can also be fitted with a cannon up to 50mm, anti-tank missiles and a tethered drone for continuous situational awareness, the statement said.

Milrem Robotics also introduced a feature called indirect drive that allows remote-controlled operations on higher speeds, it said.

Hankewitz said while it is intended to answer the requirements of European and Scandinavian countries, the "Nordic" title is a misnomer. The vehicle can operate in all kinds of weather, not just the cold.
Correction: An earlier version of this story misidentified Kongsberg as a German company rather than Norwegian.
Topics: Global Defense Market, International, Robotics and Autonomous Systems