EUROSATORY NEWS: Europe's Largest Defense Trade Show Begins Under War's Shadow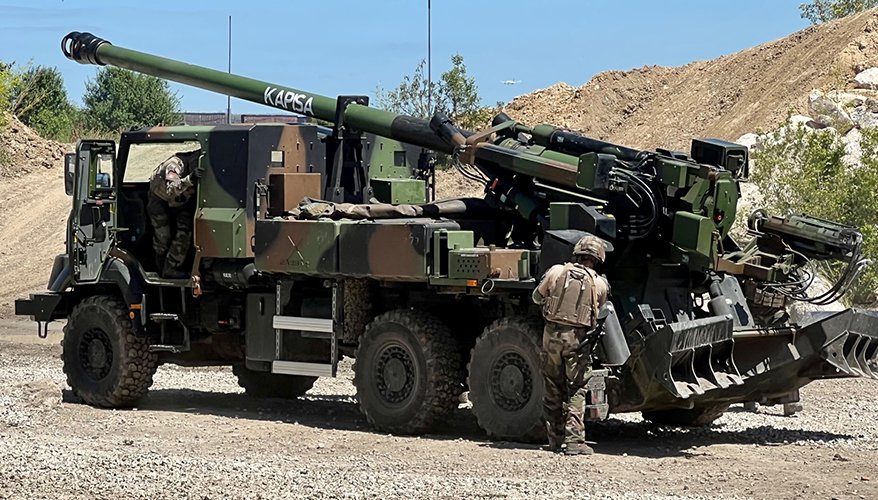 French soldiers ready a CAESER self-propelled howitzer June 12 at a media demonstration prior to the Eurosatory conference.
Stew Magnuson photo
Analysis by Stew Magnuson
PARIS — The .52 caliber self-propelled howitzer careened around a corner on a dirt field next to Paris' largest exhibition center and skid to a stop, throwing a plume of dust in the air.

Three French soldiers jumped out of the cab as the cannon rose into position. Overhead, a small remotely operated quadcopter kept watch. After the cannon fired a simulated round at an unspecified and unseen target, the soldiers lowered the barrel and drove off.

"That all took only two minutes," proclaimed Gen, Damien Tundeau de Demaisac, the French army's future capabilities division chief of staff.

The half-hour demonstration of the French army's capabilities on June 12 set the tone for the upcoming five-day Eurosatory conference, which takes place in a northern suburb of the city June 13 to 18.

Some 1,725 exhibitors from 63 countries and 56,000 attendees are expected this week after the last conference scheduled for 2020 was canceled due to COVID-19, according to conference organizers. Almost three-fourths of exhibitors are from Europe, with 12 percent from the Americas. Asian vendors only represent three percent this year due to the pandemic, they added.

Notable, but not surprising, is the absence of Russian companies.

The pre-conference demonstration centered around the fictional country called "Mercury," a large aggressive nation that attacked a much smaller NATO ally. If it weren't for Ukraine not being a part of the alliance, Russia's war against its smaller neighbor only 1,250 miles to the east of the conference would have been a perfect fit for the scenario.

A war taking place in Europe for the first time since the breakup of Yugoslavia two decades ago is sure to be a prominent topic at the conference this week as Russian President Vladimir Putin continues to hint at more invasions.

Charles Beaudouin, exhibition director, said in a statement that "Eurosatory 2022 is now taking place in the context of an inter-state conflict at the very gates of Europe, which is establishing a new world order with the observation that defense models need to be upgraded and that the limits of unbridled globalization are marked by very strong dependence on raw materials such as electronic components."

The war has already sent Finland and Sweden in the direction of joining NATO and caused anxiety in Poland and the Baltic states. It all gives the defense trade show a new bent as the United States and its European allies pledge to send more of their weapon systems to Ukraine.

The Group of Seven leading economies, G7, has pledged nearly $20 billion in aid to Ukraine — much of it in arms — to help the nation defend itself against the Russian onslaught.

Germany began sending small arms but recently announced that it was supplying heavy weapons such as anti-aircraft guns, howitzers and fighting vehicles. All the systems so far come from German manufacturers, with the United States, France and Czech Republic all promising to send their own domestically produced weapon systems to the war-torn nation.

As sad as it is to say, the tragedy in Ukraine is a boon for arms manufacturers.

The half-hour demonstration held for the media showed many of the tactics and technologies being used in Ukraine. One is the use of small unmanned aerial vehicles, especially quadcopters. Tundeau de Demaisac said the French army alone is looking to procure 3,000 of them by 2025.

The nearly silent drones hovered overhead to provide reconnaissance and surveillance. A palm-sized nano-UAS called the Black Hornet surveilled the inside of a house where insurgents were supposedly hiding. A team of soldiers sent a small ground robot in afterwards to do the same.

Ukrainian forces are putting small drones to use for indirect fires targeting along with seeking out Russian forces. A list of companies at this week's conference shows dozens of them selling drones, loitering munitions and the counter-UAS systems.

Like his U.S. counterparts, the French army is moving away from counterterrorism and looking at conflict with larger opponents, Tundeau de Demaisac said. And like his U.S. counterparts, the army is looking to link its sensors and shooters in a network, which will speed up the pace of war, he said.

The French army's SCORPION modernization program looks to upgrade or replace just about every major fighting vehicle, tactical vehicle and helicopter, he said.

Meanwhile, at Paris' Gare du Nord — the train station where many conference attendees will pass through on their way to the exhibition center — a French Red Cross kiosk is set up to greet Ukrainian refugees. A pair of women with their luggage was seen there recently, a French volunteer patiently explaining some paperwork as all three of them wore protective masks.

The scene was a stark reminder of the seriousness of the products being sold at the conference: how they can be used to both destroy and defend a way of life.
Topics: Global Defense Market, International