JUST IN: Energetics Sector Feels Ignored by Pentagon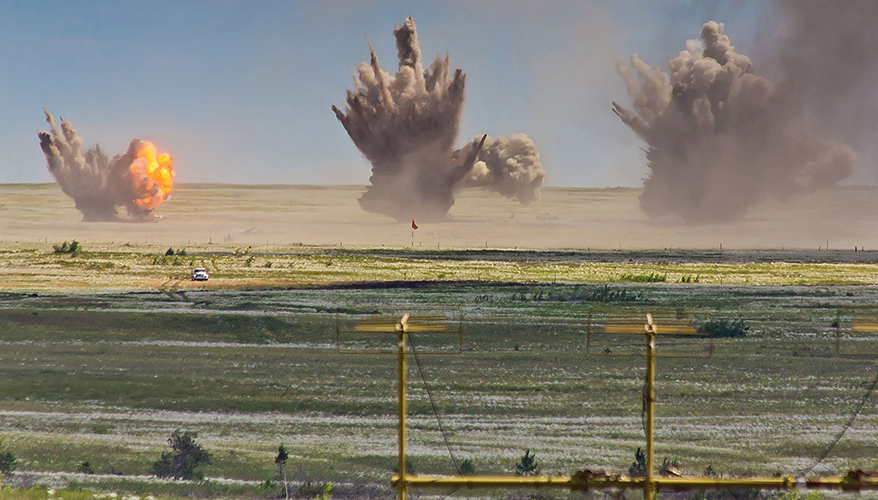 Army researchers test energetic material
Army photo
WEST LAFAYETTE, Ind. — Nearly a year after the release of a study on the need to increase the lethality of energetic materials and improve the resiliency of the supply chain, members of industry, academia, and government are seeking strategies to convince the Defense Department to invest in new energetics.

At the first of its kind conference on energetic materials — propellants, pyrotechnics and explosives — panelists and attendees on May 5 described a situation of adversaries making rapid advances while the United States is dealing with aging infrastructure and technologies, cumbersome procurement mechanisms, insufficient funding, a fragile supply chain and a lack of requirements from the Pentagon to drive needed innovation.
The congressionally mandated study, "Energetics and Lethality: The Imperative to Reshape the U.S. Military Kill Chain," produced by the Energetics Technology Center, concluded that in many cases, U.S. weapon systems are overmatched in range and lethality by those fielded by Russia and China.
For the last 20 years, the United States focused on counterterrorism, and that required technology to find and track enemies rather than systems designed for the threats posed by Russia and China, said Ashley Johnson, technical director at the Naval Surface Warfare Center's Indian Head division,

"Our competitors have taken advantage of that," he said at the Breakthrough Energetics conference, co-hosted by the National Defense Industrial Association's Emerging Technologies Institute and Purdue University. "China didn't invent new physics to get where they are," he said, adding that it's a matter of will to innovate and advance.

For example, the U.S. military relies on World War II-era explosives while China is using the modern explosive CL-20, which was developed by the United States in the 1980s, but never put into production.

"We've got to stop pinching pennies on munitions and energetics," Johnson said. "Platforms are … incomplete and dated in their effectiveness without state-of-the-art capability and a robust supply chain."

Johnson and others at the conference stated that industry and government labs are willing and able to innovate and develop new energetics that could increase the range of weapons, decrease size and weight and increase lethality. The problem is, they said, the Defense Department isn't making modern energetics a requirement.

"The operators have to identify what requirements they actually have from an operational perspective," said Tom Russell, president of the Defense Science and Technology Consultants, and former deputy assistant secretary of the Army.

"Right now, the challenge on that is [requirements development] is done at the system level, and energetics are a commodity within the system, so you sort of have to devolve a requirement out of that," he said.
There are some requirements that can be developed around energetics, such as range, survivability or lethality, Russell said.

"Right now, those are not being pushed beyond our current capabilities," he said. "That trickles into the development community because if you're not going to require new materials, then why do I need to invent new materials?"

That sends a message to industry that there is no return on investment on new materials, he added.

At least one Defense Department official said the burden is on the energetics community to make a better sales pitch to requirements personnel in the Pentagon.

"Most people in the Pentagon can't spell energetics," said Christopher O'Donnell, deputy assistant secretary for platform and weapon portfolio management.

"[We] can barely get people interested in munitions … and as we can see what's going on in Ukraine ... munitions are it," he said. There is a small cohort of people who make requirements decisions, and information about what energetics can do for the warfighter has to reach them to affect their decisions, he added.

The department is shifting its focus from individual programs and weapons to "kill webs and kill chains," and the energetics community needs to articulate how it can make kill chains more effective, he added.

"If you go in and say, 'My energetics material is two-times, or four-times or 10-times better than the current energetics,' that just goes right past people," he said. "You really have to put it in the context of the warfighting advantage that I'm going to get if I do these things."

However, one constituency not represented at the conference: operators who generate requirements. "We're talking to the people who are doing acquisition, talking to the people who do production, talking to the people doing the basic research … but the elephant missing in the room is the person who actually defines requirements," Russell said.

"So it tells me there is a disconnect in the community and that we're not getting the message to them, and they're not actually understanding the importance of our message to determine whether this could help them change their requirements … to improve the capabilities," he added.
Topics: Defense Department