Army Software Factory Touts Early Successes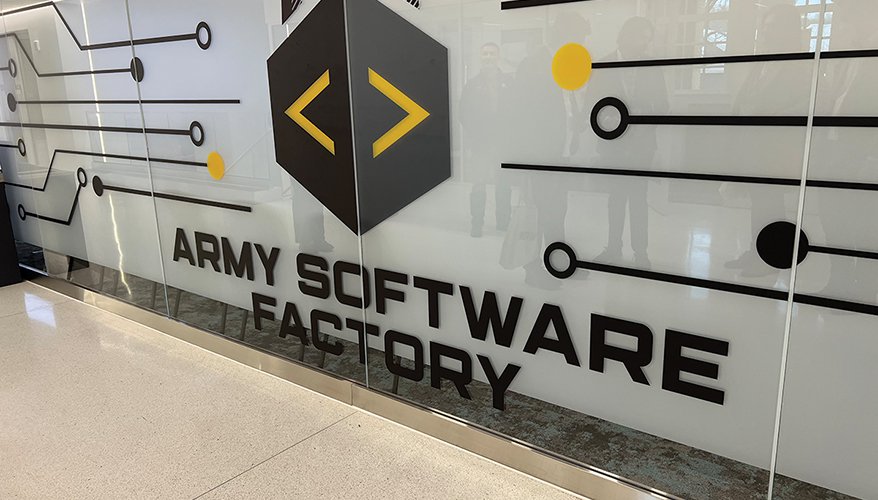 Stew Magnuson photo
AUSTIN, Texas — As a defense technology reporter, I have gone on my fair share of factory tours.
I have seen the assembly of Army trucks, helicopters, satellites, rockets, batteries, radios, and even a module that would one day fly in the International Space Station.
But have never been on a tour quite as boring as the Army Software Factory in Austin, Texas.
And I mean no insult and cast no aspersions on my tour guide, Capt. Tyler Morrow, who showed me and a gaggle of techies from the private sector the one-year-old organization's headquarters on the edge of downtown Austin.
It's just that a "software factory" isn't visually interesting. It's a collection of personnel sitting in pods working on their computers — not quite as exciting as watching a CH-47 Chinook come off the manufacturing line.
Yet Morrow, who serves as senior products officer at the factory, had an interesting and good-news story to tell about the program's first year of existence.
The factory is creating apps "that are replacing spreadsheets that have been done on paper the same way since the Vietnam War," he said.
The Software Factory, located at the Austin Community College's Rio Grande Campus, is in a refurbished building that once housed a high school. Army Futures Command founded the organization 11 months before that day's tour. It now has some 200 personnel working there.
Leaders at its grand opening proclaimed that it had four primary objectives: increase digital proficiencies across the force; enable soldiers to dominate an information-centric battlefield; solve current Army problems by leveraging agile development security operations in cybersecurity practices and cloud technology; and harness the innovative spirit of the country through close collaboration with the tech industry and academia.
Gen. John M. Murray, the now retired Futures Command leader, that day said: "The capability to develop software at the lowest tactical levels will help us provide better software products. We anticipate long-term cost savings and expect the Software Factory to help us maintain a competitive advantage across Army modernization efforts."
After 11 months, Morrow said the factory had delivered six apps that were developed under its roof.
One is "Blast Radius," an application that tells logisticians the safest spots to place munitions in a supply depot.
The Army had pursued software to map out the ideal placement of stored explosive weapons for 19 years under various contract vehicles, Morrow said. After almost two decades dealing with vendors, it had nothing to show for the money spent.
The software factory created an application featuring mapping technology combined with blast-radius calculators in about three months, he said.
"It's actually being used right now in Europe to rapidly equip and deploy ammunition supply points," he said.
The factory is looking for problems to solve. Army organizations seeking help make initial contact through a website. If the project has potential, a team is dispatched to the site to shadow personnel so they can understand what needs to be done and to work on a "problem statement."
Once that statement is refined, a pod of software developers is assigned the task to develop an app.
One such problem came from Indo-Pacific Command and the Army unit based in Hawaii that coordinates training there. There are only about 6,000 acres in the state available for training, and more than 30 units vying for time. Morrow likened the allocation process to a "cattle auction," with all the interested parties gathering in a room shouting at each other.
The application will "create the entire training schedule for the island and optimize it for everybody" he said, prioritizing units that need it first.
Other successfully delivered apps include one that is saving thousands of manhours in a warehouse helping workers more efficiently find goods and materiel. Another app has streamlined the process for National Guard members to search for available jobs posted by the service.
The factory is not only developing software, it's creating software engineers.
"The hiring process is crazy because we will bring people in who have no background in software development," Morrow said.
The factory is receiving about 700 to 800 applicants for every new cohort, but is only accepts 30, he said.
They could be anyone from a private first class with no experience in software development to a major who has been doing network engineering in the service.
New personnel undergo a baseline exam of their skills, then attend intensive training. They undergo two quarterly assessments and then a final test. If they pass that, they are fully qualified to be software developers.
The tour took place the day before the famous South by Southwest Conference and Festival, which kicked off in March after a two-year hiatus due to the COVID-19 pandemic.
The festival's roots are as a music — and later — a film festival, but more of its content has been devoted to technology in recent years.
The establishment of Army Futures Command headquarters in 2019 in Austin has solidified defense technology as a new draw to the festival and now there are unofficial SXSW defense events — such as the Army Software Factory tour — and an official day with panel discussions devoted to defense tech the weekend before the throngs of music and film fans arrive.
The tour ended as it began: in a room with several pods of newly created software engineers diligently working on their computers and quietly talking among themselves. Again, not too interesting visually, but exciting things are happening nonetheless.
Topics: Army News