NDIA PERSPECTIVE DEFENSE DEPARTMENT
A Steady Path Forward for the Association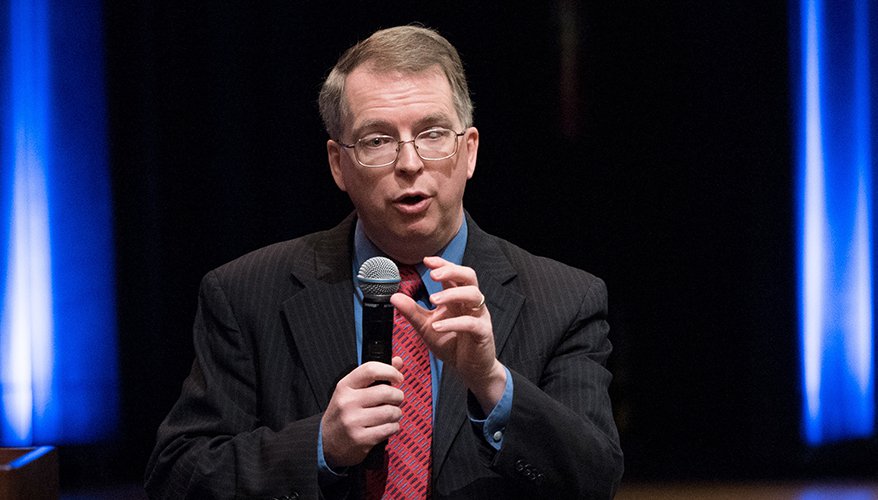 Norquist
Defense Dept. photo
Today, we face a more dangerous and unstable world than at the peak of the Cold War. China is on the march, Iran is on the verge, North Korea is on the edge, terriorism is on the rise, and Russia continues its indiscriminate, inhumane attacks on Ukraine.
During these challenging times, the National Defense Industrial Association remains an essential linchpin to ensuring a productive, positive relationship between the federal government and the U.S. defense industrial base. This relationship is key to supporting warfighters and enhancing national security.
We have the world's finest military for three reasons: we recruit and retain the highest quality personnel and their families; we provide them with constant and realistic training; and we ensure they have the cutting edge technology from industry so they never face a fair fight. To the last point, industry's role to the success of the military is irreplaceable, and so we need to ensure the strongest leadership for the future.
I am confident that the executive committee of the board found the best candidate to lead NDIA with the choice of former deputy secretary of defense, David Norquist, to be the new president and CEO.
During this time of significant complexity in the defense marketplace, it's important to have someone of Norquist's caliber and experience leading the association. From day one, he will continue enhancing the industry-government relationship that is essential to supporting the warfighter and the taxpayer. Throughout his distinguished career, Norquist has served in an impressive variety of positions in industry, the legislative branch, and two of the largest and most complex government organizations.
Norquist's commitment to NDIA's high standards of performance, ethical behavior and strong, nonpartisan leadership — plus his strategic vision to help our members address current and future challenges in the defense marketplace — make him the ideal candidate to lead the association at this time. I have no doubt that he will excel in this new role and be an exceptional leader for our association.
NDIA's new leadership is not the only reason I have confidence in the future of our organization. The main reason for this is our members, who continue to provide us with immensely meaningful input. Our chapters and divisions are the secret weapon to our association's success, and we will continue to encourage them to be more active. We have directed the new CEO to come up with initiatives to engage them even more, as well as draw on the expertise resident in our large board membership. With this approach, we will continue on our steady path forward.
NDIA will continue to aggressively support members' interests in the executive and legislative branches, and in any policy forums that will allow industry to continue to support customers and the warfighters. We will support positions that are positive for our industry and challenge those that may hurt industry, wherever and whenever necessary.
In the past two years of the unprecedented challenges of the COVID-19 pandemic, NDIA fought hard to ensure that the administration took members' needs into account, specifically on issues like the vaccine mandate for federal contractors. It also worked diligently to ensure that Congress passed the full defense appropriations instead of leaving the Defense Department and industry in budget chaos with unending continuing resolutions. And we will stay engaged to ensure that defense budgets are reflective of the threat environment and economic realities, such as inflation.
We know we face challenges moving forward. There is no better example of this than Russia's illegitimate and inexcusable invasion of Ukraine. The conflict highlights the need for our industry to be flexible and agile in order to supply the United States with the capabilities it needs to counter adversaries.
China continues to be the nation's pacing threat, and we must be ready to meet the challenges this poses, from hardening supply chains to improving cybersecurity to doing all we can to stop our technological edge from eroding.
Iran and North Korea continue to pose threats to our national interests, as well as the continued threat posed by extremist terrorism. The challenges we face are numerous and demanding, but we have no choice but to meet the moment.
Already we have made some positive developments to address the hurdles we face. The Emerging Technologies Institute, led by Dr. Mark Lewis, is off to a strong start as it aims to provide leadership, bolster public awareness and create independent, reliable research about the technologies that are most critical to the nation's economy and national defense, including artificial intelligence, biotechnology, quantum science and autonomous systems.
The association has created a policy committee and set aside funding for a robust policy function to continue to support the administration when they deserve it and to challenge it when necessary.
I want to take a moment to once again thank the current Pentagon leadership for their excellent working relationship with industry, led by Bill LaPlante, undersecretary of defense for acquisition and sustainment, and the acquisition executives in the services and their teams.
We urge other incoming leaders to build on the positive record to continue this strong industry-government partnership.
Moving forward, I believe that NDIA is on a steady path thanks to a sound vision, proven track record and strong leadership. We face many challenges, but I am confident that we will rise to the occasion as long as our members and our companies remain active in these goals.

Retired Marine Corps Maj. Gen. Arnold Punaro is chairman of the board of NDIA.
Topics: Defense Department