Navy Eyes Next-Gen Tech to Transform Shipyards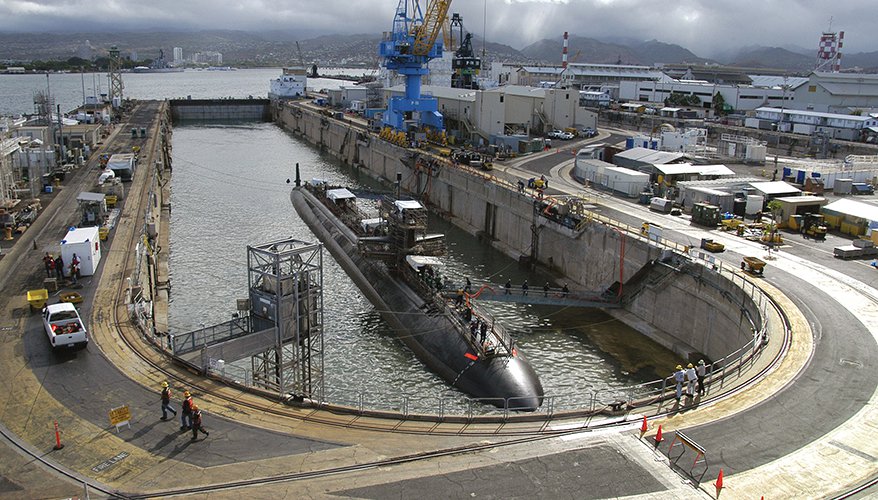 Pearl Harbor Naval Shipyard
Navy photo
NATIONAL HARBOR, Md. — As the Navy works to recapitalize its aging shipyards, industry is looking for ways next-generation technologies — from mixed reality to advanced manufacturing — can ferry the sites to the modern age.
The Navy launched a $21 billion modernization initiative in 2018 to upgrade its public shipyards, all constructed more than 100 years ago.
The 20-year Shipyard Infrastructure Optimization Program, or SIOP, is renovating the yards in Kittery, Maine, Pearl Harbor, Hawaii, Portsmouth, Virginia, and Puget Sound, Washington.
The yards were originally designed to build and maintain conventionally powered aircraft carriers and submarines, and any upgrades they've received in the past have been done incrementally, said Rear Adm. John Korka, commander of Naval Facilities and Engineering Systems Command.
SIOP takes a more holistic approach to modernization, he said.
"As we look at the modernization and the recapitalization of our infrastructure at the shipyard, it is more about synchronizing and modernizing our ecosystems of the shipyard," Korka said during a panel discussion at the Navy League's annual Sea-Air-Space conference in National Harbor, Maryland.
As part of that holistic approach, the Navy must embrace a new wave of technology emerging from the commercial sector, referred to as "industry 4.0," said John Polowczyk, federal supply chain leader at Ernst & Young. He emphasized that the service's yards must keep up with technologies and innovation from industry.
"Things like the internet of things, smart factories, cloud computing, artificial intelligence and a wide use of 5G — these new capabilities can deliver great productivity, data driven insights and potentially more optimal maintenance processes for the Navy," Polowczyk said.
One effort the Navy has begun employing at its four public yards is a modeling-and-simulation technology known as digital twins, which digitally replicates an object, place or building. The technology allows the service to map out the industrial processes that take place in the environment, said Ian Boulton, senior director of federal, aerospace and defense/digital transformation at PTC, a software company.
Boulton added that digital twins can allow shipyards to use the internet-of-things technology, mixed reality and spatial computing more widely.
As an example of how the Navy could benefit from the technology, Boulton highlighted PTC's Vuforia Spatial Toolbox. Once a shipyard is digitized, the program would allow shipbuilders to initiate assistance sessions with an off-site subject matter expert, he said.
"By establishing what we call 'pop-up metaverses,' you can effectively have someone don a pair of augmented reality glasses … to see what you see in the environment that you're working in, collaborate with you, and give you advice in real time for the problem that you're trying to solve," Boulton said.
In addition, shipyards of the future will likely facilitate a more connected workforce, said Bharat Amin, the chief information officer at Huntington Ingalls Industries. This would mean a yard's infrastructure, equipment facilities, welding machines and even more would all be integrated together — a feat that could likely happen within the next 10 years, he explained.
"Imagine there were smart sensors that collected big data that allows you to create insights and make decisions faster," Amin said. "Imagine we can use AR and VR, … you can bring digital and physical spaces together to solve problems instead of going to drawings."
Achieving this more connected shipyard will require improved communications with the help of 5G and edge computing, Amin said. He noted that Huntington Ingalls' Newport News Shipyard was the first private yard in the United States to deploy 5G in partnership with Verizon.
Security of the supply chain for critical components has also been a big focus at Huntington Ingalls, Amin said. With lead times for some parts lasting more than a year, they are trying to address the challenge through additive manufacturing.
The Navy has embraced additive manufacturing as well. In 2019, it received the first delivery of a 3D-printed metal part — a piping assembly — for the USS Harry S. Truman aircraft carrier.
However, increased digitization can produce floods of data organizations aren't equipped to handle, said Bernard Ibrahim, director of industry manufacturing at Microsoft. Finding ways to better access data, clean it and use it for decision making will be a massive benefit for the Navy's shipbuilding efforts, he said.
"That's what we're seeing is the real driver in improvements in safety, improvements in productivity [and] improvements in quality, is getting your people better information that you already have," Ibrahim said.
Amin emphasized that as the Navy brings its shipyards into the next generation, it must make cybersecurity a top priority.
"When you do industry 4.0 or any digital transformation, remember you're making all this information in a digital format — it's easy to steal if you don't protect it," he said.
Topics: Shipbuilding, Navy News