SOFIC NEWS: Special Ops Tech Pivots to Indo-Pacific Challenges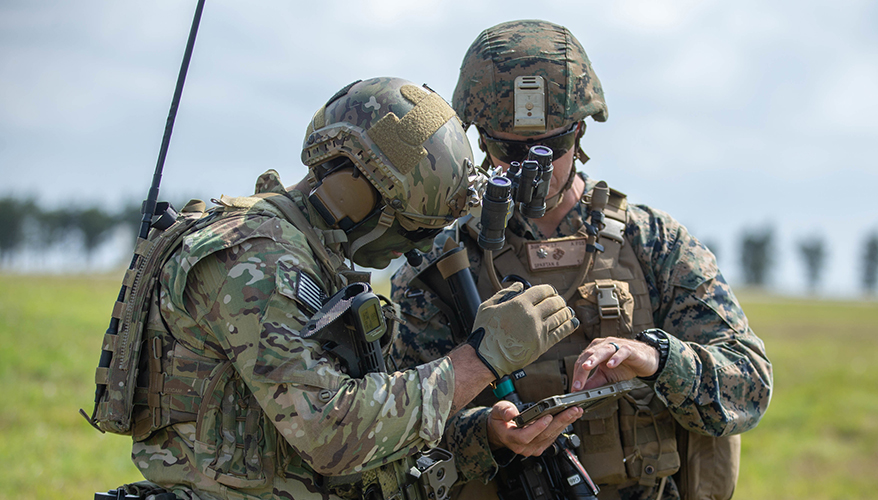 Defense Dept. photo
TAMPA, Florida — Special Operations Command — along with the rest of the U.S. military — is refocusing its attention on the Indo-Pacific, specifically China, and SOCOM's technology priorities are following suit, senior leaders said this week at the command's biggest conference of the year.
"Capabilities to prevail in the Indo-Pacific are our priorities. Every investment we make will support this strategy," SOCOM Commander Army Gen. Richard Clarke said in his keynote speech May 17, kicking off the Special Operations Force Industry Conference, which is organized by the National Defense Industrial Association.
The U.S. military's commandos for the past two decades have focused on counterterrorism missions in nations such as Afghanistan, Iraq and Syria in mostly dry, desert conditions. Operating in the Indo-Pacific poses its own set of challenges, Lisa Sanders, the command's science and technology director told reporters on the sidelines of the conference.
The counterterrorism, hostage rescue-type operations will always be a part of SOCOM's mission, Sanders said May 18, but shifting focus to the Indo-Pacific means operating in a different environment, most notably an area with vast amounts of water.
"Of all the priorities we talk about, the maritime domain is really difficult," she said.
Take alternative precision navigation and timing as an example, she said. In a contested GPS environment, alternatives to the space-based system are required. However, most GPS alternatives are based on reading geographical features.
"The ocean looks the same. So that's a challenge in that domain," she said.
SOCOM's science and technology division receives about $150 million to $170 million per year to conduct applied research and experiments on emerging technologies that can help in several areas including: next-generation mobility; situational awareness; next-generation effects; network and data management; and bio-technological human interfaces, she said.
All these priorities are aligned to the National Defense Strategy, which sees a shift away from counterterrorism and possible confrontations again peer or near-peer adversaries such as Russia and China, she said.
Along with challenges of operating over vast distances in the Pacific and Indian Oceans, special operators will also have to perform missions on land, which will mostly likely mean large cities, Sanders said.
When it comes to employing next generation sensor and communications in large urban areas, all the "energy bouncing around" creates difficult conditions, she said. "It's not that easy to see things and communicate. There is lot of jamming, intentional and unintentional," she added.
Outside of cities, special operators may also have to contend with jungles with triple canopies, along with weather conditions such as high heat and humidity, she said.
"We have not really done a lot of things in the jungle environment in 25 years. Those are very, very harsh environments and very hard to operate in," she said.
Clarke said next-generation mobility in the Indo-Pacific will be a priority — manned and unmanned, surface and subsurface.
One idea that could help SOCOM cover long distances in the region is a concept to give MC-130J airlifters the ability to land on water. The feasibility of an amphibious special operations aircraft is still in the study phase, James Smith, SOCOM acquisition executive told reporters during the conference.
Navy Capt. Randy Slaff, SOCOM program executive officer for maritime, said the renewed focus on the Indo-Pacific has strengthened cooperation with the Navy, which sees Naval Special Warfare as a unique capability that can penetrate places where the seas service can't go.
Navy special operators such as the SEALs rely on the Navy's submarines and ships to take them near where they need to go. The commandos' smaller surface and subsurface vehicles can then maneuver where the big vessels can't, he pointed out.
The Navy has always supported its special operators, but the hard shift over to the Indo-Pacific has resulted in their relationship growing "tremendously in the last year to year and a half," Slaff said.
"The ability to get into places and get access to places that nobody else on the planet can get isn't out there except for some of these platforms that we provide," he said. This has resulted in Navy Special Warfare "returning to its frogman roots," Slaff said.
Senior Navy leaders have expressed their interest in naval special operators decreasing their dependence on submarines to take them where they want to go, Slaff said. They would like to see more interoperability with surface combat or sealift ships, he added.
"We see a lot of opportunities in not just undersea — while continuing that partnership as well — but in other areas. So, it's pretty exciting. I think the [Indo-Pacific Command] shift has enabled that," he added.
Topics: Special Operations