Counter-Hypersonic Program Enters Next Phase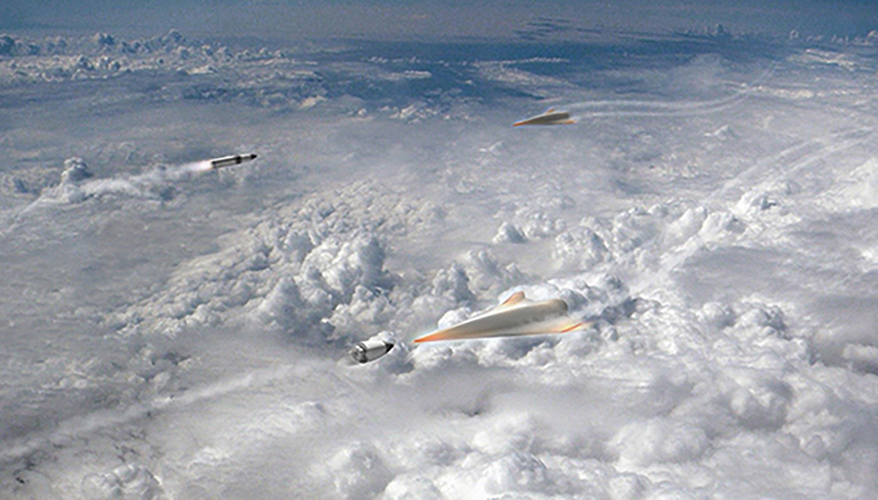 DARPA concept
The Defense Advanced Research Projects Agency, racing to enable technologies to defend against hypersonic weapons, has entered the second phase of its Glide Breaker counter-hypersonic program.
Like Patriot, or other current anti-missile systems, the aim of Glide Breaker is to take down a hypersonic weapon in flight by guiding a kill vehicle directly into the oncoming weapon. Given the speed and maneuverability of hypersonic weapons, the task of striking one in glide phase is far more complex than taking out an oncoming ballistic missile.
"The ballistic threat is not maneuvering … and you don't have this air flow around the overall body," said Maj. Nathan Greiner, DARPA program manager for Glide Breaker.
The speed, altitude, jet interactions and other dynamics of striking down a hypersonic are novel. "We, simply put, do not have a very large data set to help us understand these things," he said in an interview.
Unlike the "gobs" of data on existing flight technologies, when it comes to counter-hypersonic flight, "there's almost nothing for us to base our scientific understanding on," he said.
Launched in 2018, Glide Breaker's first phase — awarded to Aerojet Rocketdyne and Northrop Grumman — focused on developing a "divert and attitude control system" necessary for a kill vehicle to intercept and destroy a highly maneuverable hypersonic weapon in glide.
DARPA's April 14 Broad Agency Announcement for phase 2 seeks proposals to conduct wind-tunnel and flight testing to gather data on endo-atmospheric effects — the impact of jet interactions between the divert and attitude control system and hypersonic crossflow, and how that affects controlling and maneuvering the kill vehicle, said Greiner.
DARPA laid out a 48-month roadmap for phase 2. The expectation is that the contract winner will conduct 24 months of wind-tunnel testing, and then construct a demonstration vehicle for two flight tests in months 36 and 48 of the contract.
The limited supply of and high demand for wind-tunnel facilities requires a two-year window for providers to conduct testing, Greiner explained. The upside of the time investment is that the data will create "a starting point for programs in the future to design their operating systems," he added.
Greiner said that Glide Breaker is running in parallel with the Missile Defense Agency's Glide Phase Interceptor program contract issued to Lockheed Martin, Northrop Grumman and Raytheon Missiles and Defense to develop a system to defeat hypersonic missiles.
"We're standing up a new capability that programs of record such as GPI can follow in after our program ends," Greiner said.
The contract winner will need to create a demonstration vehicle, but DARPA is agnostic on the physical product.
"We're leaving it up to performers in terms of how they want to go forward and implement the technical solution for the actual payload itself with the understanding that the focus is really on gathering the external aerodynamics data," said Greiner.
Topics: Emerging Technologies