SOFIC NEWS: Arctic Kits Coming Soon for SOCOM Vehicles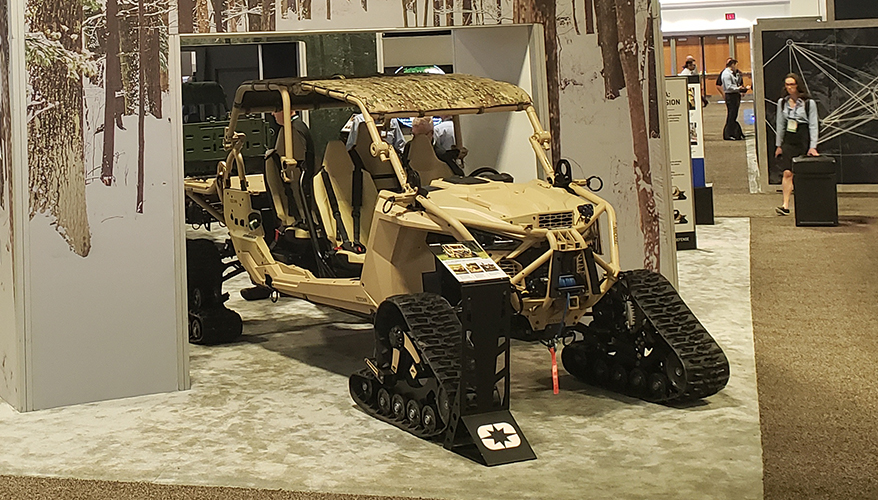 Mikayla Easley photo
TAMPA, Florida. — For years, U.S. Special Operations Forces have been well equipped for counterterrorism missions in jungles, deserts and mountains, and a vehicle manufacturer now has a kit to help forces conduct operations in Arctic environments.

Polaris has developed an Arctic Mobility Kit that allows users to convert the MRZR Alpha — a light tactical vehicle a little larger than a dune buggy — into a platform able to traverse and withstand extreme conditions in the Arctic. The kit includes a brand new track system in place of wheels, as well as a full cab enclosure that protects passengers from the elements, said Nick Francis, vice president of government and defense at Polaris.

He noted that the MRZR Alpha is an expeditionary and modular vehicle, meaning operators can use the same platform and change the configuration for a variety of missions in different settings.

"The track system and the cab system … it's made to allow the vehicle to operate in the Arctic environment — primarily snow but also over sand, marshes and other conditions," Francis said May 17 on the sidelines of the Special Operation Forces Industry Conference in Tampa.

The Defense Department has demonstrated a keen interest in acquiring military capabilities that would support future operations in the Arctic. In 2019, the department released an updated Arctic Strategy that put emphasis on special operators.
"The agile and expeditionary nature of SOF, combined with established allied and partner relations and interoperability, provides [the Defense Department] a ready capability to compete below the level of armed conflict in the Arctic region, and across the spectrum of SOF core activities," the strategy stated.
Special Operations Command chose Polaris' MRZR Alpha for its lightweight all-terrain vehicle in 2020 as part of a seven-year, $109 million contract. The vehicle is also used by the Marine Corps as part of its ultra-light tactical vehicle fleet.

Francis said the 2020 contract required additional accessories for an Arctic mobility kit.

Polaris displayed the vehicle outfitted with the tracks system during SOFIC. Each wheel is replaced with a track assembly that enables off-road, all-terrain transportation without decreasing maneuverability.

Comprising a windshield, doors, roof and back enclosure, the cab system offers protection to passengers from the elements, Francis said. Windshield wipers and defrosting mechanisms also improve how the MRZR Alpha will operate in extreme environments, he added.

Once delivered, special operators will have the option to mix and match the track and cab systems on the MRZR Alpha for each specific mission, Francis said. The vehicle can be equipped with both the tracks and the cab, or either system individually, he said.

"The requirement will be less than four hours to install the tracks or remove the tracks," he explained. "They're interchangeable, so the track system can come off and you can put your wheel systems that you were running previously back on."

Francis added that the cab system can be used anywhere, but it's primarily designed to keep passengers comfortable in wet, cold places while driving quickly. It also can be painted, he added.

"They're going to use that cab in a variety of conditions, and the [Special Operations Forces] customers are very accustomed to camouflaging their own stuff," Francis said. "So, they'll be able to paint the cab system to the surroundings they'll be operating in."
Topics: Special Operations