VIEWPOINT: Modernizing SOF Acquisition — Quietly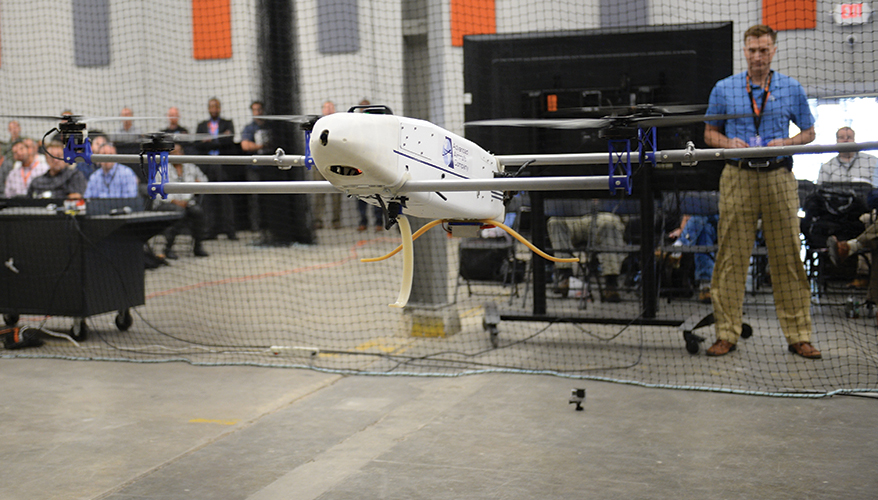 A drone demonstration at SOFWERX facility in Tampa, Florida.
Air Force photo
If I were building my dream car, I would start by modernizing a 1969 muscle car. Why? I would want to uphold the greatness of the street appeal: the chassis, the wheels, the stance. But I would also update my dream car because I would want to adapt to the positive changes in the environment since 1969: GPS, satellite radios, cameras, air bags, etc.
Finally, I would want to upgrade my dream car by being an early adopter of the innovations that are just at, or over, the horizon: artificial intelligence-enabled driverless features and alternate energy options to name just a few.
Innovation, by itself, is often illustrated by the clean whiteboard — the blank sheet — the invention of a dilemma to drive radical change. Modernization, on the other hand, at its best, upholds the greatness of enduring qualities, while updating outdated or obsolete features and sets the conditions to upgrade to emerging features as a first mover.
There is much to preserve in special operations forces acquisition. First and foremost is the focus on our operators. The first SOF Truth, "humans are more important than hardware," is enduring.
Another is the value proposition of special operations forces as being uniquely global, partnered and joint. To support these operators, special operations forces acquisition has attributes that we will preserve. We've always sought to team with industry to provide equipment and services to the force by being transparent, inclusive and competitive.
To be transparent, we established a point of entry for industry ideas, Engage SOF (eSOF), and tracked the metrics. Our eSOF portal had over 320 entries in 2021. On average, we took 35 days to respond to every proposal. We also knew how important feedback is to industry so we began tracking our Contractor Performance Assessment Reporting and quickly achieved a 98 percent timeliness rate — well above the Defense Department average.
The SOFWERX platform is designed to be inviting to all industry partners — whether traditional or nontraditional — it recently invited the 65,040th partner to its ecosystem.
The Vulcan portal provides an online repository for any industry partner to post their technology and for government personnel to conduct market research and provide feedback. In 2021, over 20,000 registered government Vulcan users conducted 12,800 assessments of technologies loaded in Vulcan.
The Small Business awards continue to exceed goals. We have an affinity for small business and nontraditional contractors because we see ourselves as a small business within the defense acquisition enterprise.
Competition remains the single strongest tool to get best value for operators. In fiscal year 2021, we competed 70 cents of every dollar.
As we modernize, we will preserve transparency, inclusivity and a proclivity to compete.
But the environment in which we conduct acquisition has changed over the last 20 years, and we need an update. SOF acquisition is at its best when we adopt the culture of the operators we support. They are known as the "quiet professionals." To support them, we must become quieter as well. The way we protected information in the past will not work in the context of integrated deterrence. What worked against ISIS and Al Qaeda is — and frankly has been — inadequate for China and Russia.
We need industry and academic partners to join with us in taking additional measures to secure supply chains. We need to ensure that our collective cyber networks do not provide an entry point that puts SOF operations at risk.
We need to think carefully about how we solicit requirements, how we announce contract awards and what information is releasable to the public. I've had this conversation with partner nations. They are equally concerned that their information will be safeguarded by us in the acquisition enterprise. We need to be cognizant of the reality that seemingly benign bytes of information, when aggregated by a challenger — and they will be aggregated — can provide operational relevant information that disadvantages U.S. operators.
While the threats evolve, so do the opportunities. We have updated SOF acquisition practices based on new legislation, authorities and policies. Congress recently extended and expanded our pilot to accelerate small business awards by working through the SOFWERX platform. We've seen a 200 percent increase in small business participation and a 60 percent decrease in time-to-award. We've been early adopters of the Defense Department's agile acquisition pathways. Although only published in January 2020, we already have 47 Middle Tier Acquisitions and six Software Acquisition pathway programs out of 82 programs — transforming the speed of delivery for these critical capabilities.
Industry can help us realize the full potential of other opportunities through experimentation with physical prototypes and digital engineering of virtual prototypes. This year we'll hold three Technical Experimentation events to provide a realistic operational venue for industry to demonstrate their mature capabilities and receive feedback from operators.
We're also providing foundry events where we can experiment together on emerging concepts and technologies focused on topics like "Future SOF Teams: Diversity of Skillets and Traits for 2040" and "Next-Generation Effects and Precision Strike in Competition and Conflict." If you want to experiment with SOF, look for our announcements on sam.gov and through the SOFWERX ecosystem.
While there is no substitute for physical experimentation, digital engineering provides immense opportunities during the design and development stage. In the past, we had the luxury of physically prototyping several dry combat submersibles in order to inform the requirements for the submersible we are now producing. However, the next dry combat submersible will be more complex and too expensive to build multiple prototypes. We're asking industry to digitally prototype their concepts for the next submersible, and we believe digital engineering will be a common arrangement for more intricate acquisition as we seek to provide interoperable capabilities for the Joint Force.
As we modernize, we'll pursue the needed updates to program protection in view of evolving threats and acquisition practices enabled by new authorities and technologies.
For the third leg of SOF acquisition modernization, we need to upgrade through the early adoption of emerging technologies that are peculiar to the force. Today, that includes reliable and effective counter-unmanned aerial systems that can support small teams and their partners in remote, austere and contested areas.
That includes the next generation of intelligence, surveillance and reconnaissance tools to replace the over-reliance on manned and unmanned aircraft. We believe next-generation ISR consists of the fusion of data provided by cyber-based systems, space-based payloads and autonomous, AI-enabled, unmanned and unattended systems. That includes providing a mission command and control architecture that fuses intelligence and operations in a single pane of glass to provide data and AI-enabled information to support commanders' decisions.
That includes aircraft and vehicles that can traverse longer distances at faster speeds while avoiding detection to access any terrain. And that includes surface and undersea vessels that are fully partnered with the Joint Force.
We're also investing in those technologies that are just over the horizon — but needed now. Operators will need capabilities that give them an unfair advantage in information warfare and influence operations. They will need to understand the radio-frequency environment the same way their ancestors understood physical terrain.
They will need untethered logistics to greatly reduce their reliance on water, battery and ammunition resupply for themselves and their partnered forces. And they will need means of protecting their identities and their families as they operate in areas of increasingly ubiquitous technical surveillance.
For these capabilities, they will require the ability to move data and communicate with themselves, their allies and partners and the joint force, without detection, in increasingly contested environments.
As we modernize, we will provide the venues and resources to upgrade by being the first movers for relevant and game-changing technologies.
For industry partners, as we pursue these technologies, we'll remain true to our enduring commitment to transparency, inclusivity and competition. Where possible, we'll default to our SOFWERX ecosystem and sam.gov, but some of our efforts will require going quieter.
We will ask industry partners to go quieter as well. Modernization is, by definition, change. Our operators have always been well-served by our industry partners. To sustain and improve upon that level of service will require us jointly to deliver capability at a tempo and at a security awareness level that ensures they are prepared for the most contested environments against the most advanced challenges.
The muscle car vignette provided a means of defining modernization but, if I'm honest, my dream car would not be self-driving. It would have a 5-speed stick shift with a clutch on the floor. But standard transmissions are hard to find anymore.
Sometimes, modernization is making the old new again. Special operations forces were born during a time of great power competition and strategic deterrence. The "old" techniques of program protection and security need to become new again while not losing the agility we've acquired over the past few years.
This is our collective challenge. I look forward to partnering with our teammates in industry to modernize SOF acquisition — quietly.

James H. Smith is the acquisition executive at Special Operations Command, MacDill Air Force Base, Florida. He is responsible for all special operations forces acquisition, technology and logistics.
Topics: Special Operations