Special Ops Snipers in Line for New Ammo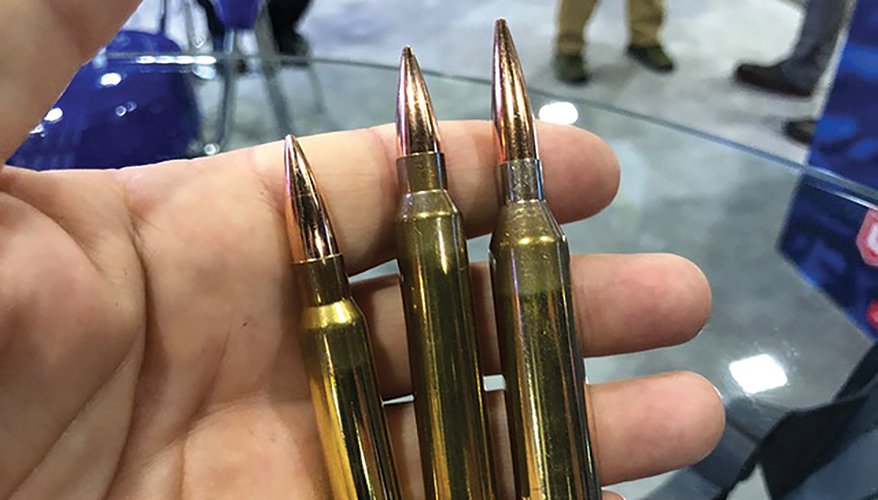 Left to Right: .308 (7.62x51 NATO), .300 Win Mag, .300 Norma
Scott Gourley photo
While many anxiously await the Army's decision on which of the two Next Generation Squad Weapon 6.8mm ammunition designs will be used by the Close Combat Force, industry efforts are being directed toward a spectrum of other special ammunition enhancements.
Examples stretch from .300 Win Mag to .50 caliber polymer case designs.
One recent representative example involves the .300 Win Mag.
For many years, military snipers utilized weapons like the MK 13 series or M2010 Enhanced Sniper Rifle, firing "A191" Department of Defense Identification Code ammunition, to achieve a "government-published" effective range engagements of 1,200 yards.
An ammunition performance challenge emerged in the 2000 to 2010 timeframe reflecting a new user requirement that called for an effective range of 1,500 yards with a decrease in the effect of wind drift on the projectile.
Ballistic experimentation with several different projectile options led to a product improved design that — among other things — replaced the 190-grain projectile in the A191 design with a heavier 220-grain Sierra MatchKing bullet, with overall results that met the new requirements.
The two bullets also led to sub-designations of MK 248 MOD 1 and MK 248 MOD 0, with the MOD 1 compared to the A191 with some improvements and the MOD 0 reflecting the heavier bullet enhancements.
The MOD 1 has historically been viewed as an Army load, while the MOD 0 has historically been viewed as a Navy load.
In January 2020, SIG Sauer Inc. announced that it had been selected to manufacture both of the .300 Win Mag rounds at the company's ammunition manufacturing facility in Jacksonville, Arkansas, for use in U.S. military sniper platforms.
"We've always felt that one of our core competencies is the manufacture of high quality, high precision, exceptionally accurate ammunition," offered Jason St. John, director of government products at SIG Sauer. "So the MK 248 program really fell into our wheelhouse, providing part of our foundation as a precision ammunition manufacturer. We were very aggressive and very competitive in our strategy, because we believed this win, and the performance of this ammunition, would help to put our ammunition line on the map."
St. John asserted that many of the user performance requirements have been pushing the pressure envelope for the .300 Win Mag cartridge, noting some user reports of things like "sticky bolts" on some of the earlier ammunition manufactured by other companies.
"We tackled the problem of high pressure through how we manufacture our brass," he said. "For example, we do things to make our brass a little bit harder in the head. We also do induction annealing [of the casings], because we wanted to solve the brass from a hardness perspective so that the 'sticky bolt' problem wouldn't be an issue.
Today, the issue is completely solved, he said. The company has made 25 deliveries for a total of over 2 million rounds, with 100 percent on lot acceptance testing, which is 10, 10-round groups fired through two separate rifles at 300 yards, with all shots less than one minute of angle.
"We're now 25 for 25 on over 2 million rounds delivered. And we're very, very proud of that," he said.
Another ongoing production effort focuses on ammunition for the Barrett MK 22 Advanced Sniper Rifle fielded by Special Operations Command and, more recently, by other Army elements.
Much like the MK 21 Enhanced Sniper Rifle of the mid-2000s, the MK 22 allows changing between different calibers to facilitate training / urban operations, anti-personnel and anti-materiel engagements. While the MK 21 design had focused largely on 7.62x51mm NATO [.308], .300 Win Mag, and .338 Lapua Magnum rounds, the MK 22 focus shifted to 7.62x51mm and two other relatively new designs: .300 Norma Magnum and .338 Norma Magnum.
"The .300 and .338 'Normas' are similar to the .338 Lapua in size," explained Emil Praslick, business development manager for Capstone Precision Group. "Essentially, they looked at the .338 Lapua case as a starting point, but wanted to load longer projectiles, such as a Berger 300 grain [bullet] hybrid at standard magazine length," he said.
They slightly shortened the case, which reduced powder capacity by just a few percent but didn't significantly change performance. They also tweaked the brass cartridge "shoulder" a bit, and maybe changed the case taper slightly.
"The result is a longer projectile you can still load and feed in the magazine," Praslick said.
The .300 Norma design reflected the efforts of "a couple of enterprising guys" who recognized the potential of all the powder in the .338 case and worked to reduce that case neck size to .30 caliber, he added.
"They realized that .30 caliber [Berger 215 grain hybrid target bullet] would go at 'warp speed,' he said. "For snipers, that's always a plus. If you have a very flat trajectory round, it gives the shooter more flexibility. He can make slight range estimation errors and has other options for tactics, like leaving one sight setting on the rifle and engaging targets at different ranges just by using different hold points."
Once the rifles were selected, a remaining challenge involved getting the ammunition out to the field.
Praslick said the "first batch of reference ammunition" had been loaded by Jeff Hoffman at Black Hills Ammunition.
"Jeff always does a great job of loading ammo," he continued. The next batch of ammo was let out on another contract which was won by UDC, who partnered with Capstone Precision Group as the producer for 800,000 rounds of .300 Norma and 200,000 rounds of .338 Norma in Mesa, Arizona.
However, acknowledging that the MK 22 rifles are being delivered to Special Operations Command and Army elements, he observed.
"There's really not a lot of ammo out there yet. Right now if you talk to talk to snipers and Special Operations Command, the guys are getting the guns first, and they're like, 'Hey, where's all the ammo?'"
Fortunately, he quickly characterized the ammunition production as "pretty far down the road," with the sniper rounds having already passed first article testing and lot acceptance testing.
"It's shooting great and we're just waiting on some paperwork stuff to ship it," he said.
Along with new sniper calibers with enhanced tactical performance, other recent ammunition activities involve efforts to "lighten" venerable rounds like the .50 caliber. A representative example can be found in the .50 caliber polymer case rounds that have been fielded by Special Operations Command and recently tested by the Marine Corps. These polymer efforts are in addition to the 6.8mm polymer cartridge design currently being evaluated under the Next Generation Squad Weapon program.
SOCOM representatives have pointed to the weight savings of the .50 caliber polymer case rounds when compared to traditional brass case designs, crediting the lighter ammunition with the ability for platforms like the AH-6 "Little Bird" with the ability to carry more fuel, translating to more time on station with maximum ammunition load.
Joe Gibbons, plant manager at Nammo MAC LLC —formerly MAC Ammunition LLC — in Bay St. Louis, Mississippi, highlighted expanded interest in the .50 caliber polymer case cartridges, as well as expanded caliber explorations for the design.
"Probably the biggest thing going now with our '.50 cal polymer' is that we completed the delivery of the first order for our Marine Corps contract," he explained. "And we have following order that we have started production for as well."
Gibbons told National Defense that the initial rounds were used for a user evaluation by the Marine Corps at Camp Pendleton, California, in November 2021, with a second user evaluation planned for Marines on the east coast during March.
"The West Coast Marines said that they didn't even want to wait for the East Coast Marines' evaluation," just go ahead and get them the ammunition. They're ready to use it," he said, adding that the evaluations focused on the M2 machine guns with quick change barrels.
Some testing with the Ranger Regiment at Fort Benning has been carried out, he continued. "And they are fully on board."
It did a demonstration for the Maneuver Center of Excellence at Ft. Benning in December on Stryker vehicles. They have assigned a requirements writer, so they are completing a requirement."
Looking ahead, Gibbons said that polymer ammunition developmental efforts include the .338 Norma Magnum, to meet needs of the emerging Medium Machine Gun program in that caliber.
"Of course, we are 'gun agnostic,' so we are working with everybody who is 'in the game,'" he observed. "We have achieved some success, so the program continues, and we feel fairly comfortable with it. Additionally, we're also doing some work in 7.62 mm."
Topics: Special Operations, Special Operations-Low Intensity Conflict