WEB EXCLUSIVE: Project Tripoli to 'Radically' Change Marine Corps Training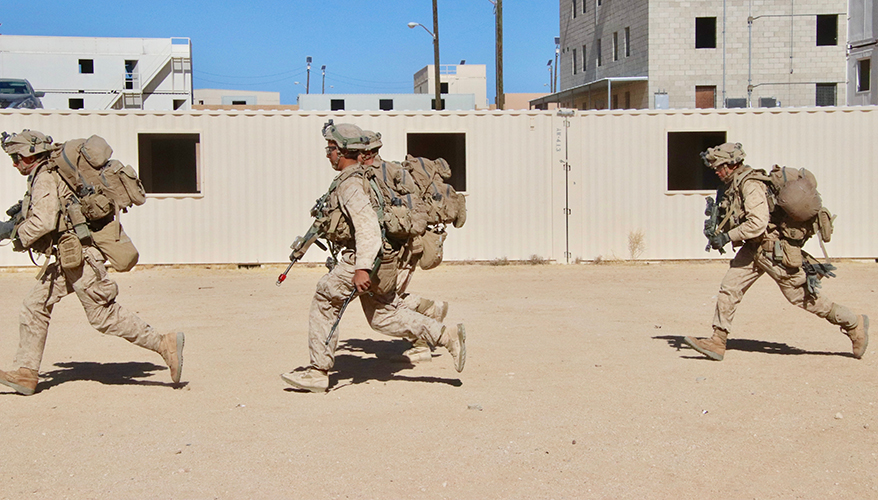 Marines train at Twentynine Palms, California.
Stew Magnuson photo
With room running out at large combat centers such as Twentynine Palms, California, and new doctrine calling for expansive, multi-domain operations, the Marine Corps will have to radically change the way it trains, service officers said May 12.

Col. James Kidd, director of range training programs for the service's Training and Education Command, said when it comes to using emerging technologies such as long-range precision fires, loitering munitions and unmanned systems, "even at our most expansive range complexes, we're quickly outrunning what we can do in those training areas."

With Project Tripoli, the Marine Corps will set out to combine live with virtual and constructive training by 2025, Kidd said in a presentation at the Modern Day Marine conference in Washington, D.C.

"This is not simply a simulation. It links together the live training with simulation and augmented reality," he said. Capt. Garrett Loeffelman, simulation officer for the range and training programs division, said the world is encroaching on the Marines' major training facility at Twentynine Palms. Meanwhile, artillery is firing at longer distances and emerging doctrine such as Force Design 2030 call for joint, multi-domain operations in the air, land, sea, cyberspace and space.

For example, there is little coordination with the Navy at the landlocked Twentynine Palms base, he noted.
"We're trying to move the ocean toward Twentynine Palms. We haven't quite figured that out yet," he quipped.

"There is not enough live training space on this globe to support the level of disparate operations that we're talking about," Loeffelman added.

Virtual, also known as synthetic training, provides flexibility. "What you want to train today may not be the same thing you want to train in a year, especially in five years," Loeffelman said.

The only way to grow facilities such as Twentynine Palms is to expand them into the virtual world, where Marines conducting live training connect to pilots or vehicle drivers in simulators and enemy forces are "constructed" by computer programs, he said.

Live, virtual constructive training environments is not a new concept and other services such as the Army are a lot further along in developing their systems. Loeffelman said the Marine Corps first identified the need to adopt the concept as early as 2010 but spent years "just admiring the problem" without doing much to change.

But now there is a timeline to reach the vision.

The Marines in an April meeting in Orlando brought together all the interested parties to discuss the Project Tripoli vision and to create a technology roadmap, Kidd said.

First, will be a "minimum viable capability" release in the fall at Twentynine Palms. This will bring some legacy simulators online to connect to each other, he said. The primary goal will be to create a network that will allow it to push the capability to other bases and stations, Kidd said.

Loeffelman said some have noted that interconnected simulators can be done now, and he agreed. It's just that it takes the Marines 200 to 300 personnel and six to nine months to set up such an exercise.

"That's not on-demand training," he said. "Everyone wants to get to this vision tomorrow. But that's not going to happen," he said.

The four simulations being linked in the fall include: a laptop-based virtual battlespace program; the supporting arms virtual trainer — a dome-shaped simulator mostly employed for joint terminal attack controllers — the advanced distributed virtual training environment flight simulator and the combined arms command control training upgrade system that teaches fire support coordination, Loeffelman said.

There are some technical issues and some policy limitations to creating the new training system, he added.

The roadmap calls for about six iterations of the training environment after this fall's experiment, which will run until about 2025, when the Marines want to have Project Tripoli in place, he added.

Kidd said: "Project Tripoli is truly going to revolutionize the way the Marine Corps conducts training. And I believe it's a key component in the Marine Corps path for success in training for the future fight."
Topics: Marine Corps News