Marine Corps Upgrading Tactical Wheeled Vehicle Fleet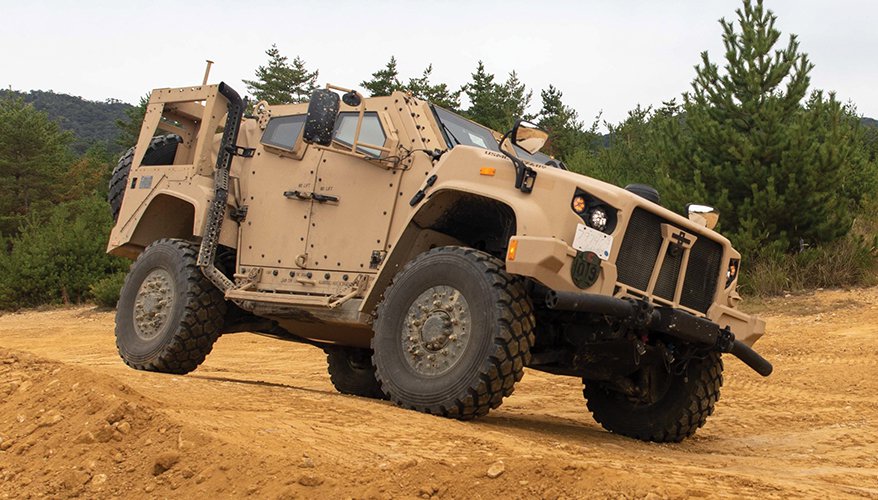 JLTV
Defense Dept. photo
NORFOLK, Va. — The Marine Corps has ambitious plans for its fleet of tactical wheeled vehicles as it modernizes its inventory with new platforms and upgrades existing systems.
There are "a lot of opportunities for the Marine Corps as far as investing in new capabilities we've never really used before," said Col. John Gutierrez, portfolio manager for logistics combat element systems at Marine Corps Systems Command.
One potential opportunity for industry is a new platform to replace the service's medium tactical vehicle, Gutierrez said during a panel discussion at the National Defense Industrial Association's annual Tactical Wheeled Vehicles Conference in Norfolk, Virginia.
Lorrie Owens, program manager for medium and heavy tactical vehicles, said the Corps is working through the requirements for the development and design of a new medium tactical platform. Last year, the service sent out a request for information to industry to conduct market research. Her office will use the RFI responses to refine requirements, she said.
The current platform was originally intended to start exiting the service this year, but has been extended until 2042, Owens said.
"We have really got to start getting after … the replacement vehicle and what that's going to be, because the current truck isn't going to make it another 20 years without some substantial sustainment costs … or the replacement vehicle coming online," Owens said.
No decision on a replacement vehicle has been made, she added, and none would be forthcoming until details on the service's next budget are available. The Marine Corps would like to move out on the platform starting in fiscal year 2024.
The service is currently open to several different sizes and configurations for the vehicle, Owens said. Her office is particularly interested in electrification and hybrid technology.
"Fuel efficiency is a hot-ticket item and that's kind of the buzzword of the day," she said. "That is definitely something that we would like to see in the future is a more fuel-efficient truck."
The office hopes to learn more about where industry is in electrification technologies through the RFI, she noted.
"We really wanted to see where industry was at … from fuel efficiency modifications to … better fuel consumption all the way up to hybrid" technology, Owens said.
Meanwhile, Jennifer Moore, program manager for light tactical vehicles, said the Corps is making strides within her portfolio, which includes everything from the joint light tactical vehicle to ultra-light tactical platforms.
Moore's office is working closely with the Marine Corps' capabilities directorate and other organizations throughout the service, as officials implement Commandant of the Marine Corps' Gen. David Berger's Force Design 2030 vision.
"We are tailoring and refining the fleet that is needed to support the Marine Corps in the future as it evolves," Moore said.
Berger unveiled his Force Design 2030 blueprint two years ago, to ready the service to deter China and prepare for potential conflict in the Indo-Pacific. The strategy laid out an ambitious plan to cut end strength, divest from legacy systems and procure new platforms needed for extra operational flexibility.
This year, the focus of Moore's office is all about fielding capability, she said. "We field around the world every day."
The office has replaced 20 percent of its Humvee fleet with joint light tactical vehicles, she said. The Marine Corps is working alongside the Army to field tens of thousands of the Oshkosh Defense-made platforms through a joint program office led by Michael Sprang.
Recently, the JPO released a request for proposals to industry for a follow-on vehicle, he said during the conference. Oshkosh Defense, GM Defense, Navistar Defense and AM General are expected to compete in the program.
The program office looked to several different stakeholders as it crafted the RFP, Sprang said.
"One of the things we were challenged on was how do we leverage competition to bring technology," he said. His office reached out to Army Futures Command and the Marine Corps' Combat Development and Integration office with questions to provide guidance.
"We asked them, 'What do you want to see? How would you prioritize?' But we also asked industry, 'What can you bring?'" he said.
A contract award is expected in September, Sprang told National Defense late last year. The winner will have 18 months to deliver the first vehicles. Those platforms will go through about a year of testing, he said.
According to slides from a November industry day hosted by the JPO, the projected value of the contract could be worth up to $6.5 billion.
The joint program office is pleased with the JLTV's current capabilities and is not looking for massive changes as it pursues the follow-on system, Sprang said. However, his team is interested in some key enhancements. For instance, they would like to see upgrades to the platform's engine, as well as additional space in the back of the vehicle for rucksacks and equipment.
The government has also asked industry to examine technologies that are not part of the system's current configuration, Sprang said, adding that the joint program office would then give them an evaluated credit during source selection, he said. These would include ways to increase corrosion protection and fuel efficiency.
Meanwhile, the Marine Corps is also sustaining some existing Humvees and companion trailers — as well as the utility task vehicle, Moore said. The UTV will be replaced by the ultra-light tactical vehicle, or ULTV.
The service is working alongside Special Operations Command on the ULTV, she said. The platform shares requirements with SOCOM's lightweight tactical all-terrain vehicle.
Partnering with other organizations is critical as the office pursues new technology, Moore said.
"Through these joint partnerships, we're able to reduce costs, we're able to improve our speed and we're able to provide a higher quality product not only to the to the Marine Corps, but also to our Special Operations community," she said.
There are numerous opportunities for industry to work with the program office, and Moore encouraged companies to reach out to her team.
"We would love to hear from you," she said. "We always keep our doors open. Working with industry, learning from you is [how] … we are able to conduct our market research and be better prepared for responding to those urgent needs that we received from the fleet."
Moore echoed Sprang's call for improvements in the areas of corrosion protection and mitigation, noting that her office has an entire team focused solely on the subject.
Her office also wants lighter, scalable and more capable armor for its vehicle fleet.
"The Marines may have a need to be heavy, and they may have a need to be lighter," she said. "Having that scalable capability is absolutely key and we are able to take advantage of that with the JLTV, as it is a very scalable platform by design."
Officials are also exploring the integration of electric technologies that range from hybrid to full electrification, Moore said.
Her office is also looking to procure new tarp covers for environmental protection of its fleet when operating in desert, Arctic and jungle environments.
Moore noted that while there are many opportunities, challenges must also be addressed.
As of press time, lawmakers have yet to enact a full-year defense appropriations bill for fiscal year 2022. Federal agencies are operating under a continuing resolution, which generally freezes program funding at 2021 levels.
"We have fluctuating funding," Moore said. "The continuing resolution continues to create opportunities for us to be creative."
Additionally, as the office works to sustain its fleet of Humvees, UTVs and legacy light tactical trailers, officials are also dealing with supply chain challenges.
"There can be supply chain issues that are associated not only with … obsolescence issues, but then with COVID-19 and all of the implications that have been happening across the marketplace of raw materials," Moore said. "It is impacting production abilities as well."
Meanwhile, Gutierrez noted that under his portfolio, the Marine Corps has divested of thousands of mine-resistant, ambush-protected vehicles.
The iconic MRAPs were rushed into the field during the wars in Iraq and Afghanistan to protect troops from rampant roadside bombs that maimed troops and civilians alike.
"We've been using equipment exchange programs with great success, and this last year actually we recouped over $30 million in exchange credits," he said. The service has been employing an Equipment Exchange Initiative for years, allowing agencies to exchange and sell equipment, and apply the exchange allowance or proceeds to the acquisition of replacement property, according to the service.
"This is just the way going forward and you're going to see more and more activities not only within my portfolio, but across … the [program executive office] and Marine Corps Systems Command community using these as a way to generate both cost savings and some investment opportunities," Gutierrez said.