SEA-AIR-SPACE NEWS: Lawmakers Express Discontent with Navy Budget Request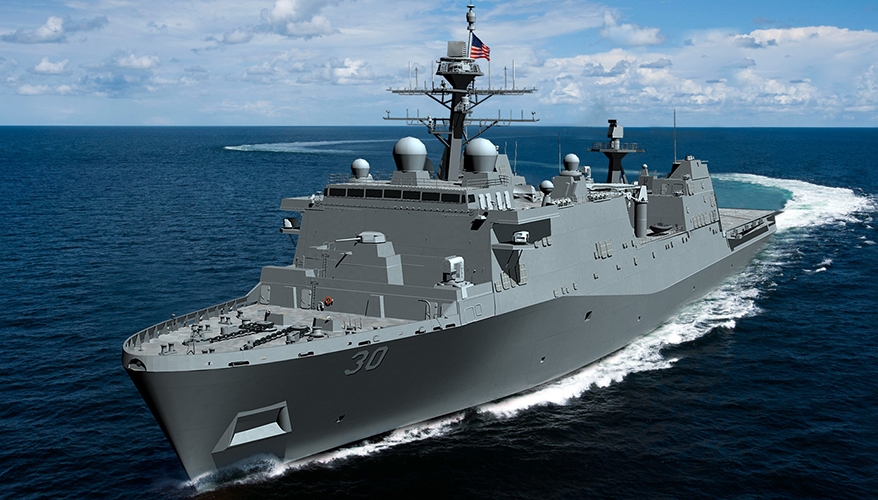 LPD Flight II warship concept
Huntington Ingalls concept
NATIONAL HARBOR, Md. —
Members from both parties in the House Armed Services Committee said April 4 they had concerns about the Navy's 2023 budget proposal, and suggested some parts they would like to see rejected.
The Department of Navy's request released March 28 would allocate $180.5 billion to the Navy. As part of the proposal, the Navy is asking to buy nine new ships while simultaneously decommissioning 24 for a total net loss of 15 vessels.
Although the Navy argues the divestment will advance the service's modernization goals by freeing up $3.6 billion in funds over the next five years, House Armed Services seapower and projection forces subcommittee chairman Rep. Joe Courtney, D-Conn., said the proposal will likely be altered.
"I think looking at our subcommittee, I would somewhat unabashedly say … you're going to see change in terms of what comes through our process," Courtney said during a panel at the Navy League's annual Sea-Air-Space conference in National Harbor, Maryland.
The service plans to decommission nine Freedom-class littoral combat ships, five Ticonderoga-class cruisers, four landing dock ships, two Los Angeles-class submarines, two oilers and two expeditionary transfer docks, according to the Navy's 2023 budget request.
In particular, Courtney said that the Navy's plans to buy one more San Antonio-class amphibious warship, the LPD-32, before ending production in 2023 will likely be modified. With a price tag of $250 million, advanced procurement funding for LPD-33 is the Marine Corps' number-one item on its unfunded priority list.
Marine Corps Commandant Gen. David Berger and Deputy Commandant for Combat Development and Integration Lt. Gen. Karsten Heckl "made a really powerful argument to all of us" regarding the funding of LPD-33, Courtney said.
Subcommittee ranking member Rep. Rob Wittman, R-Va., however, added the Navy needs to continue building both larger LPDs as well as smaller light amphibious warships to have the capability to maneuver through multiple environments.
"The LAW — it's a light amphibious warfare vessel — it's different than a large vessel. It's not an LPD. These are intra-theater connectors. They're what the Marines are going to need to move around," he said. "Those are the connectors that we need for the future."
Courtney said Congress also needs to have conversations with the Navy about its request to decommission nine littoral combat ships.
"The Navy has to talk to us about the rationale behind that decision," he said. "What does it bring to the Indo-Pacific region, what do they bring to the European theater?"
Courtney added that in order to continue conversations of expanding the Navy's fleet, the service needs to start tackling the issue of capacity. This includes workforce development, supply chain development and shipyard facilities, he said.