QUAD-A NEWS: Army to Conduct Largest Ever Drone Swarm Experiments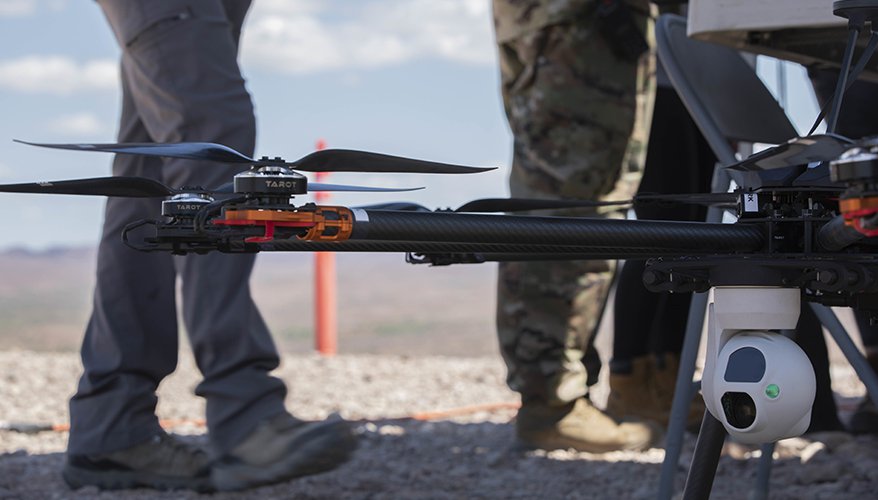 A drone at a Project Convergence event
Army photo
NASHVILLE, Tenn. —
The Army plans to test new swarming tactics with its largest ever group of drones at a major exercise later this year, a senior officer said April 5.
The 2022 Experimental Demonstration Gateway Exercise — also known as EDGE 2022 — will include the "largest interactive drone swarm to date," said Gen. Walter Rugen, the director of the Army's Future Vertical Lift Cross-functional team at the Aviation Association of America summit. The Army will preview more than 50 technologies during the May event.
The EDGE exercise last year was conducted in May at Dugway Proving Ground in Utah to prepare for Project Convergence, which is the Army's experimentation campaign for joint all-domain command and control.
The drones will perform behaviors such as detect and identify "pacing threats" and observe when the swarm has entered a degraded visual environment. Rugen noted the drones will test their ability to autonomously report outside of communications-denied or GPS-denied environments.
The Army — now working with the Defense Advanced Research Projects Agency on swarm technology — will also test the drones' ability to kill targets and assess battle damage, he said. During EDGE, the service will weigh how it can use swarming for attacks in combat.
"I may change my word downstream, but we're thinking maybe at times … you may want a wolfpack," he said.
While the drone behaviors are not set in stone, Rugen said the swarm may be led by an "alpha" that would control the rest of the drones' tasks in a hierarchical command chain.
"If one wolf gets knocked by the antlers, the second one's going to be up," he said.
The lead in the swarm could be a manned platform, but the service is exploring how a drone could take control of the swarm if is out of range in denied or degraded environments, he explained.
"We're innovating in this space, and we're seeing what the art of the possible is and it's very exciting," he said.
Rugen echoed Army Chief of Staff Gen. James McConville's concerns about inexpensive unmanned aerial systems. McConville said in his April 4 address that enemy drones would continue to be a threat into the future.
The experiment will look at what swarms need to do to have an advantage over swarms used by adversaries, Rugen said during a media roundtable at the summit.
The Army will also test electronic warfare capabilities at the EDGE exercise, Rugen noted.
"We're gonna see tremendous amount of moving the needle on electronic warfare with electronic sense, electronic attack and all that to generate that decision dominance," he said during a panel at the summit.
As with Project Convergence, there are allies and partners participating in EDGE 2022 this year, Rugen said. There are seven international partners who will test equipment alongside the Army, including in a combined air assault.
"We'll be working on cross boundary contingencies and cross domain solutions to enable those cross boundary contingencies to happen at speed," he said of the air assault exercise.
Topics: Army News, Robotics and Autonomous Systems, Robotics