Boeing Gears Up to Replace B-52 Engines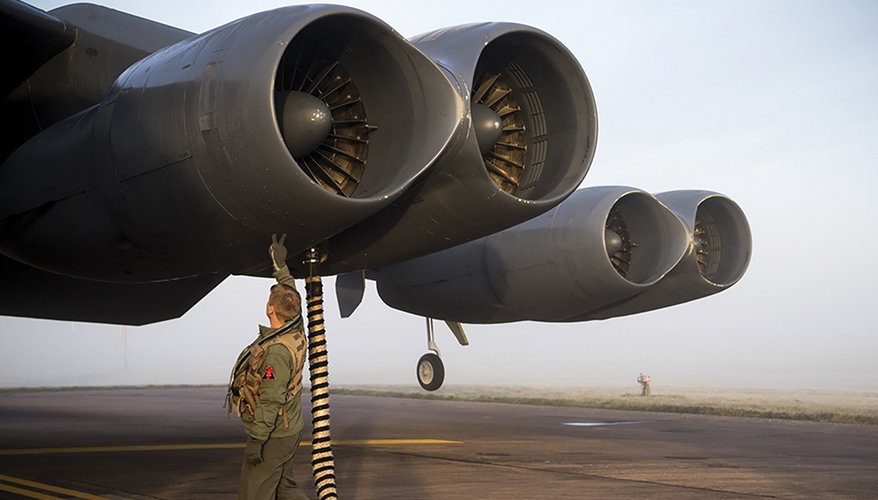 Air Force by Airman 1st Class Duncan C. Bevan
ORLANDO, Fla. — Boeing is racing against the clock to replace the engines of all 76 of the Air Force's B-52 Stratofortress long-range bombers.
Last fall, the Air Force selected the F130 engine made by Rolls-Royce North America for the B-52 Commercial Engine Replacement Program, or CERP. Under the $2.6 billion contract, Rolls-Royce will equip the B-52 fleet with eight engines each by September 2038, replacing the bomber's aging Pratt & Whitney-made engines.
Robert Gass, strategic development and investment manager at Boeing, told reporters during the Air Force Association's annual Air Warfare Symposium in Orlando, Florida, that the life of the bomber's current engine — the TF33 — is a pacing concern.
"Pratt & Whitney made a great engine that has served the B-52 very well, but it is approaching the end of its life and we have to act now in order to keep the B-52 viable," he said.
With the F130 engine, Gass added, Boeing expects the B-52 to have an increased range and more endurance, as well as provide the Air Force with additional operational flexibility — especially in areas of the world with few U.S. bases.
Digital engineering will help speed up the F130 engine's integration into the B-52, Gass said. Using digital engineering, Boeing and Rolls-Royce have streamlined the new system's design and created 3D models of the B-52 and its components in order to understand how each part works together, he said.
"It's very early in the program, but we have anecdotal evidence that we're identifying disconnects and conflicts earlier than we would have otherwise," Gass said.
Candice Bineyard, director of Rolls-Royce Defense Programs, added digital engineering is being used to understand how the B-52's new engine will remain sustainable through the 2050s, when the Air Force plans retire the aircraft.
"In the event of small maintenance activities and things that will have to take place, we're using our digital now and we're starting to work through and visualize how we'll create those maintenance manuals to better help those maintainers when we are into the production phase," she said.
At the same time, Gass noted the engine's modernization will allow Boeing to upgrade the B-52's subsystems so that it stays up to date until the 2050s. This includes electrical power generation, pneumatics, new structures for the engine pods, new cockpit displays and digital engine controls, he said.
Rolls-Royce plans on conducting rapid prototype tests of the F130 engine later in 2022 at the Stennis Jet Engine Testing Center in Mississippi, Bineyard said.
During the test, the team will "get an opportunity to understand exactly how that engine is going to operate as intended," she said.
Topics: Air Power