ROBOTICS AND AUTONOMOUS SYSTEMS
QUAD-A NEWS: Army Chief Voices Doubt on Fully Autonomous Aircraft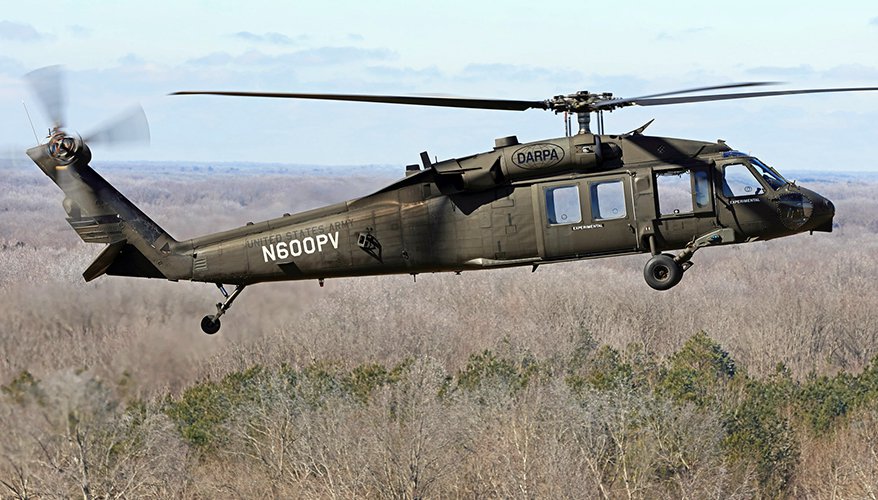 Optionally piloted Black Hawk helicopter
Sikorsky photo
NASHVILLE, Tenn. —
The Army likely won't chase fully autonomous aviation platforms for its modernization goals, said the service's chief of staff April 4.
Minimally manned vehicles are going to be the future of Army aviation, said Gen. James McConville said during a keynote speech at the Army Aviation Association of America summit.
While service leaders and industry have discussed options for fully autonomous aircraft, he said "minimally manned" aircraft are a more likely result of new autonomous technology developments.
The Army should leverage autonomous capabilities to cut down the size of the crew operating an aircraft, he said.
"I have a hard time believing we're going to have 35 Rangers in the back of an aircraft and they're going to go up and knock on the door of the cockpit, and there's no one in there," McConville said.
However, the service won't "shy away" from using the technology for capabilities such as target finding, he noted.
"We're going to do what's right," he said. "They may not be the lead aircraft, but they need to be in the loop."
The Army's interest in autonomous capabilities is growing stronger. Sikorsky flew its S-70 Optionally Piloted Vehicle Black Hawk in Project Convergence last fall and has an invitation for 2022, said Nathalie Previte, the company's vice president for Army and Air Force programs.
She noted the platform demonstrated resupply in contested logistics, and the Army requested demonstrations of medical evacuation missions for the event this year.
"We are developing new software to ensure that Matrix understands what are those missions and adapts accordingly," she said.
The autonomous Black Hawk is a project partnering with the Defense Advanced Research Projects Agency, or DARPA. Now that Sikorsky has demonstrated the Black Hawk can operate fully autonomously, the service can choose how much the missions should be supervised, said Jay Macklin, Sikorsky's director of future vertical lift and innovations.
"The Army is looking at what level of autonomy is going to be exactly what they want," he said. "It'll probably wind up somewhere in the middle."
Previte added the Black Hawk's most recent test flight was in February.
The budget request for fiscal year 2023, which was released last week, included funding for the service's top six modernization priorities – including future vertical lift. While the Army has not yet released information regarding its funding for autonomous aircraft, the service has invested in modernizing its helo capabilities.
The Army is requesting $468.7 million for the future attack reconnaissance aircraft, FARA, and $693.6 million for the future long-range assault aircraft, FLRAA.
Meanwhile, McConville noted the Army will become "more aggressive" in acquiring weapons systems to take down lethal drones. Industry should develop solutions from directed energy, high-powered microwaves or missiles because the Army will need multiple options.
"For all those in industry, this is a growth area. There might be something you want to consider," he said.
He said unmanned drones are "one of the most likely and most dangerous threats" and will continue to be in the future.
Topics: Robotics and Autonomous Systems